Jan 11, 2012
Road to Financial Freedom Sermon Series-- Free Resource for Churches
This Sunday at Grace Church we moved off of our study of the Gospel of Matthew for a few weeks. We are starting a 4 week message series called "The Road to Financial Freedom." We will study the subject for the next several weeks and our small groups will follow the curriculum. Why tell you? Well, you are welcome to get all the materials and resources we are using for use in your own church.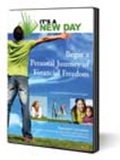 You can learn more here. The web site explains:
"It's A New Day is about stewardship! It's about the lordship of Christ over everything in our lives! It's about getting out of debt! It's about being ready to fulfill God's call upon our lives!
And there is a good reason for helping your church to encourage people toward financial freedom:
Imagine what churches could do for the kingdom if their members were not burdened with debt. Imagine what could be accomplished if church members were free to fulfill God's call of ministry. There has never been a better time than NOW to experience true joy and liberty that comes through financial freedom!
I have a symbolic metaphor that I use related to an earlier argument with my middle daughter. The photo is years old now, but I showed this photo in church to introduce the issue of fear and greed.
You can get the backstory here from a contribution I made recently to a book being published by the Methodists.
There are four messages in the series:
1. God's Ownership

2. Debt's Dangers

3. Greed's Antidote

4. Money and Work's Purpose
Thanks go to Ashley Clayton (whose twitter feed is always interesting on issues of stewardship).
Here is the info:
Sermon and Curriculum Kit

Getting Started:

Clearly, there has never been a better time for churches, than now, to have a conversation about money and give leadership in financial matters. The Bible is our greatest resource, containing over 2350 verses about money. In discovering what God has to say about money, we find instruction and practical guidelines on how to make money, save money, spend money, invest money and give money.

It's a New Day for Financial Freedom, Sermon and Curriculum Kit, contains the following resources:

Sermon Video

Four week sermon series by Dr. Ed Stetzer.

Sermon Notes (complete sermon notes and preaching outline, by Dr Ed Stetzer)

Week One: God's Ownership
Week Two: Debt's Dangers
Week Three: Greed's Antidote
Week Four: God's Purpose - Money & Work

Sermon Listening Notes (handouts for congregation - fill in the blanks)

Power Point slides (Scripture references for use in preaching)

Bible Study Lessons (Teacher Guide for Adult, Youth, & Children)

Week One: God's Ownership
Week Two: Debt's Dangers
Week Three: Greed's Antidote
Week Four: God's Purpose - Money & Work

The Bible Study lessons for each age group all have a Purpose Statement or Objective, Key Scriptures, Lesson Plan and Discussion Questions. The Youth and Children lessons have handouts as well. You are permitted to print these lessons and handouts for Teachers and participants for use in your church.

Please feel free to use as much or as little of this material as needed in your lesson preparation. You might use these lessons as a guideline and offer your class some original content of your own.

Pastor Guideline:

Pastor, these sermons are perhaps a little different from traditional sermons on money. You will notice this series is not about getting more money from your people, rather, it is about giving something of value to your people. The average American spends $1.26 for every $1.00 they earn, and consequently most Americans, inside the church as well as outside the church, are struggling! This sermon and curriculum kit will help you present a healthy and focused approach to money. The Bible Study lessons are designed to promote healthy discussion in your Sunday School, and small groups.
They are free to any church (one per church). I hope they are a help. You can order them here.
Support our work. Subscribe to CT and get one year free.