Jul 5, 2012
New Research: Americans Perception of Evolution Has Not Evolved
The evolutionary biology debate bubbled into the public discourse when Charles Darwin's On the Origin of Species was published and was fueled by the Scopes Monkey Trial decision. Even with these landmark events for evolution advocates, Gallup survey results released earlier this month suggest that even though debates rage in the world of academia, Americans' perspective on evolution remains virtually unchanged from where it was 30 years ago.
When asked in 1982, 44% of Americans believed in creationism and 47% in a form of evolution. In the new research, the evolution has held steady at 47% while creationism has seen a ever-so-slight gain to 46%.
As one might expect, religious Americans heavily favor creationism 67% to 27%. Irreligious Americans are the opposite, favoring evolution 64% to 25%. While this breakdown of the numbers might not be surprising, it does show that one's view of man is strongly tied to one's view of God.
Forty-six percent of Americans believe in the creationist view that God created humans in their present form at one time within the last 10,000 years. The prevalence of this creationist view of the origin of humans is essentially unchanged from 30 years ago, when Gallup first asked the question. About a third of Americans believe that humans evolved, but with God's guidance; 15% say humans evolved, but that God had no part in the process.
Gallup has asked Americans to choose among these three explanations for the origin and development of human beings 11 times since 1982. Although the percentages choosing each view have varied from survey to survey, the 46% who today choose the creationist explanation is virtually the same as the 45% average over that period -- and very similar to the 44% who chose that explanation in 1982. The 32% who choose the "theistic evolution" view that humans evolved under God's guidance is slightly below the 30-year average of 37%, while the 15% choosing the secular evolution view is slightly higher (12%).
Two-thirds of Americans who attend religious services weekly choose the creationist alternative, compared with 25% of those who say they seldom or never attend church. The views of Americans who attend almost every week or monthly fall in between those of the other two groups. Still, those who seldom or never attend church are more likely to believe that God guided the evolutionary process than to believe that humans evolved with no input from God.
LifeWay Research released research on protestant pastor views on the subject.
In our research, we also asked the pastors for their congregation's belief on the matter. About one in five pastors agree that most of their congregation believes in evolution. That includes 10 percent who strongly agree and 9 percent who somewhat agree. A majority (62 percent) strongly disagree and 13 percent somewhat disagree.
Only a third of pastors (36 percent) teach on creation and evolution more than once a year. That includes 28 percent who teach on the subject several times per year, 4 percent who teach on it about once a month and 3 percent who do so several times a month. Twenty-six percent teach on it about once a year, and 29 percent do so rarely. Eight percent never teach on creation and evolution.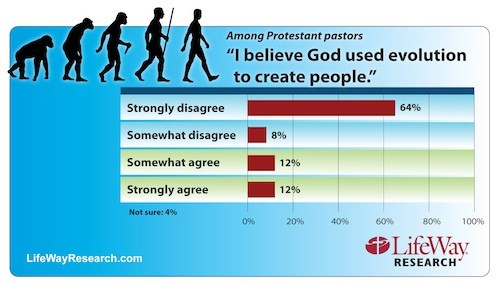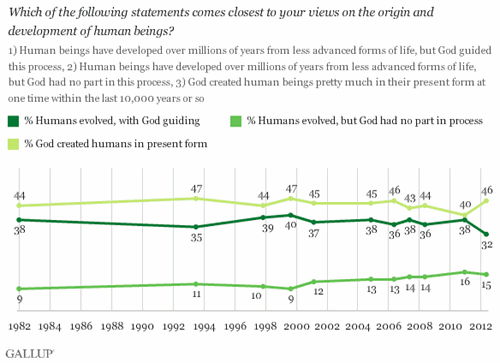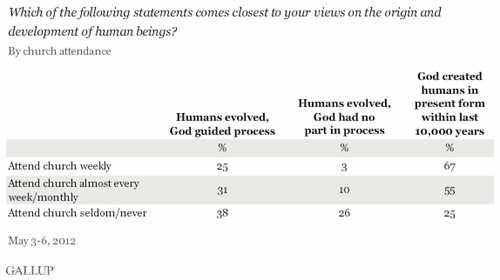 Support our work. Subscribe to CT and get one year free.