Jul 10, 2012
reWritten: An Interview with Bruce and Heather Moore
Please welcome back to the blog Bruce and Heather Moore of Christ Fellowship Tampa. They previously wrote on church revitalization here at the site and have released a new book entitled reWritten: Exchanging Your Story for God's Story. They'll be hanging around blog and interacting in the comments today, so feel free to ask them any questions you may have.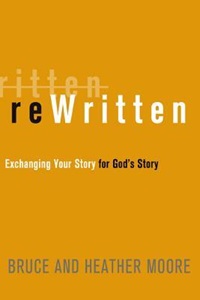 Why would you say that reWritten for pastors and church leaders?
Every pastor and ministry leader is dealing with broken people, and every person, no matter how smooth their life looks on the outside, wrestles with internal disappointment, fear, and shame. The stories we try to create for ourselves never deliver what we thought they would. This book is a roadmap for helping people discover God's original design for their life and how God can use five key life opportunities to rewrite our stories that have gotten stuck or gone sideways.
We all need a road map for our lives and a framework for discerning what God is doing in other people's lives. When we understand the concept of imago dei and the rewriting work God is doing in our lives, then it's easier to help others in their discipling process. If we understand that God has five life opportunities He is constantly rewriting into our lives, then it's easier to have a framework for what God is doing.
Why are you guys passionate about this topic and church leaders grasping the concept of reWritten?
Many people feel stuck in a life story that is very different then the one they had hoped for and very different than the one they thought God planned for their lives. What we have found, having counseled hundreds of people whose lives seemed perfect on the outside, that deep down on the inside they secretly are longing for a different life story. We all long for a different story because we have felt the impact of others hurtful decisions towards us as well as our own mess-ups! Heather and I have felt the deep sorrow of losing a child, the sting of betrayal, and even some of our well intended decisions have gotten us nowhere. We know personally what it means to be stuck. From the very beginning, in Genesis 1:26-27, there is something that is often overlooked. We skip to the middle of the Bible and we miss the very beginning. It says the most amazing thing; that we were created in the image of God. It's like having our very own internal tattoo. We are designed to bear His image and as a result, God has set in each of us a life story that is amazing.
When people understand that their lives are given assignments that represent God's interests then they have a passion to see themselves as vehicles that God uses to help rescue others back to God's original design. The heart of every pastor is to see people in their church unleashed with a passion to help others come to Christ. This past year we have seen hundreds come to Christ at our church. What is also amazing is that many of them were invited from people that understood that they were image bearers created to represent God.
You discuss in the book how everyone, especially those in ministry, must watch out for Story Killers. What are those and how can Story Killers wreck us?
When we are living the life that God created for us to live, we can expect to encounter Story Killers. These are things that can stop the transformational process in our lives. Pastors and ministry leaders are especially susceptible to this. Our own stories get hijacked because we live other people's callings. For example, there are so many wonderful conferences that we can attend. We can learn more now from practitioners than ever before. We've all been to a conference and admired what someone else was doing or accomplishing for God. We start doing those same things but without that person's gifts or calling. The problem becomes when what we have learned at a conference is followed up with quick execution and implementation rather than taking time to pray asking God what to implement based upon what we've learned. Our response can be robotic versus coming out of a conference asking God "what do you have for me?" We send a quick text to a ministry assistant to do A, B, and C before Sunday, and before we know it we are copying someone else's story. Suddenly, we are doing things and making decisions that don't have the deep roots of prayer.We're not saying you can't learn from others. We can and should. But taking what we've learned and sifting that through our own callings, gifts, and prayer keeps us living the individual story God has for each of us.
Theologians have written volumes on the topic of imago dei. How have you sought to deal with such a weighty issue in terms that the average churchgoer can understand?
We don't hear many sermons preached on the topic. The concept of imago dei for pastors and leaders can be confusing. When a topic is confusing to a pastor he rarely preaches on it. The creation account is great for children's Sunday school lessons but somehow never makes the leap to adulthood. What does that same young adult know about living in a way that bears God image? Since there are not a lot of sermon series, discipleship training, and small group material on the image of God we attempted to unpack the image of God in two primary ways. We mirror God's image by reflecting His character to those around us, and as His workmanship we represent the interests of God to a hurting world around us.
When we understand that God has created us in His image then it radically alters how we view life, others, and even ourselves. Understanding imago dei--being created in God's image--elevates our understanding of who we are and increases our desire to live out the design that God has for us. The problem is most of us live life completely unaware that whatever we are in life--a minister, mail carrier, code writer, stay at home mom, or small business owner-- we bear our Creator's image. Without knowing God's design for life, the best we can do is make it up as we go, or borrow ideas from others that may or may not have worked for them. Even if we copy something in ministry or in personal life that is a habit or discipline in someone else's life, ultimately we have to ask "God, is this the pathway You have entrusted to me?"
We'd all agree, I think that churches are filled with people whose lives are hurting and gone sideways. How can someone's story be rewritten?
We've seen God use five life opportunities to exchange our stories. Each of these opportunities gives us a chance to reflect His image and character in some specific ways. These opportunities include forgiveness, fulfilling assignments, generosity, humility, and suffering. God uses each of these five life opportunities to rewrite us back into His design for us through the work of Christ. It is only through the work of Christ that our story can ultimately be fully rewritten.
How is reWritten not another Christian self-help book?
There are a lot of books on the market that promise the reader how to have a better life and to accomplish goals in life. Many books address the wrong questions: What can I do to make my life better? How can I be richer, skinnier, or do better in my career? Many of these books are only as good as the wisdom behind them, which in many cases is founded in man-made schemes. reWritten goes all the way back to the start of history in Genesis 1:1, to 'the beginning' to ask not what can I do to make my life better but what was God's story for me all along? Because our lives have been marred by sin it is only through the work of Christ that restores us back to God's original design for our lives. We discuss five specific life opportunities that God uses to restore us back to his original design for our lives.
Bruce and Heather are around the blog today-- shoot them some questions and join in the dialogue in the comments.
Support our work. Subscribe to CT and get one year free.