A book with a title like Totally Forgiving God is quite an attention-grabber. I think that is the point of the title. It makes you think-- and, the publishers hope-- buy.
The book's title is built off of an older book, Total Forgiveness, which is a (very) well-known Christian book on forgiveness by R.T. Kendall.
R.T. and I have become friends over the last few years. He lives just a couple of miles from me (when he is not out speaking), and we get together and argue theology from time to time. It is a challenge to keep up with his sharp intellect.
Well, R.T. asked me to write the foreword to his new book, Totally Forgiving God, I was glad to give it a read and found it challenging and helpful. As you can see, my foreword was rather personal since the topic is to real to those of us who have struggled.
Here is the foreword: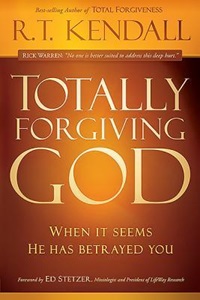 "I just can't seem to forgive God," is a common phrase I've heard in ministry over the years. Whether experiencing personal grief, or physical suffering; we all have a propensity to blame God for circumstances beyond our control-- and as such-- find it hard to "forgive" him. I've experienced it in my own life.
I will always remember the way my sister died. She was barely a young adult when she was diagnosed with cancer for the second time. We, as a family, travailed the challenge of watching her as a a 12-year-old suffer from a rare form of skin cancer. The chemotherapy, the disfiguring surgery, and all the accompanying challenges were realities in our everyday lives. As a relatively new believer, my mother deeply struggled with how God could allow such a thing. As a new believer myself, I prayed-- believing the Scriptures-- for God to heal my sister Betty. She got better-- for nine years.
Yet, ultimately, God, in his infinite wisdom, chose not to heal Betty.
I remember the day, June of 1986, when we stood by her bedside as she closed her eyes for the last time and died. My mother dropped out of church and the faith that day for seven years. I struggled, never finding a satisfying answer to the question "why," but trusted that God had a divine purpose. Both mom and I had to confront the issue we perceived as God's unfairness.
My mother avoided confrontation with God for seven years. Mom stayed away from church and away from Christians. She could not understand (and still does not understand) why God would allow such a thing to happen. But through the love of a particular family and various friends, mom eventually came to the conclusion that she must let go of her anger toward God. In a sense, she had to forgive God.
My own grief required less time, but was equally tormenting. I remember, after Betty died, driving to the shore of a nearby beach and yelling at God. Honestly, I used words that one should not use when addressing a holy God. I demanded answers.
The answers my soul craved never came. God rejected my wisdom in favor of his own. He did not give me the answers I wanted, but he gave me something better. He gave me himself instead.
I remember that night-- among many others-- quoting Proverbs 3:5-6, which says "Trust in the Lord with all your heart, and do not rely on your own understanding; think about Him in all your ways, and He will guide you on the right paths." (HCSB)
Since this is an issue so close to my heart, I am encouraged to see my friend R.T. Kendall tackle this issue head-on. Of course, the idea of "forgiving God" will certainly ruffle some feathers, but the point here is so clear: God is perfect and just yet our hearts often hold bitterness toward him-- and we need to let that bitterness go and trust God.
R.T. understands that God does not need to be forgiven. He is, as R.T. explains, perfectly holy, just, righteous, and wise in all of his dealings with us. God only desires and provides the best for his people, though we may not realize it at the time.
Also, R.T. knows that God has done nothing wrong and he is not in need of our pardon or recompense. R.T. holds to a high view of God, and nothing could be further from the truth. Yet, because we live in a fallen and broken world, because we agonize over suffering, and because of our limited knowledge; we become angry with God. R.T. exhorts readers to repent from sinful anger toward God and break free from its bondage.
Yet, on that day many years ago, I had to let go of my bitterness-- and my guess is that many of you may have picked up this book precisely because you feel you need to forgive God.
With pastoral insight and keen theological observations, R.T. helps us to see not that God needs to be forgiven, but that we need be repentant. Glory be to God for a friend like R.T. Kendall who desires to see sinners like you and I be reconciled to an omnipotent, omniscient, sovereign God.
The Exchange is a part of CT's Blog Forum. Support the work of CT. Subscribe and get one year free.
The views of the blogger do not necessarily reflect those of Christianity Today.