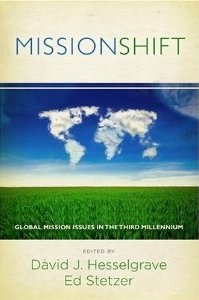 David Hesselgrave is one of the most important voices in evangelical missiology in the last few decades. (I think he is the most important, but he asked me to tone it down when I sent him this blog post to approve!)
David co-founded the Evangelical Missiology Society and is widely viewed as the "dean" of evangelical missiologists. That's why I asked him to co-edit MissionSHIFT: Mission Issues in the Third Millennium with me and was honored when he did.
I recently asked David Hesselgrave about the rise of holistic mission and the evangelical consensus that the mission includes gospel proclamation and gospel demonstration. He agrees that such a consensus has formed (as we've talked about before referring to the Lausanne Cape Town Commitment and the Gospel Coalition Vision for Ministry), but he's got some concerns about how it is addressed (as do I, but let's hear his).
David explained:
I'm afraid that, basically, we don't like the "full gospel" (Roland Allen) because it contains too many elements that are disagreeable to both us and our hearers. And we are not really sure of a "simple gospel" because it's overly simplistic (immediately) to our hearers and (ultimately) to us.
So we travel a path at least similar to our ecumenical counterparts of the past century. We gradually subtract what is unappealing from the gospel and add so much that is appealing to both gospel and mission that we end up with a socio-politial (holistic) gospel and mission. Witness the Cape Town Commitment. It does end but is "to be continued"-- there really is no end to the good things we can love, think, say and do in the name of "Christian mission."
It's a path well travelled, especially when trusted evangelical "pathfinders" such as John R. W. Stott changed course and set out on the path of holism at Lausanne II in 1974 and in his bookChristian Mission in the Modern World.
Ralph Winter issued a clarion call for the priority of reaching the unreached at Lausanne and later took a leading role in the movement to evangeliize the world by A.D. 2000. Nevertheless, he too changed course a few years later and opted for a holistic "Kingdom mission." Stott did preserve a "certain priority" for evangelism. And Winter assured me that his emphasis on kingdom works was to the penultimate end that the world be evangelized and the ultimate end that God be glorified.
Nevertheless, it does seem that evangelicals in general have not read (or, at least, not heeded) the "fine print," and that they have followed these leaders (and others like them) who have taken mapped out the path of holism. Cautionary voices have been comparatively few, and in one way or another have been rather effectively muted.
Nevertheless I believe that, at its heart, evangelicalism overall is prioritistic and believes that its fundamental task is to evangelize a world that has clearly lost both its way and its compass. As a prioritist, I am optimistic at that point. But only mildly so.
The evangelical consensus has become that the mission includes both proclamation and demonstration. However, there is the question of priority–and how we live that out. Hence, David's concern (and others).
My hope is that we see gospel proclamation at the center of the church's mission and then see how gospel demonstration flows from it. Thus, prioritism, comes from the place in the mission, not by excluding minstries of mercy from the mission.
So, David's concern here is not that the mission does not include societial engagement on issues of justice. Those are part of the church's mission because discipled believers care for others and, to quote The Gospel Coalition, "must work for justice." However, David's concern is the loss of priority. He has several articles coming out soon to address the issue (particularly in response to Cape Town). I've read his thoughts and I am sure it will lead to a renewed discussion.
As you look to a voice to critque what has become the evangelical consensus, there is none better than David. Yet, it is important to note that David does not overreact to the errors of those who lost gospel proclamation as they did acts of justice. David calls for prioritism, not exclusion of ministries of mercy from the church's mission.
(You might also find interesting our series of discussions on the topic here at the blog.)
The Exchange is a part of CT's Blog Forum. Support the work of CT. Subscribe and get one year free.
The views of the blogger do not necessarily reflect those of Christianity Today.