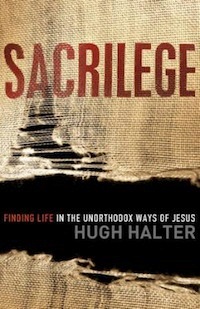 Today, I welcome Hugh Halter to the blog to discuss his latest book, Sacrilege. Hugh's not one to mince words, and Sacrilege is no exception. By his own admission Hugh tips over a few "sacred cows" in the book. We talked about that and more in the interview below.
Hugh will be around the blog today and will be answering questions and responding to comments, so be sure to post your question or comment below. I'll also be giving away a copy or two of Sacrilege to commenters.
For those who may not know Hugh, he is an author, the founder of Missio, and is the lead pastor of Adullam. He speaks extensively across the country encouraging and equipping pastors in incarnational ministry and missional leadership.
1. What is the meaning of the word Sacrilege?
Simply put, it just means to remove religion from something or to tear away what some people might think is religious. Sacrilege isn't about defiling, defaming, or profaning anything good. But it is about stripping away anything that hides the real deal, the real Jesus, and the real story of the Gospel and kingdom living. I personally think the main reason people aren't coming toward Jesus is because they can't find him through all the mess of tradition, poor examples, judgment, rhetoric or religious activity...and that includes evangelical Christianity.
2. Hugh, most people know your writing as more geared for church leaders.  Why did you decide to write a book for "non-leaders?"  
To be a bit crass, I think non-leaders are the new leaders.  And unpaid saints are much better positioned to affect the lives of real people than the pros.  As I have assessed the landscape of the lives of pastors, incarnational living seems to be quite elusive from those whose calling is to lead the church.  The peasants, the plumbers, and baristas and bar managers can easily take the sacrilegious way of Jesus and make it their own ... starting tomorrow!  
3. What was the hope of this book? In other words, if people really took what you're saying to heart, what could change? 
First, I think Sacrilege will help people see Jesus clearly and thus it may answer a lot of questions many people have been afraid to address. 
Second, I think it will help people understand what it really means to live incarnationally.  Missional has been the big buzzword of late and we definitely needed to focus on our "sentness."  But if you are sent or "missional" but you still don't know how to live like Jesus in the culture around us, we won't see much change. Missional is going. Incarnational is how we go, what we do as we go, and how the culture interprets Jesus through our lives. 1 John 2:5 it says, "By this we may be sure that we are in him. Whoever says he abides in him ought to walk in the same way Jesus walked." This is what Sacrilege is really trying to help people with.  Not just knowing about Jesus, but patterning our lives literally after his. If we could even see 20% of the Christian population take on his life...that would change everything!
4. Why did you use the beatitudes as your biblical basis for the book?
That's where Jesus started when he began to try to re-orient religious people toward an entirely new faith system he called the Kingdom of God.   As each chapter takes a beatitude, and then shows the sacrilegious alternative to religiosity, I hope to also give people an angle that will challenge and release them into true incarnational living.  I also wanted people to know that the Bible gives them permission to be with, love, accept, and befriend sinners; that the Bible gives them freedom to enjoy life and embrace the grey areas of life without fear, fundamentalism, or frigid faith.  
5. People that know you have come to expect that you'd probably tip a few sacred cows over. Which ones do you think you'll take the most heat for?
For sure it would be the chapter where I address the Sunday practice of communion, or the Lord's Supper.  I suggest that Jesus never intended for the Eucharist to become an institution of the church available only for insiders. The symbolic act of "remembering him" is actually MORE IMPORTANT to Jesus than it naturally becomes when you administer it with the common practices of exclusion, judgment on the heart of someone in the crowd, or professional clergy controlling who gets to receive it.  
The Table of the Lord has become another 'false" line in the sand instead of what was truly intended to be...that of an invitation to eat with Jesus and experience his mercy.  Three publishers said no to this book though they agreed with my biblical and historical sketch. They simply didn't want to take the heat from retailers.  I do want to add my view to the overall discussion of how Jesus would treat those not in the club because I think it's central to His larger call.  I'm proud of Baker Publishing for letting the honest discussion come out.
6. On what biblical basis would you see people partaking in the Lord's Supper as a way to bring them closer to Christ?
When I suggest our communion be "open" I'm only referring to the making the pathway "open" for people to come to God. Open doesn't mean a "free for all" or an invitation to non-believers to take the Lord's Supper. It simply means that I don't create any man-made lines in the sand whereby I determine where someone's heart is at or hold them off from taking communion because they haven't completed a class or formal membership process. In Adullam, I let people know every week that it is for those who by faith, come to remember Christ's payment for our sins, and the non-christians or not yet Christians have always respectfully stayed seated. As well, I do often, just as I did in year of youth ministry with Youth For Christ, invite people to the table as a 'first step' in their faith in Jesus and this has happened quite a bit.
7.  How would you recommend a pastor use this book?  
Though I know some are doing it, I'm not sure I would just hand it out to everyone.  It's sort of like a brand new pair of scissors.  It's not safe for elementary users but could be highly practical for those in our congregations that are ready to engage the world like Jesus did.  I'd give it to small groups who are trying to become missional communities, I would give it to all church planters, I would give it to all pastors, elders or anyone setting vision for a church.  AND I would give it away like candy in at Halloween to jaded Christians who have tapped out of church, or friends who are not yet followers of Christ. It will help them see a completely different side of Christianity that they will like.