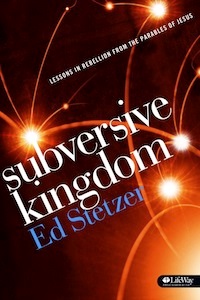 Here is another excerpt from a brand new small group study I wrote (and then filmed the content in Ireland). The study is focused on how, as citizens of the Kingdom, we are to live subversively as agents of the that Kingdom-- sharing and showing the love of Christ. (The Ireland connection is historic and woven throughout-- see The Celtic Way of Evangelism for example.)
From the Small Group Study.
Everything changes when you enter the kingdom of God. The heart, loyalty, priorities-- it's all different. It must be so if we are to be kingdom representatives in the in between time-- the time between the cross and the return of Jesus.

All of those changes add up to a radical readjustment of priorities for those in the kingdom. It seems obvious, yet most of us still struggle to have a kingdom-driven agenda for our lives.

You'd be hard-pressed to find a topic that was more prioritized to Jesus than the kingdom. Though we often think of Jesus' teaching being more about heaven, hell, money, or sex, He emphasized the kingdom far more than these other subjects.

Depending on how you count, there are more than 80 references to the kingdom of God in the Gospels of Matthew, Mark, and Luke. The Book of Matthew alone contains more than 30. Just from the sheer volume of times Jesus taught about the kingdom, we can't help but see how important it was to Him during His earthly ministry.

Jesus not only led off His public ministry with statements about the kingdom, but in His most famous sermon, commonly called the Sermon on the Mount, He called for a radical commitment to a kingdom way of life.

Most of us see our priorities in this section of Scripture (Matthew 5-7), though not in Matt. 6:33. Instead, we are those who seek what we will eat. Or wear. Or earn. We spend a good deal of time worrying about these parts of life: What if my job is downsized? What if my children aren't provided for? What if my spouse gets sick?

The truth is that whatever worries us is probably a good gauge of our priorities. That is to say, if we spend time and energy worrying about something, chances are we are holding that thing in fairly high esteem.

As kingdom people, God is calling us to live by the values of His kingdom-- values that should shape every aspect of our lives. We are called to be so single-minded concerning the kingdom that everything else should pale in comparison. The promise from Jesus is that if we have kingdom priorities, then we really don't have to worry about anything else. God will provide in all other areas.
You can get order Subversive Kingdom: Lessons in Rebellion from the Parables of Jesus at LifeWay.com or Amazon.com. The leader kit is here.
The Exchange is a part of CT's Blog Forum. Support the work of CT. Subscribe and get one year free.
The views of the blogger do not necessarily reflect those of Christianity Today.