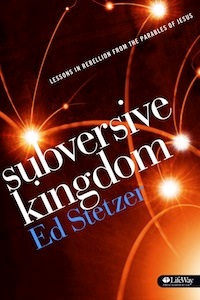 I've been blogging through my small group study, Subversive Kingdom. The book by the same name comes out soon, but you can get the small group study right now. It has video of me teaching in Ireland (you have to watch to see how that ties in), a leader's guide, and a student book for each participant.
You can order it here. In the meantime, here is more fromSubversive Kingdom: Lessons in Rebellion From the Parables of Jesus.
Nobody ever said Jesus was an expert in public relations. Many times in His ministry, people were ready to march to Jerusalem with Jesus on their shoulders. "Declare the revolution!" people must have urged. They wanted Jesus to overthrow the political establishment, and they were ready to take up arms if necessary to follow Him.

But instead of rallying the crowds, Jesus was in the habit of dispersing them with difficult teachings and strange stories. After one such happening, Scripture records, "From that moment many of His disciples turned back and no longer accompanied Him" (John 6:66).

Matthew 13 marks the point in Jesus' ministry when He became cryptic and mysterious in ways that He had not been before. Prior to this moment, Jesus had been pretty straightforward. He'd given the Sermon on the Mount. He'd talked about His identity. Then suddenly, in Matthew 13:3, we find this:

"He told them many things in parables."

Why the sudden shift to obscurity? And why at this particular point in His ministry? The key to understanding the shift in His teaching emphasis is in chapter 12.

Jesus stirred up controversy in Matthew 12. The Pharisees were charging Him with demon possession. Jesus was pointing at the most important landmark in the life of the Jewish nation--the temple--and claiming that He was greater than even that. It all got to be a little too much for some of His listeners.

As Matthew 12 closes, Jesus' family decided they needed to rein Him in a little bit.

At first glance, we might think the same thing that Jesus' brothers probably did: Who does this guy think He is? It seems like an arrogant and self-important way to respond. But even in this situation, Jesus was teaching an important lesson about the kingdom.

In fact, this event is what specifically led to Jesus' transition into the use of parables concerning the kingdom of God. Here's how Jesus' family and the upcoming parables fit together: The kingdom is subversive. It's secret. And even those closest to Jesus couldn't understand it unless their eyes were opened.

This is what the first kingdom parable is about. It shows how and why all the other parables of the kingdom would be received or not received among the people.

In just a few, well-chosen words, Jesus delivered a verbal picture of how the kingdom of God takes root in a person's heart. He described the generous nature of the sower, who threw seed everywhere He could. He talked about the different types of soil that may--or may not--accept the good seed. And He talked about the differing results when the seed lands on those different kinds of soil.

This is the kingdom of God in you. In me. In us. It begins small. Not everyone understands it. But for a few, the seed of the kingdom takes root and grows. And grows. And grows. And much fruit is borne.
You can get order Subversive Kingdom: Lessons in Rebellion from the Parables of Jesus at LifeWay.com or Amazon.com. The leader kit is here.