LAST TIME
Lindsey Nobles, Director of Community for Project 7, shared about her quest not to uncover His plan but to find the next right step.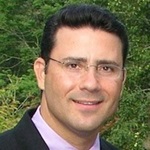 THIS WEEK
Please welcome Juan Sanchez to the blog. Juan is part of the Advisory Council and a writer for The Gospel Project. He and his wife, Jeanine, have five daughters, and he served as a pastor in Austin, TX.
Speaking of The Gospel Project, the audio and video from yesterday's events will be posted here in the site later today.
Juan will be stopping by the blog today to answer questions and interact in the comments, so be sure to leave a comment or question for Juan below.
The Church: A Display of God's Manifold Wisdom
Despite the plethora of books having been written on the church in the last few decades, the church has not fared very well. While some "like Jesus but not the church," others "are leaving church and rethinking faith." As for me, I grew disillusioned with the church and thought that international missions might be the way to go.
It was during my time in seminary and my first pastorate that I began to reconsider what the Bible says about the church. By His grace, God gave me a newfound love for His people. I realized I couldn't give up on the church because it is a part of God's eternal plan to display His glory through Christ. Let me explain.
The Old Testament promises that God will return His repentant people (Israel) to the place of His presence (land/temple), under His rule (kingdom), for His glory and their joy (blessing), through a Davidic messiah (anointed king). The New Testament reveals that this promised Davidic messiah in none other than Jesus (Matthew 1:1). Yet, the New Testament also reveals that a formerly hidden mystery has now been revealed in Christ-- that God intended all along to include all ethnicities into God's people, not just Jews (Ephesians 3:1-6; cf. 2:11-22). Paul viewed himself as an apostle of this gospel of inclusion (Ephesians 3:7). As such, the ministry entrusted to him was one of preaching the unsearchable riches of Christ to the Gentiles (Ephesians 3:8) and enlightening everyone as to how God chose to accomplish His purpose (Ephesians 3:9), so that through the church God's manifold wisdom would be on display to the cosmic powers (Ephesians 3:10).
The implications of this ecclesiology began slowly to crystalize in my mind. If God's wisdom is to be displayed, then it must be witnessed. An identification merely with a universal concept of the church is insufficient to account for it. I concluded that God must display His wisdom to the cosmic powers as they witness Him gathering a people for Himself from every tribe and language and people and nation through Christ, into the Church: the heavenly assembly spoken of in Hebrews 12:18-24, of which each true local assembly is a genuine manifestation. In other words, God displays His manifold wisdom as He gathers His people (now a multi-ethnic assembly), to the place of His presence (ultimately a new heavens/earth), under His rule (an eternal kingdom), for His glory and their joy (blessing), through Jesus Christ. The book of Acts shows us that God's ethnically diverse people is now being gathered from Jerusalem to the ends of the earth through the proclamation of the gospel. As God gathers His multi-ethnic assembly through Christ, the demonic powers in the cosmos are reminded that they have been defeated (Colossians 2:15).
But God is not magnified as wise merely because He gathers a diverse assembly. Anyone can gather a diverse crowd for various reasons-- consider college sports: a multi-ethnic gathering, worshiping together, guided by a specific liturgy of songs and cheers, and focused on a particular idol. No. The wisdom of God is magnified in the fact that God's diverse assembly actually functions in a Spirit-given oneness (Ephesians 4:1-6): a diversity of peoples in one assembly loving each other as brothers and sisters-- that is the power of the unifying gospel; that is the glorious wisdom of God!
In God's kindness, He has allowed me to witness His manifold wisdom as I serve a church that is composed of a diverse group of peoples from various ethnicities and cultures living together as one family. The Lord allows me to serve this people whose self-sacrifice means there is no demand for a particular cultural expression of music in the gathered worship; they are more concerned with singing the gospel together when we gather. The Lord allows me to serve this church alongside a leadership that is as diverse as the congregation but who love each other and shepherd the church with the same mind, heart and voice. We are family, and as you can imagine, family life is messy. Nevertheless, as imperfect as we are, we are growing in grace together. In a future post, I can't wait to tell you a little more about how we work out this messy life together in worship and in mission.
The Exchange is a part of CT's Blog Forum. Support the work of CT. Subscribe and get one year free.
The views of the blogger do not necessarily reflect those of Christianity Today.