May 3, 2012
Emily Freeman - Thursday is for Thinkers


PREVIOUSLY
Halim Suh, Pastor of Equipping at Austin Stone Community Church in Austin, Texas, and coauthor of Creation Unraveled: The Gospel According to Genesis, shared how we must examine our love of God through the lens of the head, heart, and hands.
TODAY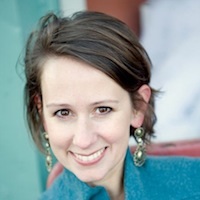 Please welcome Emily Freeman to the blog. Author of Grace for the Good Girl, Emily is a writer, speaker, and listener. She is the creator of the blog, Chatting at the Sky, where she combines photos and story to create space for souls to breathe.
Emily and her husband, John, live in North Carolina where John is a high school pastor and Emily leads a small group of junior girls. John and Emily have been married for ten years and have three children. Emily's book for high school girls, Graceful, will release in September 2012.
Emily will be hanging around the blog today to answer any questions and respond to any comments you may have.
For the ten years we've been married, my husband has worked as a youth pastor. In youth ministry years, that's practically a lifetime. And whether you admit it or not, you already have an idea of what he might be like.
I know you do.
It's true, we fit many of the stereotypes a couple in ministry might have: I went to Bible college, he went to seminary. I am a sign language interpreter turned author. He reads commentaries for leisure. We have three kids, a dog, and a white picket fence. It's mildly ridiculous.
But there are many ways he doesn't fit the youth pastor profile. He doesn't like roller coasters, game nights, or crazy loud concerts (unless it's the Avett Brothers). He doesn't enjoy the spotlight, drive a motorcycle, have tattoos or wear cool hipster glasses. He leans toward introversion.
Sometimes he even tucks in his shirts.
But he has the heart of a pastor, is deeply compassionate, and attracts both the mainstream and the misfits. He has found favor among men. He leads with a quiet confidence.
I serve in the youth ministry with him by leading a small group of junior girls. There is nothing like a group of ten sixteen-year-olds to make one doubt every single perception she has about herself. You can try to be funny, serious, non-cheesy, smart and relevant. But at the end of the day, the only thing you can do is offer yourself as yourself as you lean hard into Christ.
It's true of my writing as well. I am new at this whole let-me-write-a-book-and-have-strangers-read-it thing. I have my own ideas about the kind of writer I want to be. I try to be brave, but I'm nowhere near edgy. I tell my vanilla stories with truth and a bit of whimsy. I am deeply curious about the mystery of Christ within us.
These are the things I write about and there's a certain way I am gifted and inclined to do so. But I don't really get to say what your impression of me is. Only you get to say that. When it comes to our truest, most sacred identity, Jesus gets the final say. But when it comes to our perceived identity in the world, among our peers, among those to whom we minister, they get the final say. And their life experience mixes in with their own opinions and stereotypes, and we are defined by them, for better or worse.
In ministry it can be easy to try to grasp for future outcomes, wildly strangling them into submission. It can be a daily struggle to consider the opinions others have of us without trying to convince them out of the unfavorable ones.
But this is a closed-fisted, clenched-jaw approach to ministry. Rather than an open minister, I become an opinion manager. And there's nothing like a group of strongly disagreeable critics to set my world spinning upside down.
I'm learning what it means to work like a hostess rather than a manager. A hostess issues the invitation for a seat at her table. But once the guests arrive, she doesn't spend her time in the next room, calling all those who have RSVP'd no. A hostess serves the people at her table. She opens her hands and welcomes them in, looks them in the eye and meets them where they are. She serves those who show up and doesn't ask them to fill out an evaluation to let her know how she's doing.
As my husband and I enter our eleventh year of youth ministry, we are learning the freedom of opening our hands and releasing outcomes into the hands of God. As we lean hard into Jesus, I'm caring less what people think and more for people, period.
Support our work. Subscribe to CT and get one year free.