One of my favorite meetings each year is the Church Planting Leadership Fellowship (CPLF). The CPLF exists to help denominational leaders connect around church planting learning and serves as a place for peer learning. We've been doing this for a few years now. If you are interested in seeing what we've previously done, you can also read the recaps from 2011, 2010 and 2009. Last week, I was excited to be able to again host this meeting here in Nashville.
The CPLF consists of national church planting leaders from denominations, districts, state conventions, adjudicatory levels and church planting network leaders. We meet in August and November for formal meetings, and connect through the year via email, etc.
One of the great things about the total membership of CPLF is that the groups involved represent approximately 75% of church planting in North America. It is a great place for mutual learning.
This time we met for a couple of days to discuss two primary topics. The first was the release of some brand new African-American church planting data that is currently coming out of a LifeWay Research study. The finalized research will be released to the CPLF at the August meeting. The parts that are released publicly will be shared after that meeting (and I will share it here at the blog).
The bulk of the meeting, however, was given to international practitioners from around the globe who are leading incredible movements, churches and denominational groups to advance the gospel in a scale that dwarfs the churches and movements that are considered the most successful in the United States.
Here are some tweets from the event that will give you an idea of the content covered, particularly the parts from some of the American speakers.
North America looks like a pancake - flat and everyone looks alike, but really it's a waffle with pockets of diversity #cplf

– scottkirk (@scottkirk) November 14, 2012
Three Rules for Blueprint Church: 1. Love God 2. Love Others 3. Do whatever else you want to do.#CPLF ... makes a great church

– scottkirk (@scottkirk) November 14, 2012
"I don't pastor so I can preach. I pastor so I can make disciples." -@dhati Lewis at #cplf

– Ed Stetzer (@edstetzer) November 15, 2012
"Jesus didn't just sit down with his disciples and show a powerpoint presentation; they lived life together" - JH @ #cplf - Life on Life

– scottkirk (@scottkirk) November 15, 2012
Systems are important in church planting, but MOST important is a discipleship environment and culture. Jun Escosar #cplf

– scottkirk (@scottkirk) November 15, 2012
"Jesus builds the church (Matt 16) ... our job is not to build the church but to make disciples (Matt 28)."Steve Murrell #cplf - Profound!

– scottkirk (@scottkirk) November 15, 2012
Church is not about my personal preference.It is about how we reach our community.--Steve Murrell#CPLF

– Chris Meirose (@mrclm) November 15, 2012
Dhati Lewis kicked things off for us, sharing about urban church planting and addressing issues of "majority minority" churches. Dhati is well known by many people because he is the pastor to hip hop stars Lecrae and Tedashi. However, Dhati is among the most innovative, focused urban church leaders in the US today. Dhati pastors Blueprint Church in the Atlanta area, and also heads up The Rebuild Initiative.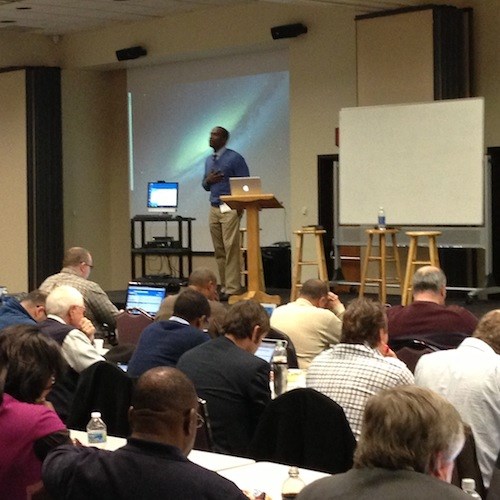 Jeff Hartensveld followed Dhati up and shared with us about church planting in Southeast Asia (we cannot share the country and did not record his presentation). Jeff recently transitioned from living in Southeast Asia for 23 years, and is now the new Director of Assembly of God World Mission Mobilization. Jeff shared incredible lessons from his experience seeing God move in unbelievable ways through heavily muslim contexts.
Ying Kai & Bill Fudge continued our time together. Ying wrote a book called T4T which is taking the world by storm. He may be the world's foremost expert on training trainers for church planting. The numbers behind Ying's ministry are simply unbelievable. Since the early 2,000's they have seen around 2 million new baptized believers, and over 140,000 house churches begun in East Asia. Bill worked with Ying in East Asia, and helped provide some support for Ying as he spoke.
Steve Murrell spoke to us next. Steve is the Senior Pastor at Victory Church in Manila, Philippines. (That is the church where I was scheduled to preach this past summer when my daughter had to spend an extended time in the hospital which required me to postpone my trip.) Steve is part of the leadership of the church that currently runs around 65,000 people each weekend. Their church is a multi-site church with around 15 campuses. Collectively they lead 94 services each weekend, each of them led by live preaching. Steve, as the Senior Pastor, only preaches at 2 of those services. It is now an indigenous movement of Filipino leaders reaching the city, nation, and the world.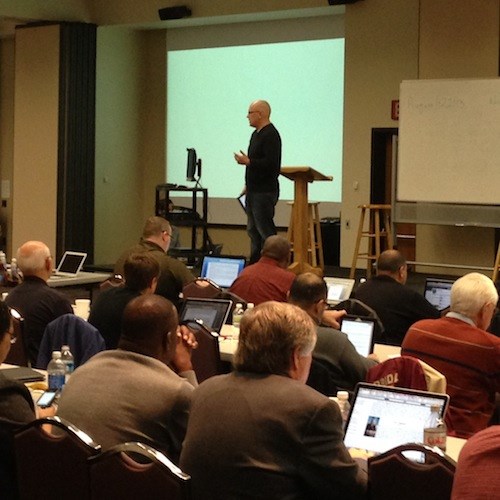 David Garrison concluded things for us. David is quite possibly the world's foremost expert on Church Planting Movements. David has lived and served all over the world, and currently works for the International Mission Board and lives in Colorado. David always provides incredible content about what God is doing around the world, and how God is doing that.
Far too often the American church seems to assume a position of authority over the rest of the world, when often these international leaders are seeing God work in ways that those of us in American can just marvel about. This meeting was great as it allowed our American leaders to simply sit back, take a position of humility, and learn from these outstanding leaders.
Later this week, I will share my closing thoughts from the CPLF about how we can learn from the Two Thirds World.
Any groups interested in joining the CPLF can contact us at research@lifeway.com for an application. (CPLF members, an email will be sent out about the audio and the presentations, available to members even if they missed the meeting. At this point, we are not releasing the presentations beyond the CPLF.)