With every passing election season, the topic of pastors endorsing candidates from the pulpit gathers more and more interest from the media. Many of us have heard of incidents where pastors have preached in favor of or in opposition to certain candidates. Many times these end up on camera and on YouTube or in the news.
So, since it is a Presidential election year, we decided to do some research and surveyed 1,000 Protestant pastors and found that nearly 90% of them believe they should not endorse candidates for public office from the pulpit. Also, 44% of pastors personally endorse candidates, but do so outside of their church role.
It is important to note that only 10% believe pastors should endorse candidates from the pulpit. Interestingly, this number is down from 15% in a similar 2010 poll we conducted. (This is not to say that pastors approve of the IRS regulating the ability of pastors to endorse candidates, which we also studied in an earlier study. The question here is whether pastors SHOULD, not whether the IRS should have the POWER to keep them from doing so.)
What was interesting was the differences which emerged between evangelical and mainline pastors and between differing political parties.
Eighty-six percent of evangelical pastors believe pastors should not endorse a candidate from the pulpit, as compared to 91 percent of mainline pastors.

The amount of pastors who say they should not endorse candidates from the pulpit also varies according to political affiliation. Among pastors who call themselves Democrats, 98 percent believe political endorsements should not be made from the pulpit compared to 90 percent of Independents and 82 percent of Republicans.
As I mentioned, this has some (sometimes controversial) legal aspects due to the tax exemption rules of the IRS.
An amendment to the IRS tax code in 1954 prohibits tax-exempt organizations, such as churches, from endorsing political candidates for public office. According to the IRS, "violation of this prohibition may result in denial or revocation of tax-exempt status and the imposition of certain excise tax."
More noteworthy findings in the research:
Less than half of Protestant pastors (44 percent) personally endorsed candidates this year outside of their church role.
Pastors of churches with less than 50 members are the most likely at 56 percent to say they had personally endorsed candidates for public office outside of their church role.
Pastors in small cities (49 percent) are more likely to say they had endorsed candidates outside of their church role than pastors in large cities (33 percent).
Self-described Independents (34 percent) are least likely to say they endorsed candidates outside their church role compared to Republicans (51 percent) and Democrats (54 percent).
Only 17 percent of pastors believe the election cycle has been too religious compared to 77 percent who say it has not been too religious and 5 percent who are not sure.
Among pastors who call themselves Republican, only 9 percent believe the election cycle has been too religious, as compared to 20 percent of Independents and 39 percent of Democrats.
Also, mainline pastors (22 percent) are more likely to believe the election cycle has been too religious, compared to 14 percent of evangelical pastors.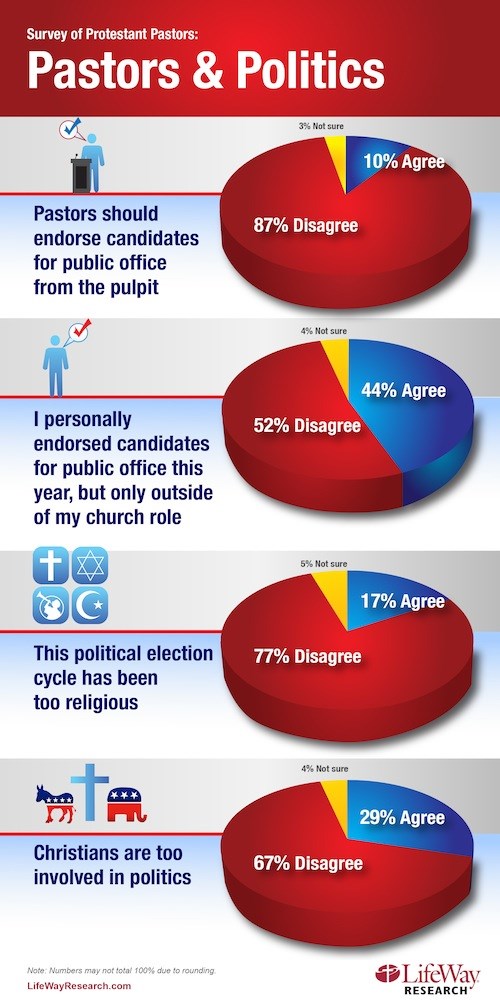 In case you are wondering, my view is simple: Pastors should preach something more important than politics-- they should preach Christ. They should preach Scripture. When they preach Scripture, they will indeed address issues that the world sees as political, but they distract from their message and mission when they start using the church to endorse canididates.
An old saying explains, "When you mix politics and religion, you get politics." When it comes to endorsing candidates, I believe that statement applies-- it hurts the mission of the church.