If you are not reading Adrian's blog, you should be. I've even interviewed him here at the blog. Here he talks about joy and its source.
Where Does a Christian's Joy Come From? -- Adrian Warnock
Our joy comes from God. It is a mutual joy. It is a joy that overflows from our knowledge of God and from our knowledge - get this! - that God rejoices over us. In His presence says this Psalm, is fullness of joy. At His right hand are pleasures forevermore and one of the things that He is rejoicing over is you. Isn't that wonderful?
The Scripture says that God rejoices over you to do you good (Jeremiah 32:41). That would be a great verse to memorise this term, wouldn't it? The exact words are this: 'I will rejoice in doing them good...' What a wonderful truth. That is surely enough for us to be joyful in and of itself.
It also says in Isaiah that God will rejoice over us as a groom rejoices over his bride.
1 Peter 1:8 promises us, '...joy that is inexpressible and filled with glory...' You can see when you start to read some of these verses and understand the breadth of them, the depth of them, the extent of them, that they are big promises. This is why I say we have only dipped our toes into it. Joy inexpressible and full of glory. Full of glory.
In the Old Testament, there is a number of words for joy but all of them have this in common, that they are words which talk about our whole being expressing that joy. So, there are words in the Old Testament that talk about clapping or shouting or dancing, and they are all words that relate to joy. There are some people that say something like this: I am clapping on the inside. You can't clap on the inside!
Just one of many examples of commands for us to express our joy comes in Psalm 47:1: 'Clap your hands, all peoples! Shout to God with loud songs of joy!' So we don't clap here because that is what we are used to, or that is just our personal preference or, we have to do something to keep the Africans happy. No! We clap our hands here because it is a sign of rejoicing and we celebrate our God with loud songs of joy because it is commanded to us to do it, and because He is worthy. Amen!
I aways appreciate Thom's passion for pastors. Take a look.
Pastors Are Hurting -- Thom Rainer
Not all the news about pastors is discouraging. Pastors feel privileged to be called to their places of ministry. They have a deep love for those they shepherd. Most of them could not conceive of doing anything else.
But please hear me: Many pastors are hurting.
LifeWay Research conducted a national survey of Protestant pastors. Among the questions they asked were two related to the hurts I noted above.
One of the key symptoms of the pain experienced by pastors is discouragement. Over one-half (55%) of pastors are presently discouraged. I suspect that if we surveyed pastors over just a few months, we would find that almost all of them experience deep discouragement.
Some interesting facts we discovered in our study:
There was no pattern of discouragement related to the geographical location of the church.
There was no pattern of discouragement related to the size of the church.
There was no pattern of discouragement related to the educational level of the pastor.
There was a significant pattern of discouragement related to the age of the pastor. The younger the pastor, the more likely he was to be discouraged.
An update from The Exchange.
Contextualization in Local Church Ministry -- Mike Barnett
From a recent episode of The Exchange, Mike Barnett discusses contextualization in local church ministry. You can see the full episode here.
Be sure to watch The Exchange today as well as every Tuesday at 2:00 p.m. CDT, right here at EdStetzer.com. On this week's episode, Philip Nation, Michael Kelley, and Trevin Wax will discuss issues related to effective Bible study groups such as what's the best type of group, recruiting leaders, and multiplying the number of groups. As always, we will take your questions via the chat room and Twitter.
As the father or daughters, I think it is important that we teach our girls about healthy body image. I thought this graphic is a good reminder as to why.
(Click to enlarge)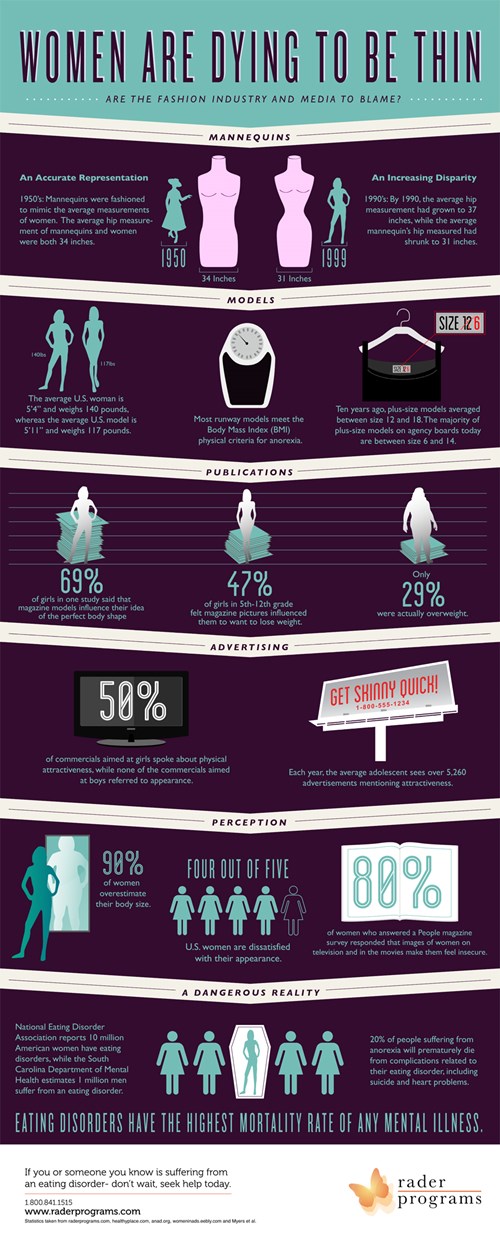 The Exchange is a part of CT's Blog Forum. Support the work of CT. Subscribe and get one year free.
The views of the blogger do not necessarily reflect those of Christianity Today.