One of the more interesting things about my year is the annual research into America's largest and fastest-growing churches. The insights these churches and church leaders provide are helpful to all who seek to effectively get the Gospel to those outside of Christ. In our shifting culture, strategies are important; hearing about successful models can encourage everyone to engage their community. Jeremiah encouraged the people of Judah to "break up the unplowed ground," which makes perfect sense since plowed ground is easier to sow and bears more fruit.
Numbers are not just numbers; that is, the numbers that place churches on this list have stories behind them. Each digit represents a life somewhere in the United States. Whether that person is a longtime Christian, a newly baptized believer, or a person involved in cross-cultural mission activity, this is more than the "biggest and baddest" list. This annual census is not a holistic look at every aspect of being a biblical church. It is one way to learn how these churches are engaging the lost and unchurched of America. But it does give valuable insight on one aspect of the church--numerical growth--and the strategies behind reaching communities in need of grace.
We were curious this year how or whether the largest and fastest-growing churches were involved in the mission of God beyond their local campus or campuses. Specifically, we asked each church about their efforts in multiethnic ministry, what mercy ministry looked like for them, and about their attempts to engage an unreached people group somewhere in the world.
Here's a snapshot of how some churches have responded to those areas. I will cover the rest in part two tomorrow.
Ethnic Diversity
It has long been said the most segregated time of the week in the United States is at 11 a.m. on Sunday. By and large this remains the case, but thankfully, a growing number of churches reflect the diversity in their communities. With specific intentionality, these churches want to include all the nations, tribes and tongues around them--not just into membership, but into leadership as well.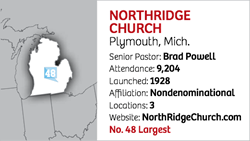 Jim King, chief financial officer of NorthRidge Church in Plymouth, Mich., believes the racial makeup of the church should reflect that of the surrounding community. "We seek to make NorthRidge a church for all people," he says. "We want to organically smash down the wall between the different ethnicities. Acts 2 is the model for our worship--everybody needs to hear God's Word and be involved in corporate worship."
King notes how being intentionally multiethnic benefits the entire body: "Racial diversity allows different ethnic groups to better understand each other and learn from other groups. Being multiethnic helps those in the minority to feel more comfortable in the worship service, as we have members of multiple ethnicities and cultures on staff, in leadership roles, on the praise team and in the band. It's encouraging to look around and see others like you worshipping in the same room.
"This organically structured ministry builds on itself. As more cultures come and see members of their own ethnicity in the service, they feel more comfortable inviting friends. We have seen exponential growth in the last five years through those efforts. The percentage of ethnicities represented at NorthRidge now nearly mirrors the surrounding suburbs."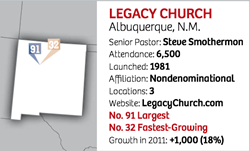 Derek Smith is associate pastor at Legacy Church in Albuquerque, N.M. Legacy is another church whose ethnic composition generally reflects its community, and it has a greater percentage of African-American attendees than what is reflected in the general population. Smith indicates the only strategy the church has used is to try and reach everyone. "Our strategy is reflective of our pastor's heart," Smith says. "He's just so big on reaching everyone in the city that it shows. One place we are very intentional is in making connections. When someone comes to us, we find out about them. We ensure he or she gets connected to someone in the church with whom they have an affinity, including someone in leadership as needed. Intentionality helps people feel a part of the fellowship, beginning with their initial visit."
Mercy Ministry
The past several years have seen a needed return to biblical compassion and action to help those affected by injustice. Organizations that fight sex trafficking and human trafficking and promote adoption and mercy ministries dot the church landscape. Many of the churches on this year's list are excelling in this area and raising the standard for all churches.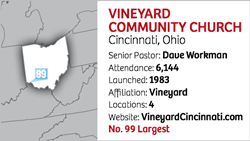 Vineyard Community Church of Cincinnati is heavily involved in mercy ministry. Although that particular label has never been used, Kande Wilson, senior director of Outward Focused Ministries, says: "Helping the poor is part of the DNA of the church. It has been a part of who we are for 27 years."
In a myriad of ways, Vineyard brings the Gospel to the poor, homeless and others combating life's struggles. In the tougher areas of the city, the church distributes food, clothes, hygiene items and more.
"There are lots of groups that serve food," Wilson says. "If anyone wants food, they can get it. We have a group that is committed to helping people who have made the decision to get out of transiency. There are people from our church who have been deeply involved in the lives of the poor and homeless for 14 years. They are downtown every week-- rain or shine, holidays, snow, whatever. They do ministry on Christmas. This longevity is a key factor to gaining trust. Our members view these hurting people as their own congregation."
For many years, Vineyard Community Church had an on-campus ministry that was "a food pantry on steroids," Wilson recalls. "In 2007, we did the Luke 4 Challenge, focusing our capital campaign on our city, our future and our world." As a result, the church expanded its ministries to provide help for the whole person.
"This meant bringing divorce care, lost job ministry, homeless ministry, and others similar to these under one roof," Wilson says. "This was our outreach to the city."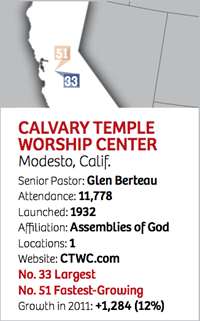 Glen Berteau, senior pastor of Calvary Temple Worship Center in Modesto, Calif., cites not only specific biblical texts like the Great Commission and Ezekiel 16:14, but a biblical template as well: the Old Testament city of Nineveh. "Our social justice ministry is called Nineveh Outreach because Nineveh was the only biblical city that completely came to the Lord," Berteau says. "We want to see our city saved. I believe if that can happen then, it can happen here and now.
"Nineveh Outreach provides food and clothes for our volunteers to distribute when they visit more than 30 parks every week. For Modesto Park alone, we distributed $5.5 million dollars in food last year. We also send out a nonprofit mobile medical and dental truck to help kids. We received a letter from the local police department telling us the crime rate in our area declined as a result of our ministries.
"We also run Without Permission, a ministry that stands against human trafficking, which is a big problem in our area. Calvary Temple paid the fee to procure our local police department a state grant. Now they are able to send patrols specifically to safeguard against human trafficking."
Berteau sees beauty as the core of outreach: "Our world is attracted by beauty. If the church would become beautiful, the world would be attracted to it. Beauty means reaching out to people as they are--seeing each of them as one of God's masterpieces."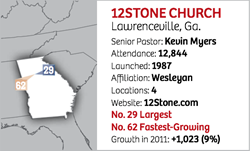 Street GRACE, which 12Stone Church in Lawrenceville, Ga., helped start, is the only organization dedicated to eradicating commercial sexual exploitation of children "that leads people on a comprehensive path to leave a social injustice," says Executive Director Cheryl DeLuca-Johnson.
DeLuca-Johnson explains: "Our comprehensive path includes awareness, education, engagement and social change. Currently Street GRACE has 80 partner churches in Georgia. We are now moving into Tennessee and Alabama. We are blessed to have 1,950 volunteers at some level in Georgia alone. Recently, the Department of Education contracted with us to present information to all the teachers and school staff in Georgia. This training includes not only how to help children, but also how to stop the demand. We include legislative efforts to get laws changed. For example, through the year 2000, the law in Georgia for sexual exploitation of a minor was a misdemeanor with a $50 fine. As a result of our efforts, the penalty is now a $100,000 fine and up to life in prison."
Tomorrow, I'll discuss highlight a few churches who are reaching previously unreached people groups and the ways others are recruiting volunteers and mobilizing their members.
This article appeared in Outreach magazine. For the complete Outreach 100 lists and to subscribe, click here.
The Exchange is a part of CT's Blog Forum. Support the work of CT. Subscribe and get one year free.
The views of the blogger do not necessarily reflect those of Christianity Today.