Yesterday, I highlighted a few churches in the Outreach 100 who are succeeding in the areas of ethic diversity and mercy ministry. If you missed it, you can read it here. Now, for part two:
Unreached People Groups
A difficult ministry effort for some churches is the effective adoption of an unreached people group somewhere in the world. Broadly defined as an ethno-linguistic people who have no ongoing Gospel witness that is understandable within their cultural context, unreached people groups are often located in the most geographically remote or geopolitically challenging parts of the globe. Many are within closed countries where proselytizing and conversion to Christianity are against the law.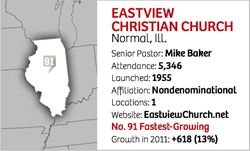 Engaging an unreached people group always requires an initial strategy, but also requires a flexible strategy. "Several years ago, we made the hard decision to scale back from sending dozens or more groups to dozens or more places. Now, we focus on four regions," says Jim Probst, pastor of small groups at Eastview Christian Church in Normal, Ill.
"One of the regions in our narrow focus is India," Probst says. "We are starting a unique partnership with Central India Christian Ministries. They raise up church planters and train them in a nine-month seminary crash course. They then send 20-40 planters every year into the most hostile environments. These men are risking their lives to share the Gospel.
"Our small groups each adopt a planter to support both financially and prayerfully. The planters come back for annual events at CICM and share their stories. Dozens of these pastors have been persecuted to the point of having family members murdered and their homes burned down, but they remain faithful. We believe in what CICM is doing. In addition to the small groups' efforts, we as a church send support to CICM to help them run the center for training the house pastors."
NorthRidge's director of stewardship and outreach, Mike Miller, addresses their unreached people group goal and the motivation behind it when he notes: "There are over 50 verses in Scripture that talk about living out the call to compassion and helping others. Isaiah 1 talks about it. Both the Old and New Testaments discuss the church's role and call us not to forsake the oppressed. Though our ministry is still in formation, our emphasis is clear. We want to ask: 'Who are the children in crisis? Who is already ministering to them? Where are the gaps, and how do we fill them?'
"As a church we did a big push for developing a relationship with World Vision. Through that relationship, we minister specifically to two communities in Africa. We know it will take 10 to 12 years to make the ministries in those communities sustainable. That push alone resulted in close to 2,600 families sponsoring a child in one of those communities. Eventually we want to see hospitals providing health care in these areas.
"We started out by building a culture of generosity. Teaching your church about the compassion side of Jesus' call is the key to developing a generous church. Believers must be in the business of compassion."
Making It Work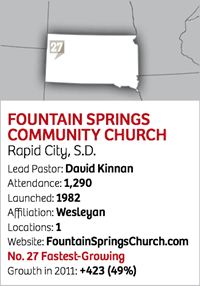 Some churches find it difficult to adopt the "kingdom beyond our campus" mindset, whether relating to mercy ministries or outreach to unreached people groups. They may fear a lack of resources or lack of professional staff will hinder such a task. Katy Kinnan of Fountain Springs Community Church in Rapid City, S.D., relies on a strategy that is not dependent on professionals. Kinnan, the church's outreach leader and wife of Senior Pastor David Kinnan, says: "Volunteers are key to what we do. With our small groups and Love Rapid City, a weeklong focus on serving the nonprofits in our city, we are dependent on lay leaders. Leadership training is critical to what we do and something we are passionate about. We are very team-focused, and with everything we do, we group our volunteers into teams and train our leaders on leading those teams."
Other churches may be reticent to take up the task because of the varied challenges that can be involved, some of which are neither the fault nor responsibility of the church. Legacy's Derek Smith has this advice: "Do not give up. Several years ago, our homeless ministry faced a challenge when a new city ordinance kicked in, and we could no longer minister where we had for some time. It was at this point that our previous ministry in the city helped carry the day. We had built up goodwill by buying Fire Cams [video cameras for firefighters' helmets] for the fire department (a $60,000 investment) and by contributing to the Make-aWish Foundation. From that point, we were able to partner with the Noonday Ministry that provides shelter for the homeless. What we learned was do not quit that which God has called you to do. Find a different route. Find another way to get it done."
Moving Forward
It is always encouraging to hear how churches are advancing against the darkness to bring the light of the Gospel. Being part of a subversive kingdom implies another kingdom is breaking into the world. That does not happen unless influence is being extended into the strongholds of the evil one. This year's ministry questions were designed to help all pastors see the challenges and rewards of pressing into the areas that sometimes seem to be the most daunting of all. If we are to have a "kingdom beyond our campus" mindset, there is progress to be made among churches of all sizes. Having a backyard Bible club in our own subdivision might be easier than engaging an unreached people, but the latter is surely as important. I'm grateful for churches that are rising to the call.
Finally, I'm very thankful for those leaders in the Outreach 100 churches whose bold vision for God's kingdom results in so many being led on mission beyond the comforts and confines of the church campus. May their tribe increase.
This article appeared in Outreach magazine. For the complete Outreach 100 lists and to subscribe, click here.
The Exchange is a part of CT's Blog Forum. Support the work of CT. Subscribe and get one year free.
The views of the blogger do not necessarily reflect those of Christianity Today.