Apr 28, 2013
Church Spotlight: Bethlehem Baptist Church (John Piper, Pastor at the Time) in Minneapolis, MN
As you may know, I started a church in 2011, where I preach three Sundays a month. On the Sunday I'm not preaching at Grace Church, I've had the privilege of preaching for some friends, new and old.
My custom has been to take a few pictures and share a little about the church, my experience there, and how it might be helpful to my readers. I am seriously behind on doing this, but am going to try to catch up.
From June to November last year, I had the privilege to preach at the following churches (the links are the ones where I've already done a spotlight):
Bethlehem Baptist Church in Minneapolis, MN, where John Piper served as pastor.
James River Assembly of God in Springfield, MO, where John Lindell is pastor. It's one of the largest Assemblies of God churches in the country and I've preached there the last two years.
All Saints Anglican on Pawley's Island, SC, where Rob Grafe serves as rector. It's the church that led much of the realignment in Anglicanism.
Christ Fellowship Miami, where Rick Blackwood is pastor. It's a church that has done a great job as a multisite, multicultural, biblically-driven church.
ChangePoint Church, Anchorage, AK, where Dan Jarrell is pastor. It's a non-denominational church with a passion to be missional and has become the largest church in Alaska.
Pathway Vineyard in Lewiston, ME, where Allen Austin is pastor. The former pastor, Phil Strout, was my original connection, but Phil has since been elected as the National Director of the Vineyard Association of Churches. But, the good news is that Allen still had me!
Cidade Viva, in Joao Pessoa, Brazil, where Sergio Quieroz is pastor. In that case, I really spoke at their city festival, since they cancelled church and gathered for a beach service.
I will continue sharing a little about each of these churches over the next few weeks, trying to draw out some lessons along the way.
Today we look at Bethlehem Baptist Church.
I was there on a busy weekend. First, I spoke for the National Association of Congregational Christian Churches, commonly called the "Three C" denomination. The NACCC is a descendent of the congregationalism of the Pilgrims. It's a mainline denomination with a mix of evangelicals and mainliners, and I was glad to speak to them on the gospel and Christ's mission.
After finishing with the NACCC, I headed over to BBC for their Saturday night service. They tape Saturday night to then broadcast across their multiple campuses (while the preacher of the morning speaks like at some of them). They have a Saturday night service and two Sunday morning services. Here is a picture of the service, from the back/side.
It is worth a moment to describe the service, since it stands out from many others for three reasons:
The amount of scripture that is read during the service. There are rather long scripture readings dispersed throughout service, between songs and at other times.
The theologically-rich music. The songs are obviously selected to point to the greatness and sovereignty of God. It's clear that is intentionally planned.
Scripture is read antiphonally. The worship leader leads and then the people respond.
By the time you get to the message, you've already had a scripture-rich worship experience.
I also found it interesting that they were multisite, so I wanted to hit as many sites as I could. I asked if I could run down to as many campuses as possible and preach live (rather than having them each hear a video of my message). This campus meets in a high school.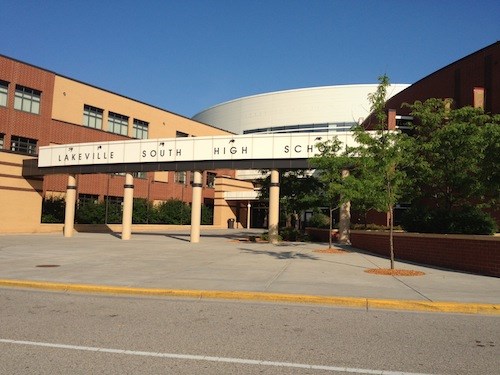 To be honest, I am more accustomed to preaching to people in rented space, so I was glad I could make a big deal about the setup volunteers at one of the campuses.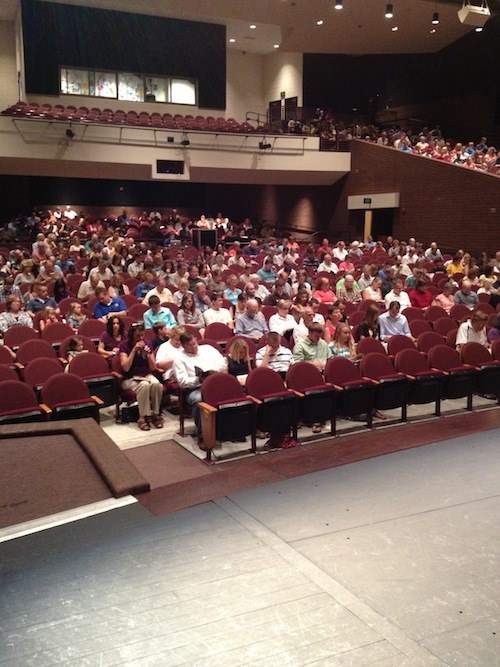 They did a responsive reading at this campus as well.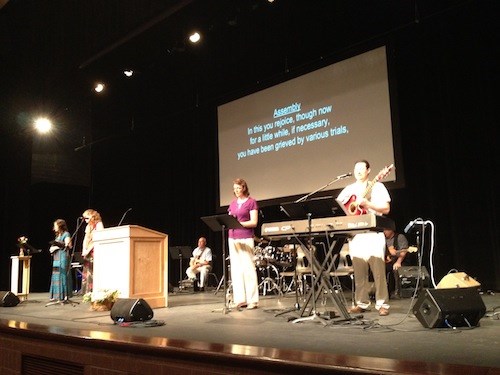 On Sunday night, there was one final service and I admit to being surprised by it. The service had many of the same elements I mentioned earlier, but it was obviously geared toward young adults and had a different feel and tone.
For example, you can see the candles and the more casual feel. I joked to someone that this was the "emerging church" service. It really wasn't, but I appreciated the fact that the church was willing to let young adults shape a service as they did.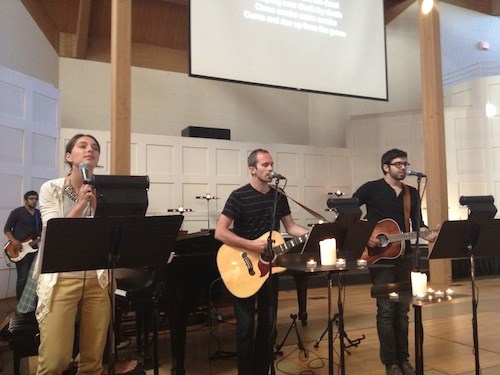 I preached from 1 Peter 4, the message I've preached at many large churches-- how to move people from being customers to being co-laborers. I also used a couple of pop culture references, since I was pretty sure that I was the only person to ever mention Susan Boyle from the BBC pulpit. ;-)
I was glad to preach there (and thanks to Kenny Stokes for sending me a picture -- the first time I have posted a photo of me preaching in these updates).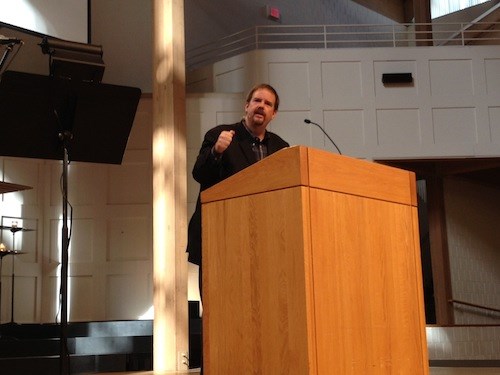 But let me say that I also was very encouraged to be able to train church planters in the Treasuring Christ Together network (photo, again, from Kenny).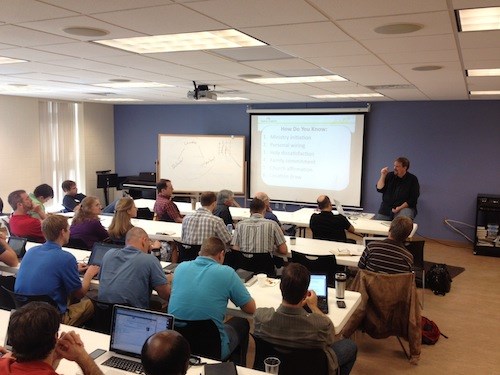 The Treasuring Christ Together Network is the mission and church planting arm of Bethlehem. They explain their ministry as:
"[TCTN's] mission is to spread a passion for the supremacy of GOD in all things for the joy of all peoples through Jesus Christ by starting, growing, and multiplying churches.

In the course of this mission, we aim to collaborate with like-minded church planters, leaders of new and existing churches, and leaders of like-minded networks and denominations."
So, I love the fact that Bethlehem is not just a preaching point, but a church with a passion for global missions and for church planting. I'm praying for them as they transition and Jason Meyer is now the lead pastor. I trust the Lord will continue to bless and use this ministry so that His name and His fame is more widely known.
Support our work. Subscribe to CT and get one year free.