Please welcome JR Woodward to the blog today. JR has planted churches on both the East and West Coasts, from Blacksburg, VA to Los Angeles, CA, and is currently a PhD student at the University of Manchester in the UK. He founded [nlcf] and cofounded Kairos LA as well as the Ecclesia Network. He also recently began serving as the coordinator for the V3 Tribe, a missional church planting movement in the United States. JR knows church planting and missional culture like few others. I'm glad to host him on the blog to discuss his new book Creating a Missional Culture.
J.R. and I have become friends. I've greatly enjoyed his spririt, his love for others, and his desire to see the gospel go forth-- and we've even had a friendly disagreement once or twice. His writing is clear and challening-- and worth your consideration.
JR will be interacting on the blog today, so if you have a question about missional culture, church planing, his new book or the interview, feel free to ask in the comments below.
1. How does this book differ from other books already on the market that deal with the mission of the chuch?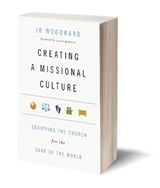 One of the reasons why I felt the need to write this book is that we too often fail to understand the power of the culture of the congregation in forming us. So I take some time helping people understanding what missional culture is, and why it is important. If we want to develop missional disciples, we need to move beyond an individualistic approach, understanding that we create culture and culture in turn recreates us.
In addition I make that case that not only do leaders create culture, but also our very approach to leadership creates culture. A hierarchical leadership paradigm lends itself to an individualized approach to spiritual formation and often perpetuates adolescence in the congregation. While a polycentric leadership paradigm lends itself to a communal approach to spiritual formation mature disciples.
Here are some of the unique contributions that this book seeks to make, and questions that it seeks to address:
Understand what missional culture is and why it is important
Discover the five environments that unleash the missional imagination of God's people
Learn how to assess the culture of the congregation you serve through the cultural web
Understand how the culture of the congregation will help or hinder the maturity of the church
Learn how to identify, cultivate and multiply the five equippers (apostles, prophets, evangelist, pastors and teachers) in the congregation you serve
Learn why polycentric leadership makes more sense than hierarchical leadership or flat leadership
Discover the power of stories, liturgies, rituals and rhythms in developing a discipleship culture that reshapes peoples desire for God and his kingdom
Get practical tools that will enhance your ability to lead as a team of cultural architects, cultivating environments where good things run wild
My hope is that this book adds to the rich conversation about the missional church, for the missional church is not the latest fad; it has been in the making over the last century. My overview of Van Gelder's book, The Missional Church in Perspectivereveals the need for more missional books to be informed by history
2. You mention 6 elements that every culture has. What are they and why are they significant in light of the mission of the church?
Studying culture has been one of the most fascinating areas of study for me. To realize that the modern anthropological meaning of "culture" is less than one hundred years old is amazing, because in explanatory importance it ranks up there with gravity in physics and disease in medicine.
While most churches have wisely developed mission, vision, and values statements, and have a strategy in which to live them out, culture entails more than this. I put the six different elements of the cultural web on a Celtic cross with a dove hovering above. This reminds us that when we consider the church, we are considering something both holy and human. Christ is the foundation of the church and that the Spirit helped to birth on the day of Pentecost. So the church is more than just a social organization, she is spiritual as well.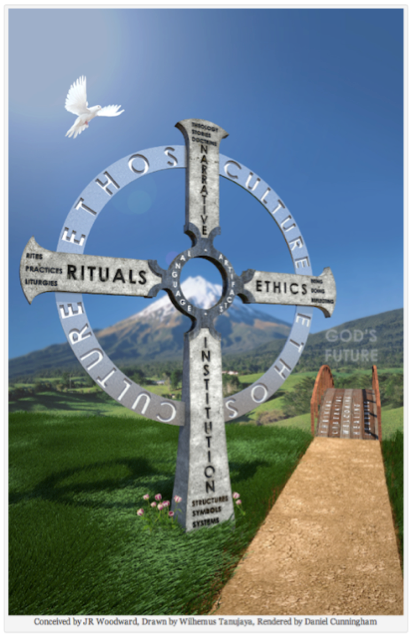 The Celtic cross has an inner circle. The first two elements of culture are language and artifacts. I put them in the inner circle because they are central to any culture, whether it be the culture at large, or the culture of the congregation you serve. The other four elements of culture I put on the top, sides and bottom of the cross are narrative, ritual, institution, and ethics. These elements interrelate to create culture and make up with I call the "cultural web".
Another layer of depth in understanding culture requires understanding how the four elements on the cross each have three more elements. Narrative involves theology, stories and doctrines. Rituals include rites, practices and liturgies. Institution involves structures, systems and symbols and ethics include being, doing and reflecting. The book will not only help you understand these various elements, but how to look at each of them from a missional perspective. Collectively the elements make up culture, and the significance they have in light of mission is everything, for we create culture and culture recreates us in the process.
For example, how you view the doctrine of election will shape everything about how you interact with those who are apart from Christ. Here is a blog series I've done on what I call a missional view of the doctrine of election. No wonder the Apostle Paul wrote to Timothy, "Watch your life and doctrine closely. Persevere in them, because if you do, you will save both yourself and your hearers" (I Tim 4:16).
3. You mention that there are five environments that help create missional culture, what are those and why are those five important?
The five kinds of environments congregations need to cultivate if they are to create a misional culture - a learning, healing, welcoming, liberating and thriving environment. The task of cultivating each of these environments correlates directly to the calling of each of the fivefold gifted people mentioned in Ephesians 4 - teacher, pastor, evangelist, prophet and apostle.
Teachers help the community understand that the scripture was not primarily given for information, but for transformation. They help cultivate a learning environment by encouraging the congregation to inhabit the sacred text. They help the congregation realize that the Bible is not simply a book to be read, but a voice to be heard.
Pastors cultivate a healing environment by creating a space where people can be themselves, where they can freely share their brokenness with others, creating a sense of family within the congregation. This atmosphere of acceptance helps people to work through their past hurts and move toward wholeness and holiness.
Evangelists cultivate a welcoming environment through the ancient art of hospitality, thus making space for God to do his work. They encourage people to engage people on their own turf and help the congregation to proclaim the gospel by being witnesses.
Cultivating a liberating environment is the work of prophets. They encourage the congregation to embody a holistic gospel, helping people experience liberation from their personal addictions and sins as well as speaking truth to power to bring liberation socially.
Finally, apostles cultivate a thriving environment by creating a holistic discipleship ethos within the congregation so God's people live out their missional nature as followers of Christ and multiply disciples, ministries and churches.
4. Describe the five equippers and tell us why it is important for us to recover all of these people gifts.
If we want to see the church look and minister more like Jesus, I don't think we have much of a choice. Paul in Ephesians 4 ties the maturity and unity of the church to the five kinds of equippers that Christ gives the church.
As you look at these people gifts - the apostle, prophet, evangelist, pastor & teacher - and how each of them shape and lead the congregation toward particular ends (telos), you realize that each of these people gifts are needed in the Church, if the Church is going to going to "become mature, attaining to the whole measure of the fullness of Christ"
As you carefully look over the following table, and each of the people gifts, ask yourself: Which one of these can we take away from the picture and still reach full maturity?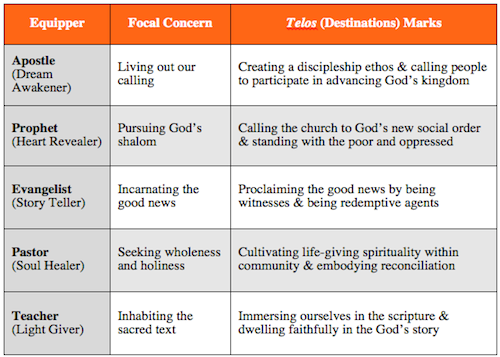 How can the body of Christ grow to the maturity of Christ if the church doesn't receive, understand and nurture each of these various equippers?
In this fullness we can equip and activate the entire body to do its work in building the body up in love.
The other gift lists that we find in I Cor. 12, Rom. 12 and I Peter 4, help us to live out these five-fold callings. As you study these various gift passages, you soon realize that these five people gifts are vocational in nature, and the other gifts are given to us to help us live out these various callings.
5. You talk about polycentric leadership, how would you describe it and why do you feel it is so important?
An analogy might help. Polycentric leadership is like a jazz band, where you have four or five mature talented musicians who when the get into the groove, the lead instrument changes in an improvisational way. Or like the geese who fly in a "V" when they go long distances. There is a lead goose, but the lead geese rotate around so that no one geese had to handle the load of being the front geese. Or like when bikers on the same team ride closely behind each other to take advantage of the windbreak and use 20 percent less energy, which is called drafting. The jazz band, the geese and bikers each illustrate how to approach polycentric leadership.
The reason our approach to leadership is so important is that in hidden and powerful ways it shapes the culture of the community. A hierarchical approach to leadership lends itself toward a personality driven approach to leadership at best and controlling leadership at worst. This can lead to a programmatic and individualistic approach to being the Church, and often an extractional approach to mission (extracting people from their everyday places of mission to serve within the Church). A flat approach to leadership often falls flat because it is absent of leadership; there is an anti-structural bias, and a lack of cohesiveness when it comes to living out mission. Conversely a polycentric approach to leadership lends itself to relational leadership, a communal approach to being the church and an incarnational and distributive approach to mission. If we want to have more mature missional disciples we need to understand, activate and nourish the five kinds of equippers we find in Ephesians 4, in a polycentric way.
In the last section of the book I look at how we might embody the first sections. While knowledge is good, wisdom is even better, because wisdom is knowledge applied to life.
6. Your website offers a lot of supplementary resources to the book. Tell us about them.
Glad that you asked.I just finished a series of blogs letting people know the various free resources that can be found on the site. When you go to the site, across the top of the page you will find words that connect you to different resources. The upper left side of the page connects you to explanation of the book, culture, the five equippers, resources and book forum.
In the book section you can find out everything you want about the book, from a synopsis, to a list of endorsements, to reviews and interviews about the book, to a frequently answered questions, to a free sample of the book.
In the culture section, you can learn about the various elements that create culture and by the end of the year there will be a free cultural assessment available. The equipper section has an overview of the equippers, a free equipper assessment, as well as a page overview of each of the five typologies in Ephesians 4, including a short video describing each one. The resource section connects you to the various resources across the entire site, including the equipper and cultural assessments, a connection to free online resources, recommended reading, the book forum as well as links to various book reviews I've done.
If you look to the upper right hand side of the page, you can learn more about me, check out the speaking section to see where I will be speaking in the future as well as listening to some talks I've done in the past and finding out the areas I love to speak on.
The writing section includes a list of published writings, unpublished papers, online articles and featured blog posts. The consulting section connects you to the various ways that consult. It shares a little bit about how I approach church assessments, church planter assessments as well as coaching and mentoring. And finally there is a place you can contact me.
Of course I blog about 5 to 6 times a week, so you can always find some fresh content. That would be a quick summary of my website.
7. Ultimately, JR, what is one significant thing that you want someone to take away from your book?
If we are serious about having communities of mature missional disciples, we need to learn to be cultural architects, recognizing that leaders create culture and our very approach to leadership creates culture in hidden and powerful ways. If our goal is to have mature disciples who live on mission in the world for the world in the way of Christ, we need to have our "means" match our "ends". If we want to create a missional culture in the congregations we serve, we need to understand how the different elements of culture work. Because the language we live in, the artifacts that we make use of, the rituals we engage in, our approach to ethics, the institutions we are a part of and the narrative(s) we inhabit have the power to shape our lives profoundly. Discipleship is not an individualistic venture, it is communal. We must recognize the people-gifts that Christ has given the church - apostles, prophets, evangelist, pastors and teachers - and help every priest recognize and live into their calling and ministry as well and cultivate and nourish those who are gifted with the capacity to lead in these areas.