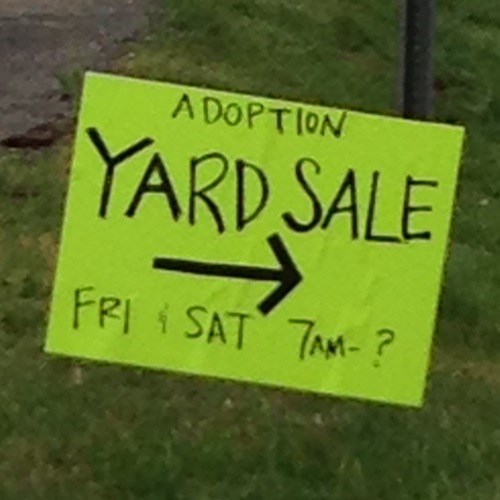 In an NPR interview earlier this week, Kathryn Joyce took to the airwaves to promote her new book on adoption which she bills as a "shocking exposé of what the adoption industry has become." However, based on her interviews, endorsements, reviews, and marketing copy for the book, it is more of a hit-and-run journalistic hatchet job on evangelical adoption than a substantive investigation of any kind.
My friend Jonathan Merritt also wrote a helpful piece yesterday at the Religion News Service on this issue in which he exposes similar holes in Joyce's claims in a Mother Jones article, and I would encourage you to read it as well. As Jonathan explains,
Allegations of child abuse should not be ignored or minimized by anyone for any reason. The proper authorities need to investigate these allegations, and they should not only punish anyone at fault, but also take appropriate measures to prevent this sort of occurrence in the future.

At the same time, one has to make a logical leap of stratospheric proportions to assume that the behaviors of this family are somehow representative of the thousands of Christians who adopt each year. Joyce presumably knows this, so to build her case, she leans on a slew of fringe ministries, publications, and personalities.
So, indeed, the evangelical passion for adoption has increased! But, who knew that adoption was really a bad thing being done by really bad evangelicals...
In the recent NPR interview, Joyce:
hinted that the current evangelical adoption movement is in response to bad evangelical PR;
claimed that by rescuing orphans physically, adoptive parents also think they are saving their soul;
indicated that Christians must reflect their salvation experience by then going and adopting children;
shone a spotlight on corruption among adoption agencies;
overstated the very real, and very rare, danger of human trafficking through adoption;
painted broad, demeaning strokes against all foreign adoptions based on three extreme examples.
Joyce does get right that there has been a boom in evangelical adoption; shockingly, Christian parents do want to raise their children (adopted or natural-born) to one day know Christ as their savior; there are corrupt adoption agencies; and trafficking does happen. I also appreciate her recognition of some positive situations, such as the involvement of Saddleback Church in Rwanda. But based on the testimonies I've heard and read from those who are leaders in the evangelical adoption movement, these incidences of corruption are not normative, and this should have been acknowledged even more than it was.
So I'd like to use my blog today to open the discussion beyond the fringes.
I've asked some of the most well-respected evangelical authors and leaders involved in adoption to share their response to the claims made in the NPR interview, the Mother Jones article, and Joyce's book. My guests are:
Tony Merida: professor of preaching, conference speaker, church planter, adoptive father to five, and coauthor of Orphanology.
Rick Morton: education minister, adoptive father of three, conference speaker, adoption ministry founder, and coauthor of Orphanology.
Johnny Carr: national director of church partnerships for Bethany Christian Services, conference speaker, father of two adoptive children, and author of Orphan Justice.
Rebecca Caswell: adoptive mother of four and board member of Lemonade International.
Jedd Medefind: president of the Christian Alliance for Orphans, and former director of the White House Office of Faith-Based and Community Initiatives.
Is the current evangelical adoption movement a response to bad PR?

Tony: I don't see the Christian Alliance for Orphans meeting as the key turning point. Theologians like John Piper and other well known leaders like Steven Curtis Chapman have been speaking on both the theological reasons and practical reasons for adoption for quite a while. And no adoptive parent, pastor, or adoption leader I know or have ever heard of is doing this to improve the PR of evangelicals. Public relations is no motivation for me or anyone else that I know who have adopted.

Jedd: Adoption and foster care certainly are choices the public often applauds. And no question, when Christians care for orphans, it shows the world God's heart in vibrant, compelling ways. But anyone who'd do those things as a PR stunt would be a fool. There are far easier ways to get people to like you. The sacrifices required to love a hurt child-- from the costs and endless paperwork, to the lifelong journey of joy and challenges that parenthood always is-- are far too high. Just like any form of parenting, love is the one motivation that makes it a truly joyous journey.

What about claims that adopted children are not always orphans and are trafficked?

Rick: We also have to acknowledge that there have been some abuses and excesses in what people have called gospel centered adoption ministry. In cases, well meaning Christians have blown right past obvious warning signs only to find out that they had adopted children that were not true orphans. They were children who were stolen from their families or even trafficked by their families for economic gain. One of the troubling realities of international adoption is the economic activity that it creates in poor nations. International adoption is a multi-billion dollar industry, and it must be policed to keep out those who would engage in illegal activity. That is ultimately a responsibility of civil authorities. As followers of Jesus, we must refuse to engage in adoption practices that are illegal and unethical. We must use our political influence and economic power to insist that our government establishes policies that protect orphans being adopted and influences their home countries to do the same.

Johnny: Does trafficking produce orphans...or do orphans produce trafficking? The short answer is yes. Either of these scenarios may be true, based on the circumstances. An unregulated "get every kid adopted" approach is likely to encourage child kidnapping and trafficking. In our fallen world, wherever there is the opportunity to help, there is also the possibility of corruption. Adoption has the potential to drastically change an orphan's life forever, but due diligence is needed.

Is evangelism the key part of the evangelical adoption movement? Do adoptive parents seek to mirror their salvation through adopting?

Tony: There are similarities in our adoption of kids and God's adoption of us but similarities are not the same. There are several breakdowns in this statement by Joyce. And on parents feeling that we are saving kids twice, I'm not sure who she's talking to, or who says anything like that. We are very clear in Orphanology-- and in our own ministry-- that God is the savior, and we NEVER say that one must adopt kids. Now, I want to see adopted kids evangelized for the same reason that I want to see anyone (child or adult) evangelized. But this is in no way an evangelism ploy. All people are created in the imago Dei, the image of God, and all people should be told the good news of Christ regardless of their status as adopted or not, child or adult.

Rick: This, like any theological analogy, breaks down if we stretch it too far. Does earthly adoption testify to our adoption as sons of God through the work of Christ? Absolutely, but it is not a perfect picture. As adoptive parents, we are not God. Sometimes I am most impacted theologically when I realize how much I am not like God as an adoptive parent. We have to be careful not to so "wrap ourselves in the flag" that we create a mistaken impression. My children are just that. In the end, they are just my children. The story of how God brought them into our family is a great story of God's providence and protection in their lives and in ours. That story is made even better because we can't tell it without pointing to the gospel, but we adopted because we wanted these children. They are not (nor do they ever need to feel that they are) just a ministry project.

What motivates parents to adopt rather than to do more to help families around the world? Has a "rescue" mentality taken over the movement?

Rebecca: Initially, our sole motivation in adopting was the desire to become parents. There was no savior mentality. But through the process of adopting our first two children, our eyes were opened to the needs of the world, which led us to our twin sons. This did not lead us only to bringing more children into our home, though. We, along with other couples that we work with, have begun to focus our efforts and finances on orphan prevention instead of just orphan care. One of the greatest benefits of the adoption movement among evangelicals is that has brought with it a global awareness. We are putting our energies toward microfinance, providing clean water, education and child sponsorship, etc., so that we can keep as many families together as possible. Our desire is not primarily to come to the rescue after the fact, but rather to go after the root issues that contribute to this problem.

What about adoption agencies? What should be some red flags that adoptive parents should watch for when adopting-- whether it be with their stateside agency or a foreign agency?

Tony: The main reason to use adoption agencies is to prevent the trafficking of kids and the dismantling of families in international countries. It's very important to research your agency and to get as much information as possible on them and their partners. Our son, Joshua, had no siblings and both parents had died. We had documents to show that, and he knew it. He lived it first-hand. Can a person be duped? Without question. But they are much less likely to be in this situation if they have done their homework. There will always be a mixture of victory and failures in adoption and orphan care. It's messy at times, both during the process as well as once you bring a child home.

Rick: Families should do due diligence to learn the ethical standards and common practices of the agency. The best way to do it is to talk to people who have used them as references. The adoption processes and standards for each country are usually pretty well documented and publicly available on the Internet. Use the standards the country provides to understand the true legal process for adoption. Families should take the time to interview several agencies before they choose the one through which they will work. Ask direct questions about how the agency complies with the legal standards for the country from which they facilitate adoptions. Ultimately, it will come down to discernment and trust. If something feels like it is wrong, it probably is. A family is placing an enormous amount of trust into the hands of an agency for helping them negotiate the process well and to take care of them while they are abroad. If you don't have trust, it will not likely end well.

How should Christians see adoption and orphan care?

Tony: When you evaluate something as broad as the evangelical movement, sure there are some bad examples. But we must be careful not to overstate the case and apply one bad example to the hundred and thousands of cases that do not in any way fit the model described. Adoption is not the only way to do orphan care. There must be a holistic solution including supporting orphanages and programs to aid poverty-stricken families so that they do not feel the need to sell their children to unscrupulous people looking to use them as bait for international adoption. We are also glad to see Orphanology published in Russian and Italian. It's being used to provide training for indigenous parents seeking to adopt. American parents are not the only in the world that need to be adopting.

Rick: Transnational adoptions will never be the complete answer to the world's orphan crisis, but I believe that they will always be a part. Creating a culture of indigenous adoption/foster care within the church in other nations is a much bigger portion of the answer. We need only look at the victories in countries like Rwanda to see it. A war torn, impoverished nation has seen their orphan crisis diminish because the Rwandan church has rallied to live out James 1:27 in large numbers with the support of western Christians. Earlier this year, I was privileged to address a summit of over 500 pastors and church leaders in Ukraine who are committed to seeing Ukraine become a country without orphanages by 2018. Where no adoption and orphan care culture existed in the Ukrainian church a decade ago, God is moving on the hearts of the indigenous church to respond today in a massive way. As the father of 3 Ukrainian children, I am thrilled! I am more thrilled to see movements like this springing up all over the globe, and I will do whatever I can to come alongside any of them to help. This is truly the way we will see the orphan crisis addressed and a way that we will see the gospel powerfully proclaimed to the ends of the earth.
So, yes, there are indeed some abuses. They should be pointed out, addressed, justice should be done and they should be ended.
Yet, I have to say I am stunned by the fact that this author would use fringe examples to try to paint a movement that is seeking to do good as actually surreptitiously evil.
It's worth noting that no media outlet would present fringe Jewish or Muslim groups as representatives of the whole. They would rightfully be labeled as anti-Semitic, anti-Muslim and simply unfair. I'm glad that's true for Jews and Muslims. It would be nice if NPR, Mother Jones, and Kathryn Joyce would apply the same standard to evangelicals, particularly when those Evangelicals are caring for "the least of these."
I guess I should not be surprised. It seems that Evangelical Christians must be doing something wrong if they care about the hurting. It just can't be that they care. And, I guess those orphans matter a lot less than scoring some points against the right-wing evangelicals.
Christian friends, keep adopting. Be careful and discerning. Only work with reputable agencies. But don't let Joyce's misinformation, and a willing media ready to spread that misinformation, keep you from loving that child sitting alone in an orphanage without hope. I'm glad the people in this post did not-- you should not either.
In conclusion, I talked this morning with one of those bad evangelicals who adopted a child. In this case, he was trying to figure out how to finish paying for the medical care his adopted child needed. He adopted knowing the medical issue and the costs that it involved-- that's why his child was in the orphanage, abandoned by parents. Today this Evangelical adopting family sacrifices to pay for medical care because, well, their adopted child is part of that very family.
Funny-- no talk of public relations for Christians, just a father who loves and is sacrificing for his child.
Providentially while I was out this morning, I snapped the garage sale sign picture on my iPhone and was thankful for another set of adoptive parents.
The Exchange is a part of CT's Blog Forum. Support the work of CT. Subscribe and get one year free.
The views of the blogger do not necessarily reflect those of Christianity Today.