Rebekah Lyons shared her thoughts on the recent death of Matthew Warren last week on CNN. Her points were similar to the CNN article I wrote in some ways, but hers came from a different perspective-- perhaps a more helpful one for many reading this.
In my case, I shared some of the struggles as a pastor and in my family. I think her article comes from a better place and you should read it as she shares her personal journey through anxiety attacks and depression.
In God's perfect timing, you can also hear from from Rebekah in her new book, just out last week. In, Freefall to Fly, Rebekah's first-person perspective helps provide much needed context and awareness on issues of mental health.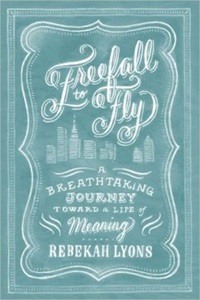 Here is one excerpt from early in the book that stood out in particular:
When we moved to Georgia after getting married, I grew comfortable in my skin.

Gabe found an ambitious job marketing national events that equipped leaders, and I landed my dream job at North Point Community Church. our napkin dreams seemed to be materializing. Maybe we had both found our niches.

Then life happened.

Our first son, Cade-- now the oldest of three-- was born with Down syndrome. My doll baby. He never really cried. We played dress up, and he tolerated it with a gooey grin. But within months, his physical, speech, and occupational therapies increased to eight hours per week. I confessed to my boss that I was failing on both ends. As a team player and as a mom, I needed to dive deep into the role only I could fill.

So home I went, to long days in a house swollen with silence. Days full of light and despair. How do both emotions coexist?

Despair from a fantasy undone of a blond boy singing and chatting with me from the backseat. Light from the long tears shed and comforted when faith became mandatory.

I sat with my girlfriends in a circle on the floor as we watched our kids crawl all over us and each other--grabbing toys, slapping each other, and planting snotty kisses. We compared notes on plastic nipples, real-life nipples, and what constitutes GERD. As the months flew by, I watched the other babies turn into crawling, teetering toddlers. But for my little Cade and me, time stood still. He would hang in my lap or inch nearby while the others wobbled after each other around the room or were told "no touch" by their mommies.

When it came time to leave, I'd nearly barrel over those toddlers in my mad dash for the car to strap Cade into his car seat. The ride that followed was my escape from reality. I would blare whatever song moved me on the car stereo and cry for reasons I couldn't put words to at the time. I knew Cade and I would always have each other. We would keep each other broken and whole at the same time.

The afternoon before his first birthday, Cade napped as I methodically iced a huge lion face on a cake, made from scratch and complete with piped ribbons reflecting sugary oranges and browns. Armed with mad decorating skills I'd learned in a baking class years earlier, my steady hands crafted matching cupcakes.

Everything needs to be perfect. Look perfect. Taste perfect.

The same way I want Cade to be perfect.

Tears welled, and my eyelids gave way as a drop landed on the counter. Another and then another until saline crushed the dam of my resolve. Hot tears surged for more than an hour. My human attempt to find perfection. How was I still missing it? When would this pain subside? When would I be whole again? When would I shed the guilt I harbored for asking these questions and the crippling numbness when God didn't seem to answer?

I told a friend one day we were praying for Cade to be "whole." She responded, "Maybe your version of wholeness and God's version of wholeness look different." Reeling. What does she know? She doesn't even have babies yet.

A decade later. She was right.

My hang-up with wholeness was my issue, not Cade's. Not God's. In all the conversations during my first year as a mom, that is the only one I remember. But I wouldn't embrace it for years to come.
The book released last week, and I highly recommend it. You can get a copy here. Rebekah was also gracious enough to answer some questions about it for the blog.
Why might women, in particular, feel pressured to sacrifice their dreams or push them on their children when they have kids?
The moment we discover we are carrying life, everything changes. We are immediate stewards of this tiny gift, as we unconsciously reorder everything around it. What we eat, when we sleep, how we work and so on. For my friends that have adopted, this motherly instinct arrives with the exact same intensity. A God-given stewarding that doesn't feel like sacrifice, but an extension of who we were before children arrived.
Over time, our prayer is that these toddlers grow into independent, honest, followers of Jesus. The crux comes in that maturing, as we begin to launch these budding independents into the care of others, and the school bus pulls away, we are left with a sense of loss. A reality that our primary role as influencer is now divided, and the silence in our homes becomes deafening. When the dust settles, the margin creates angst.
Instead of just telling themselves that "things will get better over time" and never resolving the issues, how can people recognize if there is an issue and that they need help with it?
We certainly fill our moments with new "must-do's" that keep our soul from searching. I describe my mead notebooks chalked full of lists in Freefall, and how the distractions kept me going for a long while. I dove into projects I'd pushed to the back burner. It felt good to cultivate again, in areas besides childrearing. But over time as projects were checked off, and life was perfected, I asked, "What now?". I could only re-decorate so many times. So a low hum of depression entered because something greater was crying out for my attention. I'd been avoiding a journey I needed to venture on. A painful treasure hunt toward what God might want for my life, beyond what sat in front of me.
What's a husband's role (or the wife's greatest need from him) as his wife is battling depression or anxiety?
The onset of this struggle usually surprises wives and husbands alike. But when we wake to it, a new normal creeps in. Our husbands become keenly aware of our longing, our restlessness, our search, and they have a choice to take an active role, or dismiss it. Soul searching is unpredictable and risky, unearthing wounds and naming fears, and we can't go it alone. We all need encouragement and grace as we awaken to gifts and also our pain, because if we're honest, husbands have gone or will go through this journey as well. Calling beckons all of us.
How can churches best reach out to those in the congregation who might be struggling with depression or anxiety?
Churches can talk about it, and talk about it often. I'm a firm believer that secrets lose power when they exit the dark. Confession is a healing balm toward connectivity and we're loved to the measure we are known. The more we name our struggles, the more others have permission to do the same. I can't think of a more perfect medium to provide this healing community than the church.
Further, the church can deconstruct the ambiguity of calling and purpose. It feels intangible, but in reality, its simply waking to who we already are. Listening to the still small voice that beckons us. God marked each of us with birthright gifts, but He may need to remind us of them. Likewise, He gave us our one life here on earth, laden with bumps and bruises, and He longs to use our gifts to redeem those shared bumps that plague others. The church is equipped to empower and facilitate this kind of redemption.
Is there ever a sense of being healed for those who may battle this?
Eugene Peterson talks about salvation as the HEALING and rescue of a body that is brought back to the way it was intended. Brought back into right relationship the way it was designed from the beginning.
This healing is a daily surrender. Some days begin with desperate cries for strength and survival, others with a steady calm to keep moving forward. Either way, when we live a life beyond ourselves, we no longer have control. So we ask God to meet us in the frantic moments, the desperate moments, or peace-filled moments in order to fill us with His Spirit and His strength do whatever assignment He puts before us.
For me, the healing comes in letting go.
The Exchange is a part of CT's Blog Forum. Support the work of CT. Subscribe and get one year free.
The views of the blogger do not necessarily reflect those of Christianity Today.