There is much discussion in Washington, D.C., today about immigration reform. This past Sunday, Senator Marco Rubio undertook an impressive tour of all the Sunday media shows to discuss and push forward an immigration reform agenda. The shellacking the Republicans received in the last election seems to have suddenly awakened the party to a need for a more open-- and less anti-immigrant-- approach.
However, what you might not know is that many evangelical leaders were speaking out about the need for such reform even before the election. In other words, evangelical leaders were willing to speak about the issue when it was unpopular to many conservatives (this is another reason why Christians should not be seen as a wing of any political party; they must speak prophetically as needed on issues).
Simply put, I get that Republicans want to win elections and that often motivates much of what they decide to act upon. But Christians are called to speak out for the care and protection of the sojourner and immigrant among us regardless of any political debate. Congress may fight about the statutes, but Christians need to love the sojourner regardless of how they got here.
That's why last year before the election, I joined dozens of evangelical leaders in signing a statement calling for reform to our immigration system. The Evangelical Immigration Table explained:
Evangelical Statement of Principles for Immigration Reform

Our national immigration laws have created a moral, economic and political crisis in America. Initiatives to remedy this crisis have led to polarization and name calling in which opponents have misrepresented each other's positions as open borders and amnesty versus deportations of millions. This false choice has led to an unacceptable political stalemate at the federal level at a tragic human cost.

As evangelical Christian leaders, we call for a bipartisan solution on immigration that:

• Respects the God-given dignity of every person

• Protects the unity of the immediate family

• Respects the rule of law

• Guarantees secure national borders

• Ensures fairness to taxpayers

• Establishes a path toward legal status and/or citizenship for those who qualify and who wish to become permanent residents

• We urge our nation's leaders to work together with the American people to pass immigration reform that embodies these key principles and that will make our nation proud.
Today, many are in D.C. hoping to advance this agenda.
What is also nice to see is that the actions of many churches, regardless of their views on immigration, already show a growing support for immigration reform and immigrant assistance. The continuing arrival of immigrants to America represents unique ministry opportunities for churches-- if they see it as an opportunity.
Since 2006, the United States has accepted more legal immigrants than any other country in the world. Churches started to recognize the need for assisting immigrants as the conversation grew. Even in 2010, 64 percent of Protestant pastors agreed that churches should be involved in assisting immigrants regardless of their legal status.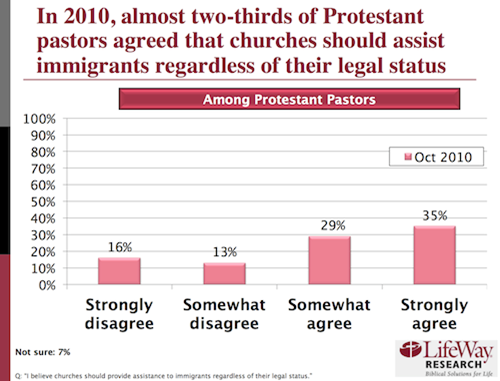 But according to other LifeWay Research studies, churches have been slow to respond even as they knew a response was needed. As of May 2012, only 41 percent of Protestant pastors stated that their church was personally involved at the local level in assisting immigrants.
The good news is that these numbers are trending positively. Previous surveys by LifeWay Research showed only 33% of Protestant pastors and their churches were actively involved on the local level in assisting immigrants in 2011. And that number was actually an increase from the 30% doing so in 2010.
Things are moving in the right direction.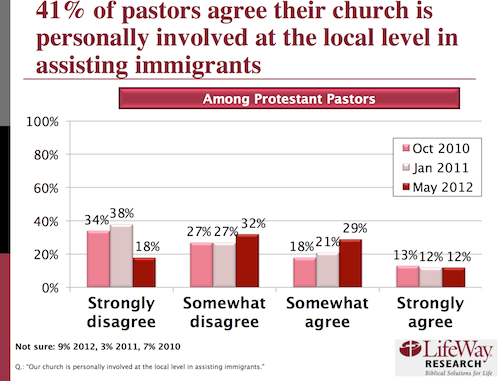 We still have much room for improvement. And there are still millions of immigrants who will come to our country. Will we sit idly by as the sojourner struggles in a new land? Or will we act, keeping in mind that we were once sojourners too-- living out the grace given to us that transformed us from sojourners to fellow citizens with the saints, and members of God's household.
The Exchange is a part of CT's Blog Forum. Support the work of CT. Subscribe and get one year free.
The views of the blogger do not necessarily reflect those of Christianity Today.