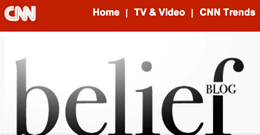 Most churches (and Christians) seem unprepared to deal with mental illness.
As a young believer, I heard so many say that mental illness was just a lack of faith, demonic oppression, or something else. Those can be real issues, but so is mental illness-- and they are just not the same thing.
I've seen the impact of mental illness both in the church and in my own family. I've seen the shame that families felt and the scared or confused responses from churches.
When Matthew Warren committed suicide, and it became a topic of national conversation, I decided to share a few thoughts to encourage churches minister in a more caring way-- much like Saddleback did-- and I decided to include some personal experiences. So, last night, with help from Amy Whitfield, Jonathan Howe, and Carol Pipes, I wrote an article to share a few thoughts.
In that article, I shared four things that churches need to do right now.
1. We need to stop hiding mental illness.

2. The congregation should be a safe place for those who struggle.

3. We should not be afraid of medicine.

4. We need to end the shame.
I fleshed out these points in an article that ran on CNN.com today. For me, we have to remember:
There are people in the pews every week - ministers, too - struggling with mental illness or depression.
People of faith know that God has freed them to love others, and that love extends to everyone, even (and sometimes especially) those we don't understand.
Christians need to affirm the value of medical treatment for mental illness.
Compassion and care can go a long way in helping people know they don't have to hide.
Mental illness has nothing to do with you or your family's beliefs. It can impact anyone.
These things seem, well, so obvious. Yet, they are not. We need to be reminded again and again.
I encourage you to read the article and reflect on how your church can help those who are in your congregation and your community who might be struggling with mental illness. Later this week, I will share some resources to help-- perhaps some that you recommend in the comments.
Let me also say that I have suspended the comment rules here and you are welcome to post anonymously if that is helpful. Also, feel free to add links using html if you'd like to suggest other blogs or resources. Since my blog is now at the CNN home page, I imagine that I will moderate out some comments. If yours does not post, my apologies-- you can see the comment rules for possibilities, but note that I am not able to debate comment moderation.
I'd encourage you to share the article at CNN.com with others. I'd really like to get the word out while people are open to addressing the issue.
In closing, mental illness impacts individuals, but also families. Both those individuals and families need to know and feel the love of Christ and his church in the midst of a difficult time.
The Exchange is a part of CT's Blog Forum. Support the work of CT. Subscribe and get one year free.
The views of the blogger do not necessarily reflect those of Christianity Today.