Dealing with depression-related suicide is more common than you might think. Such events are often not recorded as suicide by the authorities, or not communicated to others. As I mentioned in my CNN article, mental illness is real and the church can and must be a caring community to those who struggle.
However, the statistics on suicide (in this case, in the United States) are rather telling:
Suicide was the seventh leading cause of death for males and the fifteenth leading cause of death for females in 2007.
Almost four times as many males as females die by suicide
Nearly five times as many males as females ages 15 to 19 died by suicide.
Just under six times as many males as females ages 20 to 24 died by suicide.
Suicide is the third leading cause of death for those aged 15 to 24.
Of every 100,000 people ages 65 and older, 14.3 died by suicide in 2007. This figure is higher than the national average of 11.3 suicides per 100,000 people in the general population
Source: National Institute of Mental Health. More recent stats are also available, segmented by population segment.
I know several pastors who have taken their own lives, families that have lost loves ones, and many, many churches have been touched with the pain of suicide.
When the new broke, my friend Frank Page tweeted:
My heart is broken as I've heard the news about Rick Warren's son. Please pray. Unfortunately, I understand that which they experience now

– Frank Page (@frankpagesbc) April 6, 2013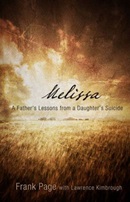 Last night, I asked Frank Page to share a bit of his experience. Many know that his daughter, Melissa, died a few years ago. Frank is now sharing more details-- including that Melissa took her own life:
Having experienced that which the Warren family is now experiencing, I have prayed earnestly for this dear family over the past few days just as many of you have been doing.

All grief is unique. However, this kind of grief contains unique elements. To lose a child in this tragic way is something that no one can imagine and certainly nothing for which a person can adequately prepare.
Again, please continue to pray for the Warren family and all those who've gone through this kind of experience. Frank's book, Melissa releases in a few weeks, but you can pre-order it here.
I asked him why he wrote the book and he explained:
As children of God, we believe that God can bring good out of bad, even the most unspeakable bad. Our Lord led me to write a book on the subject. It releases in just under two months (June 1). The title grips my heart even now as it is the name of my daughter, Melissa. It is my prayer that it will touch the lives of many people, helping those who have gone through this experience. I've also written it so that those who are considering this tragic act would reconsider after knowing the consequences of this action in the lives of those who are left behind.
Here is an excerpt from the book:
During that horrible late autumn when we lost Melissa, we were in the midst of a move, relocating from South Carolina to Atlanta. It was sure to be an odd adjustment anyway. It was the first time in more than thirty years that I was not officially in my usual role as senior pastor. Everything felt temporary and unsettled, all the way down to our makeshift housing arrangements. Here we were, trying to adjust to new work in a new city, boxes and clothes still tucked away in storage, and yet adjusting simultaneously to a world that had rocked several significant degrees off its axis.
We were in a new place in more ways than one.
And where was God?
Did you ever wonder where God was when you sat up at night asking questions that had no solvable answers? Did you ever doubt His love and goodness? Did you feel abandoned by Him? Deserted? Alone?
I understand if you did. I understand if you still do. Suicide is not a situation that lends itself to casual conversations with God. It hurts. And more than that, it seems as though He could have prevented it all if He'd wanted to. At those times when the loss seems the most impossible to bear, at times when you can't believe what your child is doing or has done to themselves, it can feel like God is nowhere this side of heaven to offer all that comfort His Word so confidently promises.
But I can tell you by the testimony of Scripture, He is strong enough to weather our hot accusations against Him, patient enough to withstand our desire to seek distance from Him (though such a thing is, of course, theologically impossible), and compassionate enough to feel emotion at the deep, hollow anguish that can often stand between us and our tottering faith.
Yes, we may feel He's left us all alone.
But I know that He hasn't.
And so can you.