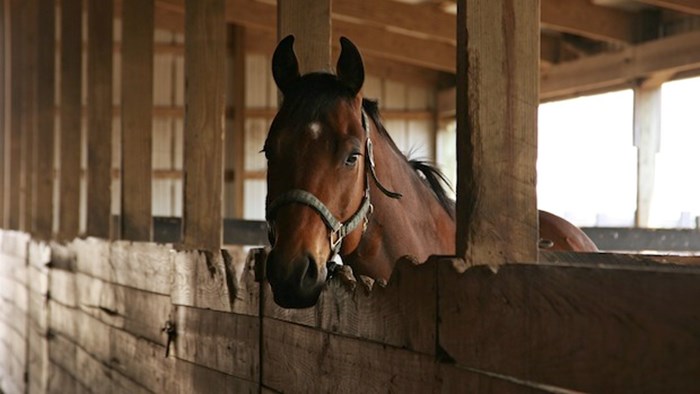 Image: vzonabaxter / flickr
Just before Christmas, I took a call from Christine Gutleben from the Humane Society of the United States (HSUS). Through some mutual friends, they had heard about my daughter (Jaclyn) and her passion for animal welfare.
I've not written much on the topic, mainly focusing on my passions (reaching people, evangelism, planting churches, etc.). To put it bluntly, being kind to a dog I don't like is about as involved as I've been in animal welfare issues.
I've weighed occasionally on a few other issues outside of my focus: the protection of innocent life, the environment, and immigration. My most recent book, Subversive Kingdom, addresses the need to proclaim the gospel while caring for the hurting. However, I was intrigued by her call, particuarly since they had a "faith outreach" program at the HSUS.
Then, just last week, the issue about which she called me (horse soring) made the front page of the Tennessean:
There won't be a Graceland Challenge Trophy at the nation's premier walking horse competition next year after its donor, Priscilla Presley, decided to take it back after three decades.

Presley said she didn't know the Tennessee Walking Horse National Celebration still awarded the trophy, given in memory of her ex-husband, Elvis Presley. She attended the Shelbyville, Tenn., event in 1983 and donated it as part of an exhibition featuring Ebony's Double, the last walking horse Elvis ever bought. She thought it was a one-time award, but it's been given every year since and is listed in the latest Celebration program under prizes for the Four-Year-Old Walking Horse World Grand Championship.

Today, she owns two Tennessee Walking Horses, stabled on the grounds of the Presley family's Graceland estate in Memphis, and is a vocal supporter of a federal bill seeking to end abuse of the breed.

"Graceland isn't going to support this, knowing what we know now," Presley said Tuesday. "We want that trophy back.

"I can't support the trophy when inhumane methods are used on these horses. I can't support it."
So, I'm not quite sure that I need another cause—mine is generally helping churches and Christians to live on mission. However, it is intriguing to me that Christians are discussing the issue. For example, here's Christine and Wayne Pacelle's talk at the Q Conference.
I imagine that mobilizing evangelical Christians for animal welfare advocacy may be a challenge—they're primarily focused on other concerns. Furthermore, the radicalization of the animal rights movements has, I think, scared away many Christian leaders. Yet, as the video shows, that's not always been the case.
On the other hand, my daughter Jaclyn says I need to think more on this. Her favorite verse is Proverbs 12:10, "A righteous man cares about his animal's health." And, seeing an end to animal cruelty is certainly a worthy goal, particuarly if Christian believers in our churches gain such a passion.
Anyway, the HSUS's faith outreach is interesting. For example, there seems to be an openness at places like Calvin College, and even evangelical conferences. The New York Times is taking notice of the faith connection.
Perhaps in some ways, that is not surprising…the HSUS has actually been led by clergy until Wayne took his role. In other words, there have been many times in the past where Christians have engaged in this issue more intentionally. The HSUS wants to mobilize them again.
Here is a film they created on eating mercifully.
Here is an article from Christine. In the article, she cites several examples:
What is more, we find that religious leaders and communities across the United States are developing ministries and programs to help animals and the people who love them. Two years ago, I came upon Church of the King in Mandeville, La. The non-denominational mega-church was offering free pet exams and vaccines along with medical and dental services for low-income community members. The longest lines were those to see the volunteer veterinarian, John Mauterer, D.V.M. People waited several hours in the summer heat to get their pets vaccinated.

Executive Pastor Randy Craighead commented, "For some people, their pets are all they have, and seeing the animals receive treatment means everything to them…Indeed, when we care for animals, we care for people. When we dismiss or ignore animals, we miss a significant aspect of what it means to be human."

McLean Bible Church in Vienna, Va., the largest church in the Washington, D.C. metro area, has an animal therapy program, Paws4Hearts, which brings animals to visit the sick and elderly. The church's description of the program emphasizes a core belief: "People and animals matter to God."

The Rock Church in San Diego, Calif. has a Dog Lovers Ministry "to help dogs in need." Dorchester Presbyterian Church in Summerville, S.C., has a 42-acre wildlife sanctuary and Pastor Dorothy Taylor Blackwelder believes that the outdoor space allows people "… to be reminded of God's awesome power and creativity in creation."

The list of animal ministries across the country goes on, including Trinity Episcopal Church in Bethlehem, Pa., which encourages humane food choices at all congregational meals and collects pet food during traditional food drives to donate to local shelters.
It's interesting to see the evangelical churches mixed in. I'd expect more in mainline traditions and perhaps Catholicism, with animal blessings and the like.
So, what do you think? How should evangelical Christians be responding to animal welfare concerns? And, do you have any examples that do?
The Exchange is a part of CT's Blog Forum. Support the work of CT. Subscribe and get one year free.
The views of the blogger do not necessarily reflect those of Christianity Today.