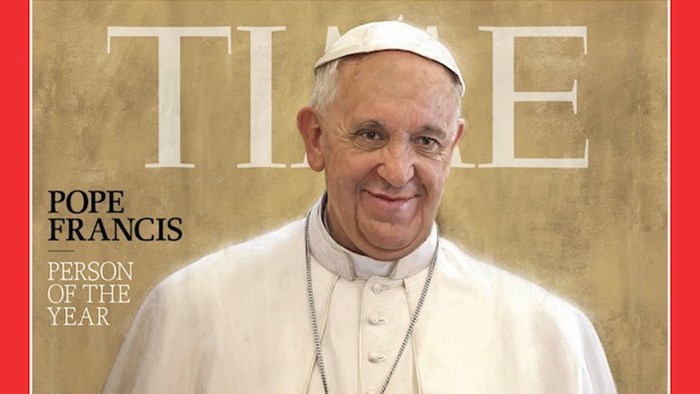 Image: Courtesy of TIME
On Wednesday, December 11, TIME Magazine named Pope Francis their "Person of the Year." Soon after, the new Pope was named the number one news story of the year by vote of the Religion Newswriters Association.
The immediate evangelical responses to the TIME story were interesting to watch: some evangelicals said appreciative things about the Pope's actions, only to be criticized by other evangelicals for compromising, some took the time to point out all the ways they disagreed with Catholicism, and others just said nothing.
Now, I am a Protestant and I think the Reformation mattered, but that does not keep me from asking, "What can we learn in this moment?" Choosing to ask that question does not mean I agree with Roman Catholic theology or some of the Pope's recent pronouncements. However, I can learn from how the Pope is catching the attention of today's world in his care for the poor, humility, and honesty.
Perhaps we call can learn from this moment, and I hope we don't miss the opportunity.
As such, I think that the Pope's selection as "Person of the Year" deserves some reflection, even from those of us who are Protestants. Actually, at this moment in evangelicalism, it might be particularly helpful.
Here are three thoughts: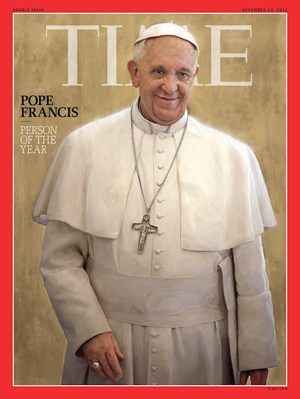 Image: Courtesy of TIME
First, the World Notices a Faith that Cares for the Poor.
Pope Francis has a reputation for being one of the most social-justice-focused Popes. Howard Chua-Eoan and Elizabeth Dias of TIME write about the Pope, "To Francis, poverty isn't simply about charity; it's also about justice. The church, by extension, should not reflect Rome; it should mirror the poor."
Perhaps we all should take note. We need to be known more how we care about the hurting than how we yell at them. The world is often confused when they see Jesus caring for the poor and the hurting while His followers, well, don't.
Second, the World Recognizes Humility.
Just a couple of weeks ago, Vinicio Riva, a disfigured Italian man, became world famous when Pope Francis greeted him with a hug. It was a powerful moment.
Yet, it is quite a contrast in many ways. I've been to the Vatican and it does not scream, "care for the poor." Traditionally, the Pope literally sits on a gold throne. This Pope, however, Pope Francis, hugs those whom the world unabashedly avoids.
The Pope, one of the most important and powerful people on the planet, does not avoid society's "rejects," he accepts and embraces them, literally. That's reflective of a pattern of humility reflected by lifestyle choices, the move away from pageantry, and an embrace of the marginalized.
Might we take up this posture of humility? How may we be known for embracing the outcast with humility and grace?
Third, the World Recognizes Honesty.
One of the integral parts of Pope Francis' young papacy is the emphasis on being above reproach, specifically in the realm of finances. Shortly after he was called to be Pope, Pope Francis initiated an investigation into the Vatican bank, long-known for its corruption.
Pope Francis, in his care for the poor and weak, has spoken against gross expenditures and unnecessary delicacies. He doesn't even live in the lavish papal apartments that all tourists see from St. Peter's Square.
His response to issues has been honest—not ignoring corruption and financial problems within the church, but dealing with them.
He has also been addressing issues of child sexual abuse, most recently forming a commission to take new steps to eradicate the problem from the Catholic Church. There is much work to be done here, and it's too early to speak of honesty in this area at the same level we can of finances, but many see this commission as a step in the right direction. We shall see.
I've written before about unhealthy Christian organizations, too often filled with denial rather than humility, unable to see the very real issues that seem obvious to others. Christian organizatons, denominations, and local churches alike must examine themselves and be above reproach for the good of the kingdom and the gospel they proclaim.
Will Christians be known around the world for honest admission of our failures and our willingness to address them?
Where do we go from here?
These are but a few of the many implications of a religious leader being named TIME's Person of the Year. In short, I think that perhaps we might learn from this moment as it relates to caring for the poor, a humble attitude, and honesty with our own failures.
Now, if I was a betting man, I'd bet that this admiration will temper over time. Why? Because Catholics still hold positions that the mainstream media and culture do not like and, ultimately, this Pope will (probably) not change those. But, still the moment is worth reflection.
This selection tells us that people are paying attention. No, the Pope and I would not agree on many things. I come from a Catholic background and I am well aware of the differences. But just because we have a very different understanding of some things doesn't mean that I can't appreciate others, and it doesn't mean that I can't learn—I hope you can too.
The world is watching, and they are clearly struck by a faith that leads to action. How might we better pursue justice, humility, and honesty for the sake of the biblical gospel?
Chris Martin contributed to this article.
The Exchange is a part of CT's Blog Forum. Support the work of CT. Subscribe and get one year free.
The views of the blogger do not necessarily reflect those of Christianity Today.