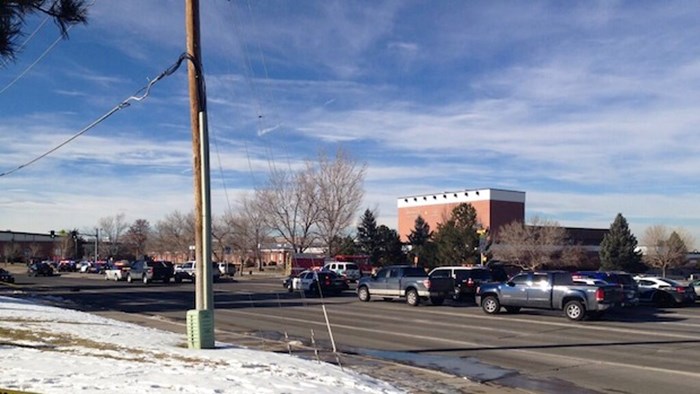 Image: Courtesy of the Denver Post
As we approach the one-year anniversary of the Sandy Hook school shooting, we are faced with yet another act of schoolhouse violence.
Today, the community of Centennial, Colorado, was the victim of a senseless shooting at Arapahoe High School which resulted in at least one death—that of the shooter. Two other injured students have also been transported to local hospitals.
Like many of you, I am thankful for the quick actions of law enforcement and that no other lives were taken.
But yet another community has been affected by a school shooting. This has sadly become an all-too-familiar occurence in schools across our nation. This could have happened in any town in America. It could have been your town. It could have been mine.
So how do we as Christians respond to these senseless acts of violence? I gave these three steps last December in the wake of the Sandy Hook shooting. They still apply today.
First, pray. Pray for the hurting families and the broken community that has had the innocence of their children ripped from them. Pray for churches to minister to the hurting. Pray for people not to lose heart. And, yes, pray for Jesus to come back and set this broken world right.
Some time ago I tweeted about the tragic suicide of a member of my extended family, ending my post with the words, "Maranatha. Come quickly, Lord Jesus." Someone asked me, "Why did you say that? How are those things connected?" The answer is that ultimately we need Jesus to return and set this world right—we eagerly wait in hope for the return of our Savior. That's why Christians pray for Jesus' soon return.
We believe that right now our broken world rebels against its rightful King—and evil people do evil things. The innocent suffer. People are hurt and people hurt each other. People kill and are killed. The world is broken and needs its Maker to fix it.
So, we Christians pray as Jesus taught us, "Your kingdom come, your will be done, on earth as it is in heaven."
So, we pray for the hurting now and for Jesus to come back and end all the hurt—to dry every eye.
Next, don't be afraid to say that the world is horribly broken. Speak about its broken condition. This brokenness is all around us. Evil is real—bad people are doing horrible things. The world really is broken.
In my book Subversive Kingdom, I wrote:
Look around. Our world is broken. I'm not talking about the "world" in terms of nature (although creation, too, bears the marks of sin's blemish and decay). I'm talking about the "world" comprised of the people, structures, and systems that make up society--the moral patterns, beliefs, and behaviors that result in things like unfair business practices, racism, extreme poverty, dishonest government, dirty politics, family breakdown, cheating, stealing, oppression of the weak, and so many other distressors and defilers...

It stinks.

It's bad.

It's not right.

It's broken.

And in homes and hospitals every day of the week, at courthouses and gravesides everywhere in the world, people of all spiritual makes and models suffer from it—from a world that toils along in hopeless disrepair.
The brokenness of the world is on full display this day. Don't be afraid to talk about it. All the silly "positive thinking religion" collapses on days like this. This world is broken and only God has the ultimate fix.
Finally, do something. Yes, hug your kids, but find a way to serve the others and be an agent of the Kingdom of God—an ambassador of Jesus in a world that does not follow him and His ways. Respond to this evil by doing good. Join Jesus on his mission.
We sense inside us a God-given desire to alleviate as much pain as possible with the tools and opportunities God has placed at our disposal. We hate watching people suffer from the debilitating effects of evil in the world. We want to see fallen and broken world, with its hurt and pain, driven back and overthrown. Yet, we can be pretty good at drowning out our heart's compassion with large doses of television and distractions, but deep down we want to be part of making a difference in others' lives.
So, don't just watch the television news. Do something to change the broken world—show and share the love of Jesus. Again. More.
The hurting world needs God's people living as those who care, because we do care. We can't fix everything, but we can do something.
Let's grieve with and pray for the hurting. Let's call the world what it is—broken. Then, let's recommit ourselves to living for Jesus and others in a broken world.
Hold your kids, cling to Jesus, and cry out, "Your Kingdom come, your will be done, on earth as it is in heaven." Maranatha.
The Exchange is a part of CT's Blog Forum. Support the work of CT. Subscribe and get one year free.
The views of the blogger do not necessarily reflect those of Christianity Today.