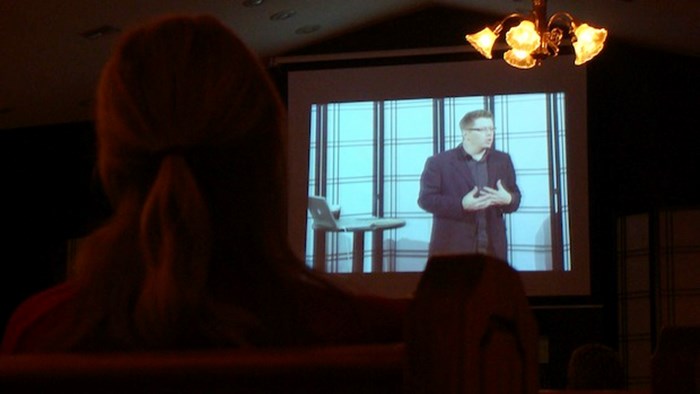 Image: lifepointe / flickr
I've been a pretty vocal critic of video venues through the years. It's not that I don't think that God can and even often does bless preaching that comes off a screen, it's more that I am concerned for the formation of communities who choose this route and the people within them. That is, I'm concerned with how technology shapes us, and what trade-offs are made when we choose to beam the sermons of one person to ever-increasing numbers of people in ever-increasingly distant locales rather than raise up, train and send communicators who can apply the Word of God in local contexts to people they actually know and regularly relate to.
Now, a new survey from LifeWay Research shows that this approach may even be turning off the very people we'd like to reach with the Gospel.
In a telephone poll conducted during September of 2013, in which 1,001 adults were asked "If you were considering visiting a church, would it matter if the sermon was preached on a video screen or in-person," 35% replied they would only visit a church in which the sermon would be preached in person. A further 30% said they would prefer to visit a church where there was a live preacher. 30% said it wouldn't matter to them and exactly 0% replied that they would prefer or would only visit a church with video sermons.
That's more than a third of respondents who would be completely turned off by a video sermon, with another third expressing a preference against them.
There are some bright spots, though. Americans in the Northeast (one of the most un-churched areas in the country) are the most likely to say it would not matter and the least likely to only visit if sermon is preached in-person. Americans age 18-29 are more likely to say it would not matter than those age 45-54 and 65+. Most encouraging of all, Americans who never attend church at all are most likely to say it would not matter how the sermon was delivered.
But even with that, it's clear that the majority of those asked, churched and unchurched, would prefer to be taught by an actual person they can know and be known by.
So why are so many churches choosing the alternative?
While I don't doubt for a minute the desire of those churches who choose this route to reach people for Christ, I do have significant suspicions that underneath it all is often a capitulation to celebrity culture—a belief that the big names will reach people best—and a desire for those ever-bigger crowds and the status and recognition that come with them. Too many pastors would rather have a multi-venue church with attendance of 5,000 than pastor a church of 500 that has planted ten other similar communities. It's easier to start a campus and beam my sermons to other locales than it is to raise up leaders and laypeople, bless and release them to begin a new work.
Video venues (along with mega churches and even personality-based smaller churches) try to parlay the gift of one or two people into something bigger and bigger. And in a world drowning in celebrity and branding I have to question whether this is really the direction the Church wants to go.
I don't believe that's what the Church and the people we are trying to reach need. Further, I think we are now seeing evidence that it's not even what the people we are trying to reach want. A video venue represents, at some level, a barrier to 65% percent of people. A live communicator represents a barrier to 0%.
Pragmatic churches say that they will do "whatever it takes" to attract and reach people. Here's some good evidence that video venues are not that.
While I think "What people prefer" should be lower on our priority list as we shape our communities and choose our methodologies than many other factors, this is just another reminder to me that what we can do technologically is not always the same as what we ought to do.
The Exchange is a part of CT's Blog Forum. Support the work of CT. Subscribe and get one year free.
The views of the blogger do not necessarily reflect those of Christianity Today.