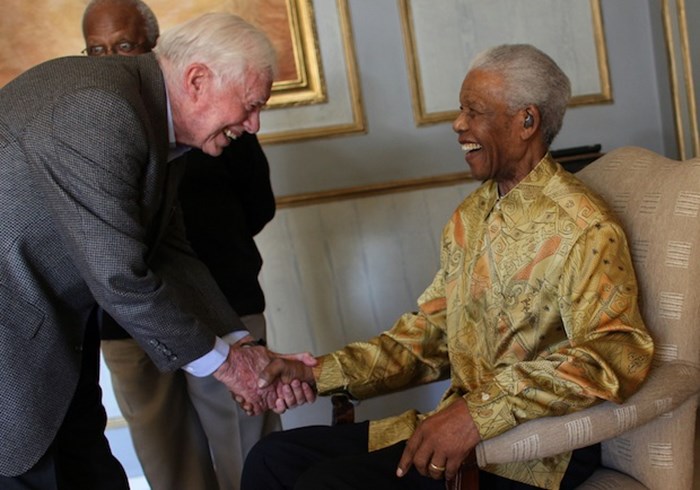 Image: The Elders / flickr
Romans Chapter 13 tells us that political and national leaders are given to us by God, and as such, we should honour them. Maybe, in the entire history of the world, certainly in modern history, that has never been as easy to do as in the case of Nelson Mandela. In these days of personal, national and global mourning, I want to honour former President Mandela, affectionately known in South Africa as Madiba, on behalf of the Christians in South Africa, and around the world.
A Man to Remember
Firstly, we honour Mandela for his Christ-like humility and compassion. He was a man who treated street kids with the same dignity he did Presidents.
Secondly, we honour Mandela for thinking generationally. Cyril Ramaphosa said: Mandela was thinking way ahead of us. He had posterity in mind.
Thirdly, we honour Mandela for his commitment to social justice and racial harmony. In the famous 1964 Rivonia trial where he defended himself, he said: "During my lifetime I have dedicated myself to the struggle of the African people. I have fought against white domination. I have cherished the ideal of a democratic and free society in which all persons live together in harmony and with equal opportunities. It is an ideal which I hope to live for and to achieve. But if needs be, it is an ideal for which I am prepared to die."
Fourthly, we honour Mandela for keeping his sense of humour amidst his weighted responsibilities. Once when Desmond Tutu accused Mandela of dressing too casually, Mandela responded, "And this from a man who wears a dress!"
Nelson Mandela had every right to hate. Instead, he taught the world how to forgive.
Fifthly, we honour you for your exemplary response to suffering, seeing it as a tutor for some of the deep lessons of life. In his book 'Mandela's Way, Richard Stengel wrote, "Nelson Mandela had many teachers in his life, but the greatest of them was prison. Prison moulded the man we see and know today… Prison taught him self-control, discipline, and focus – the things he considers essential – and it taught him how to be a full human being."
And above all, we honour Mandela for modelling forgiveness in such a Christ-like manner. Adriaan Vlok (Minister of Law and Order 1986-1991) said, "When Mandela came out of prison he did not have a record of wrongs done to him because then he would have embarked on a road of revenge. What did he do? He embarked immediately on a road of forgiveness."
Mandela himself said, "If there are dreams about a beautiful South Africa, there are also roads that lead to their goal. Two of these roads could be named Goodness and Forgiveness."
Former President FW De Klerk said of Mandela, "He is par excellence a peace maker". And as we know, there is never peace without forgiveness.
I saw the back cover of a DVD from a programme about Mandela from the Discovery Channel that read, "Imprisoned for 27 years, Nelson Mandela had every right to hate. Instead, he taught the world how to forgive."
Rory Steyn, his former body-guard, wrote a book entitled "One step behind Mandela". Poingantly, Chapter 1 is entiteld, "The Path to Forgiveness".
Twenty seven years in prison. Friends murderered. A people oppressed—in 1973, for every R1 spent on educating a black child, R17 on a white child! And yet he forgave.
A Day to Remember
I will never forget the day of the Rugby World Cup final when President Mandela pulled on the No 6 Springbok jersey, considered by many to be the moment when he won a nation. I find that moment profoundly moving at two levels:
As a South African, that President Mandela would take on himself the symbol of all that hated him. He did it to reconcile white man to black man.
As a Christian, it reminds me of the President of All Presidents, Jesus Christ, who took on human likeness, the symbol of a race that hated Him. He did it to reconcile man to God.
As Christians around South Africa and the world, Nelson Mandela, we salute you.
The Exchange is a part of CT's Blog Forum. Support the work of CT. Subscribe and get one year free.
The views of the blogger do not necessarily reflect those of Christianity Today.