Top Cultural Posts of 2013
What were some hot pop culture topics on The Exchange in 2013?
Ed Stetzer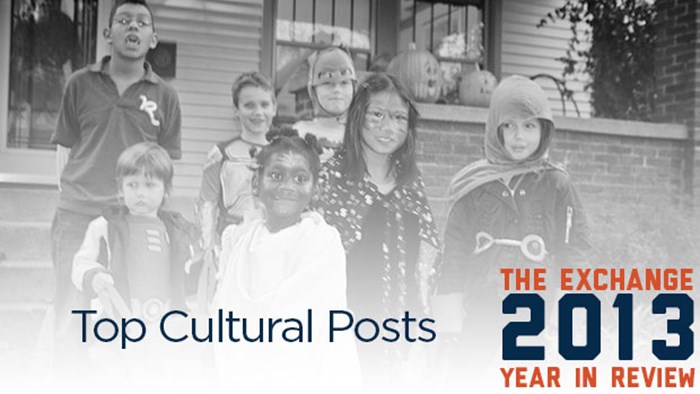 Some of my favorite blog posts to write are blogs that deal with popular culture issues that are in the news or on my mind. Christians are to be in this world, not of it as we see in John 17, Romans 12, and otherwise, and a lot of times this idea is put to the test on the battleground of popular culture.
Here are my Top 5 Cultural Blog Posts of 2013, with excerpts:
1. 7 Biblical Tests for Christians and Music
In seeking to determine what is the right music for a church, it's important that we use biblical principles in our evaluation. That's not always easy—the Bible doesn't contain music notes. God never gives us His musical preferences.
While it may be difficult, I do believe it's possible to evaluate musical preferences using God's word. The following seven tests each relate to biblical principles that we can apply to our music to determine its suitability.
1. Message Test
This may be the simplest of all the tests. Examine the words of the song and consider its message. Does this song communicate the Word of God? Does the message appeal to our higher nature, or do the words appeal to our lower nature? If we seek to glorify God, it's important that the message of the songs be consistent with what God has already told us in Scripture.
2. Purpose Test
All music was written with a purpose in mind. Here we ask, "For what purpose was this song written?" or "What is this trying to promote or encourage?" Determine whether the music is sad, joyful, uplifting or soothing. Music that may be appropriate at one time may not be appropriate at another. Some music may even be intended to promote sinful choices or ways of thinking. When we apply the purpose test to our music, we choose songs whose purpose lines up with our own as Christians and the values of our local church.
2. Politics, Social Media, and More Important Things
You can't blurt at a people and reach a people at the same time. This is true no matter how satisfying it feels to add your voice to the political rants on social media.
In the current political climate in our nation, with shutdowns and blame, I have watched the volume grow and the civility shrink.
I believe in the importance of civility for civility's sake. Yet, I think it goes even further than that if you are a Christian who wants to reach those disconnected from the church. In other words, I believe the way we handle political issues has a missional implication. So a few days ago, I posted this thought to Facebook (and a shorter version on Twitter):
"Statistically, the unchurched lean heavily Democrat. So—and I know it's just me talking crazy now—if you want to reach the unchurched, maybe constant Facebook/Twitter posts about how stupid Democrats are might be a bad idea."
The post was shared hundreds of times on both social media outlets and appeared to draw a largely positive response, so I thought it may be appropriate to elaborate a bit on this idea and why it's so important.
The angry accusations are flying around Washington. And that's one of the reasons people don't like Washington, think it is broken, and give it such low approval ratings. Yet, as I observe the relentless mudslinging between professional politicians with less and less surprise, I've sadly concluded that Christians are often unnecessarily burning bridges on the altar of political partisanship.
3. Four Reasons You Should Go Trick-or-Treating Tonight
I know lots of Christians who avoid Halloween. I did years ago. The Halloween church signs we just posted make that clear. I get it and even respect it, depending on how you handle it.
One of my churchy neighbors makes a point of turning on his lights so that everyone knows he is home, but then won't come to the door when trick-or-treaters come by. I guess it's his way of making a point and sticking it to the devil. That's not probably the best approach.
One the other hand, many churches put on wonderful events as Halloween alternatives, and I understand their goal. Some do it due to their convictions on Halloween and I respect the theological aspect of that decision. I've seen such events done well.
In some cases, such events are the focus for a community, particuarly in areas where driveways and front doors are too many steps apart, and I respect the missional aspect of that decision.
But as more and more of us live in neighborhoods, often surrounded by people we do not know, I do think there is a better way for many of us.
As such, here is my suggestion:
Get a costume.
Buy candy.
Put costume on.
Give candy out.
Go get candy from your neighbors.
Meet all your neighbors.
Build on those new relationships.
4. 10 Things I've Learned after 26 Years of Marriage
Today, Donna and I have been married 26 years.
We've been together for 30 years-- and two days-- since our first date was August 13th, 1983. That's a long time together by today's standards.
Here are ten things I've learned about marriage and relationships along the way.
Marriage is worth the investment. Yes, it is and investment. I know that it is not always easy, but it is always worth it. I'm thankful for a strong marriage.

You have to invest in a marriage for it to be worth the investment. It sounds strange, but it's true-- it takes continual investment on the investment. I've seen "perfect" couples—like some we knew in high school and college—get married, drift apart, and end up divorced. We did not. It's not because we are perfect, it's because we work hard.

Choosing your marriage partner is the most important human decision you will ever make.I've seen many, many miserable marriages. And a big part of that relates to bad marriage choices. My wife was/is beautiful, but that's a really bad foundation upon which to build a marriage.

Most fights are over stupid things that don't matter. When I was younger, I always wanted to prove my point. It's more important to prove your love. You do that by not arguing over stupid things. Note: most arguments are from stupid things.

Most arguments are resolved when both people are more concerned with being in a relationship than with being right. I'm amazed at how many times I thought I was right. I had to be right. I had to show her I was right. And, let me say, that's just wrong. It's dumb. And it does not work.
5. Seeing the Church Through the Eyes of Two Twitter Rockstars
Recently, my team had the opportunity to interview a couple of my favorite Twitter friends. In this two-part interview, @Rev_NoRespect and @ChrchCurmudgeon share a few of their thoughts, both funny and serious, on the state of the church and what it's like to be a Twitter celebrity. If you don't already follow these two, you should.
What is the main problem in the church today?
@Rev_NoRespect: LifeWay actually did a study of 5 declining churches over the past 15 years and the common denominator was me. In all honesty, I have to admit that I have "killed" a few churches, but only in self-defense. So if I study the data and listen to the experts, the main problem with the church today is me.

There are other problems too. Staff is a big problem. Moses' staff split the Red Sea—mine split the church. Some people say apathy is a problem, but I don't know, I really haven't put that much thought into it. Youth Ministers can be a problem too. They're like puppies. They're fun and cute but then after a while you realize you have to feed them and clean up after them. The main problem in our church is seating. We have far too much of it.

@ChrchCurmudgeon: The big problem is that people have not yet come around to my way of thinking. That said, I have been hearing for so many years now that when it comes to change, the church has to learn to cope. I believe that when it comes to change, the church has to learn to nope. That will help us keep churches to a manageable size.
Have a Merry Christmas, and be sure to catch the Top Current Events posts of the year on Thursday.
The Exchange is a part of CT's Blog Forum. Support the work of CT. Subscribe and get one year free.
The views of the blogger do not necessarily reflect those of Christianity Today.