Top Current Events Posts of 2013
What current event blogs were most viewed on The Exchange in 2013?
Ed Stetzer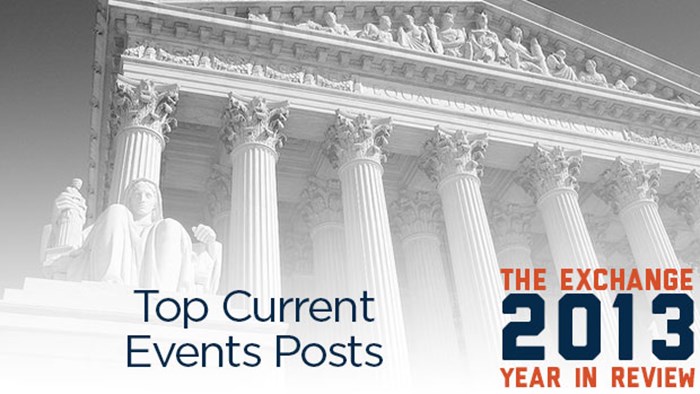 Our world changes every day. Some days are "slow news days" and other days there is so much going on, for good or ill, that it is difficult to keep up with how the world is changing. One day we may rejoice at the discover of a cure for a disease, and the next we're mourning the plague of sin that led to massive loss of life.
Writing on current events is important to me because it allows me to meet people where they're at. Whether they're saddened by the loss of a famous leader or laughing at the latest publicity stunts of an entertainer, Christian commentary on current events is important. So, without further ado...
Here are my Top 5 Current Events Blog Posts of 2013, with excerpts:
1. Privilege, Blame, and Injustice: Reacting to the Zimmerman Verdict
This is like déjà vu all over again.
With the acquittal of George Zimmerman, the response to the conclusion of the Trayvon Martin case is radically divided along racial lines. This seems to happen every time a nationally-publicized incident occurs between blacks and whites. It happened in 1991 when black parolee Rodney King was brutally beaten by white LAPD officers. It happened in 1999 when white NYPD officers fired 41 shots at African immigrant Amadou Diallo and killed him. And it happened in 2009 when white Cambridge, MA, police officer St. James Crowley arrested black Harvard professor Henry Louis Gates Jr., while Gates was breaking into his own home, just to name a few examples.
Based on my conversations with both blacks and whites, I've noticed a stark contrast in how the different groups tend to perceive these incidents. Blacks often perceive them as outrageously unjust, oppressive, critically important, and indicative of deep-rooted racial injustices in American society. On the other hand whites often perceive these incidents as relatively less important, as isolated events that aren't necessarily related to larger societal issues, and/or the result of blacks engaging in "race-baiting" or "playing the race card."
Indeed, a 2012 Gallup poll study that compared black and non-black (the majority of which were white) reactions to the Trayvon Martin case found that "Blacks [compared to non-blacks] are paying much closer attention to the news of the incident; overwhelmingly believe that George Zimmerman is guilty of a crime; [and] believe that racial bias was a major factor in the events leading up to the shooting." Based on these data and my own personal observations, it's seems that blacks and non-blacks/whites tend to perceive this event and the underlying issues that are related to the event very differently. What is perceived as a serious problem to black people doesn't seem to matter as much (or at all) to others. What is perceived as unjust and racist to black people seems to go unnoticed by others.
2. Prop 8, DOMA, and the Christian Response
Today the Supreme Court of the United States struck down parts of the Defense of Marriage Act, passed in 1996. The Supreme Court also declined to rule on Proposition 8 from California (Christianity Today has the full story here).
In doing so, same-sex marriage recognition remains a state issue and (although this is not completely clear) it appears to remain legal in California, as it is in 12 other states and the District of Columbia. Also, the United States government will recognize the legality of those marriages with respect to federal benefits.
Needless to say, our culture is changing-- quickly and dramatically on this issue. But how should Christians respond?
Our typical response has been to post on blogs, write articles, and send tweets to shout about our opinion and speak out against those who differ. That's already happening. But, I'm not sure that is the best approach right now. Why? Because courts don't determine biblical morality, and regardless of what government does, churches shouldn't stop their mission.
The Court decides what is legal and appropriate for a secular, civil government
Our own LifeWay Research findings show that 58 percent of American adults agree same-sex marriage is a civil rights issue, and 64 percent believe the legalization of same-sex marriage in the United States is inevitable. Despite evangelical Christian belief (and the beliefs of many other faiths) that homosexual activity is personally sinful, society has increasingly decided that gay marriage is legally permissible.
But to an ever-increasing majority of our culture that view is discriminatory and, ironically, they sometimes appeal to Scripture for their justification. When President Obama announced his "evolution" on the issue last summer, he quoted Jesus' Golden Rule. Proponents of same-sex marriage hold that societal change is necessary to treat others as we would like to be treated, regardless of our views of morality and sin. Christians have always taught that God's standard and intent is one man, one woman, one marriage, for one lifetime. That position makes sense to us based on the Bible's clear teachings.
Like many of you, I found out this morning that Calvary Chapel founder and pastor, Chuck Smith, has died. He was 86. Christanity Today has a helpful obituary.
Chuck and Calvary Chapel have played an important role in the evangelical movement in the past century. Simply put, it is hard to overstate the significance of Calvary Chapel in remapping Protestantism, particularly evangelicalism. And Chuck Smith was one of the main reasons for that impact.
When I first became a seminary professor back in 1998, I made a trek to Calvary Chapel Costa Mesa and attended with my family, interviewed the staff, and learned from how God was using the church and the movement. Over the years, I've been an observer of the movement to the point where I've actually had students write papers on Calvary Chapel and discussed the movement in my book, Viral Churches.
I actually do a presentation when seeking to explain the modern evangelical movement, particularly to movement leaders here in the United States or to missionaries who have been out of the country for a long time. The presentation is called "The Contours of the Modern Evangelical Movement." In that, Calvary Chapel is right near the beginning of the trunk and has a series of arrows that flow from the movement showing its amazing influence. As scholar Donald Miller wrote about in his book Reinventing American Protestantism, Calvary Chapel helped birth and shape a movement.
4. Another Day, Another Faux Christian Outrage: Costco's Fiction Bible
My wife and I had attended our small group on Tuesday night of last week. We finished up a marriage series, and I learned that I wasn't communicating in her love language—most guys can relate! She snapped a photo of a jacket she liked at Costco, and so last Friday I went there looking for it. On my way out of the store, I was browsing through some of their books. I noticed the Bible was being sold and had a label on it that said "Fiction." As I checked, I noticed that all Bibles were labeled in that fashion. I went to find someone in the store and inquire as to why it was labeled fiction. Unfortunately, I couldn't.
Here's where it began: I took a picture and posted it on my Twitter and Facebook. I snapped the photo because I thought it was interesting and somewhat amusing (I had never seen a Bible labeled fiction, but religion, inspiration, gift, etc).
Let me be clear on this: I was NOT angry, outraged, offended, stunned, shocked, upset, gained a shattered worldview, or ________________ (you fill in the blank). I put the pic on my social media feed to EVERYONE, not just my "flock." It was then a couple of days later that I was approached by the press about the photo.

I tried to answer media/journalist questions as best I could, and there were some quotes that were taken out of context. I did some of the TV interviews for a couple of reasons: first, to show that I was not outraged or upset with Costco. Second, I will take any chance I get to testify about Jesus or create conversation on the Bible. In every interview I tried to point the people back to Jesus. I specifically said each time, "I do not think that Costco did this intentionally. I don't believe there's an evil mastermind genius working at Costco to undermine the authority of Scripture." Unfortunately, people hijack and spin stories so they can get their own view on the matter across.
5. Why Christians Should Be Speaking Up about the Surveillance State
Almost immediately following the terrorist attacks of September 11, 2001, the Department of Homeland Security and the Transportation Safety Administration were created. After stumbling through an impromptu round of "God Bless America" on the capitol steps, both sides of the aisle were quick to put aside their regular differences in order to put forward their most secure faces.
Neither party wanted to be seen as soft on terrorism.
Almost twelve years later, we must face the snowball effect of those initial efforts and have a real discussion about where the priority of "security at all costs" ends and the honoring of civil liberties begin. For Christians, this is an important conversation because it involves biblical issues such as the dignity of all persons, a healthy view of human depravity, and our belief in Christian ethics.
Many Early American Christians Had a More Healthy Suspicion Regarding Government and Liberty
It is important to note that we have, for example, a First Amendment in the Bill of Rights because free-church Christians (Baptists, to be specific) said that the government should not be trusted to guard the rights of the individual-- those rights had to be enumerated, so that freedom and liberty could be protected.
Actually (and ironically), some of the Founding Fathers were concerned that by listing the "rights" in these "bills," some might assume that these were the only rights, when there were many more. Regardless, they added these rights, which were generally a non-issue for many years-- until they were tested many years later and the Bill or Rights became more prominent.
The Founding Fathers chose to enumerate such rights and protections because they knew that governments, left unrestricted, would abuse power-- so they assumed such abuses of power not because they were paranoid, but because they were wise. Good people said this would never happen-- but they rejected assurances from good people because they knew people weren't inherently good-- and power must always have limits.
Don't miss out on the Top Church Signs of the Year tomorrow, and the Top Church Trends Posts on Monday.
The Exchange is a part of CT's Blog Forum. Support the work of CT. Subscribe and get one year free.
The views of the blogger do not necessarily reflect those of Christianity Today.