I've been friends with Jeff Christopherson for many years, and I am excited to welcome him to the blog today to discuss his new book Kingdom Matrix.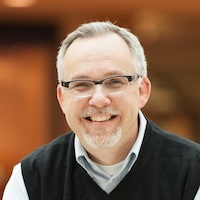 Jeff is a native Canadian and has served in pastoral and denominational leadership roles in Canada for nearly 25 years. When I think of church planting in Canada, I think of Jeff, as do several others. So when Jeff asked me to write the foreword to the book, I was glad to.
Jeff will be hanging around the comments on the blog today, so if you have a question about the book or the interview, feel free to ask them below.
In Kingdom Matrix you say we are either working for the Kingdom of God or against it and that there is no middle ground. Can you explain your thoughts here?
Yes, it seems to me that two extremes are well established in our instinctive understanding of the spiritual world--the selfless realm of the Kingdom of God, and the self-absorbed territory of the dominion of darkness. But in between these two Kingdom extremes often exists a third mythical Kingdom--a much more ordinary realm - a grey territory that would contain the bulk of our time and energy. Not good. Not evil. Just life. "The Kingdom of the Spiritually Insignificant" we might call it. The problem with the Third Kingdom is that it is a fairytale derived from extra-biblical sources.
Jesus spent a lot of time teaching on this simple idea that seems to have eluded many of us. He wanted his followers to grasp the significance of the Kingdoms that we occupy. Everything is light and darkness. Just because I claim to be a reborn child of God does not mean that I automatically advance the Kingdom of God. Just because my church claims to be a community of Christ does not automatically mean that it is advancing the cause of Christ. The Kingdom of God advances only through the counter-cultural faith steps of allegiance to the King. The masters to whom we pay allegiance clearly indicate the Kingdom we advance at any given moment. In the battle of good and evil, there clearly is no demilitarized zone. We are for Him or we are against Him. We are never undecided.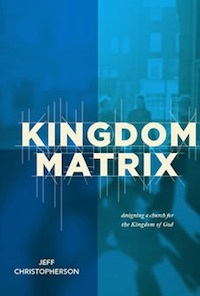 What are the four quadrants you discuss in Kingdom Matrix?
1. The Self Seeker: "A lover of myself" 2 Timothy 3:1-4 describes this group. Where the dominion of darkness intersects with the secular, we will always find a narcissistic, self-absorbed person. This segment of any society, by virtue of their actions, unconsciously considers loving themselves as the greatest good.
2. The Brand Expander: "A lover of my truth" 2 Timothy 3:5 describes this sacred version of the Self-Seeker. He is any one of us who uses the church of Jesus Christ to insulate us from the expectations of the Kingdom of God and ultimately from our personal accountability to its King.
3. The Kingdom Seeker: "A lover of ideals" Ecclesiastes 3:11 speaks of residual wiring that recognizes things of eternal significance. While the Brand-Expander chooses to value temporal effects that bring more comfort or prestige to its cardholding constituency, Kingdom Seekers believe that people are of paramount importance and will personally sacrifice for the bona fide needs that they discover. They look with suspicion at those who claim to speak for the Almighty but who live lives of perpetual unconcern with what any God of love should value. They are the greatest audience for a Kingdom advancing church.
4. The Kingdom Expander: "A lover of Christ" The Kingdom-expanding leader lives his life with the unshakable conviction that the improbable ways of God are the only paths to accomplish the eternal purposes of God. It is the Christian life living out the full intention and expression of both Ephesians 2:8-10 and James 2:14-19. A life of both orthodoxy and orthopraxy. Christ living His life out through a submissive and obedient community of faith.
We have a lot of churches in North America. Why do we need to plant new churches?
Well, we don't need to start more churches that compete for their fair share of the already-evangelically-predisposed market. In my opinion, a large percentage of our churches are tooled and ready to go after the revered already tithing prize. It's a very crowded space. Instead, we must start churches that passionately understand how to deliver Good News to the vast majority of North Americans who have great spiritual interest - just very little interest in advancing our sacred brands. We might have more than our share of churches in North America, but do we have an abundance of them that are unassuming enough not to see the advancement of themselves as the greatest spiritual good? When the church becomes the goal, the mission of Christ is stymied. When the Kingdom is the goal, the church of Jesus Christ is unstoppable. We need to start thousands of Kingdom-centric churches - when that happens, I believe that North America will be turned upside right.
What do you see as the biggest obstacle to a Church Planting Movement in North America?
The quick answer is reproducibility. Much of what we are starting has little potential to reproduce at even a very slow rate. In fact, some are actually constructed to never reproduce at all. Onset sacred sterility. (That's not always a bad thing; some expressions of sacred assembly do not need additional exposure. Reproducing it might further solidify impressions that least represent the Kingdom of God.) A Kingdom vision that includes an honest understanding of who we are, of where we are (context cubed pg. 253), and ultimately of Whose we are, will open the door to experience a Spiritually empowered movement. I've seen this firsthand. The movement found in this Kingdom vision doesn't come prepackaged from a conference. It requires personal introspection, careful and thoughtful community exegesis, and humble spiritual surrender.
While this book is geared towards church leaders, how is it also beneficial for those who are not in leadership positions?
Every disciple of Jesus is a leader by the definition of his divine assignment. We are called to lead a murky and tasteless world toward the glory of our King by convincingly becoming His salt and light. The spiritually disconnected are not looking for a religious order with which to unite - they are looking for Someone who will satisfy the eternal longing that they innately sense. Kingdom Matrix is helpful to any believer who desires to cut through our thick religious subculture and connect with the eternal aches of secular people. It tends to help us see people differently.
What does it look like for a church lives to accordance with the Kingdom of God?
It will have at least four telltale signs of Kingdom multiplication. First, there will be new believers added to their numbers. Baptism numbers will be derived from spiritual outsiders repenting, not just an ordinance used for denominational realignment.
Second, there will be new disciple-makers generated regularly from their midst. New believers will grow up in a culture where they are mentored toward becoming reproducing disciples, not consumers gorging on biblical facts.
Third, there will be new communities of faith being regularly established. Leadership could not imagine becoming the dead-end link on the great commission chain. "Who in our community needs the Gospel and how do we get it to them?" would be the regularly asked question.
Finally, there would be a notable impact on the geography it occupies. Community transformation would be the natural byproduct of the Gospel being generously lived out by its membership. Negative social statistics would be arrested and turned around by the sheer force of the Kingdom of God lived by the people of God. It would be the church giving itself away to advance the realm of King Jesus.
The Exchange is a part of CT's Blog Forum. Support the work of CT. Subscribe and get one year free.
The views of the blogger do not necessarily reflect those of Christianity Today.