One of the more surprising things I learned is something that I have seen on Twitter-- African Americans are disproprotionately involved. That's fascinating and makes me wonder why. Read more in this report.
BTW, LifeWay Reseach could have told you that young adults are more likely to use social media and saved you a whole lot of money, Mr. Pew. :-)
The Demographics of Social Media Users -- Pew Research
A late 2012 survey by the Pew Research Center's Internet & American Life Project shows that young adults are more likely than others to use major social media. At the same time, other groups are interested in different sites and services. In the case of Pinterest, Instagram, and Tumblr, these are the first reportable survey readings by Pew Research allowing comparison of whites, African-Americans, and Latinos.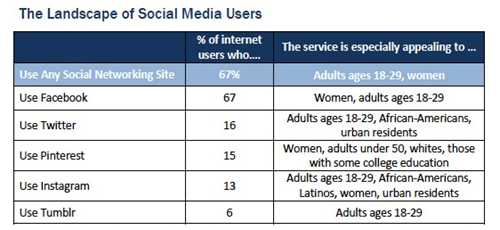 There was much talk of Sarah Palin's target map right after the Tuscon shooting (an exceedingly unhelpful map if you ask me). However, there turned out to be no connection between the Palin map and the Tuscon shooter.
However, one terrorist did get a map-- a map of "hate groups" on the Southern Poverty Law Center's website. This terrorist used that map to pick a place to go shooting. (I blogged my concern about such "hate group" labeling and how it might lead to such actions.)
Simply put, as I wrote at the linked article, labeling people "haters" when they disagree with you can have terrible consequences, on the left and the right. In this case, a terrorist got a map of "haters" and acted on it.
To be fair, let me also add that most of the hate I see on Twitter and Facebook is from people who hate the left. Such hate, from left of right, does not help.
Either way, the results can be tragic, as this article shows.
Family Research Council Shooter Pleads Guilty to Terrorism -- Christianity Today
Floyd Lee Corkins II, the man who opened fire at the Family Research Council (FRC) headquarters in August 2012, has pleaded guilty to three felony charges--including a terrorism offense.
According to a press statement from the U.S. Department of Justice (DOJ), "Corkins ... pled guilty in the U.S. District Court for the District of Columbia to charges of committing an act of terrorism while armed, assault with intent to kill while armed, and interstate transportation of a firearm and ammunition." He will be sentenced on April 29.
This is the first time anyone has been convicted of a committing an act of terrorism with "intent to 'intimidate or coerce a significant portion of the civilian population of the District of Columbia or the United States.'"
The DOJ also reports that Corkins specifically targeted FRC in his attack, consulting a Southern Poverty Law Center (SPLC) list of organizations that oppose homosexuality. The SPLC connection was first raised by FRC president Tony Perkins less than a week after the attack.
By the way, the folks at Get Religion also noticed the odd coverage of the "hate map."
SPLC to Get Sarah Palin Treatment Any Day Now -- Get Religion
I want to talk about media coverage of the man who was convicted today of shooting up the Family Research Council. But let's first go back to the horrible story about the murderous rampage that one disturbed individual went on in Arizona.
The mainstream media narrative, initially, was that a right wing Tea Party supporter acting under the orders of Sarah Palin had assassinated a sitting member of Congress. Precisely none of that was true or even close to true, but it didn't keep the media from pushing a particular narrative about it for some time. (It wasn't the biggest religion story, per se, but see our posts here, here and here) I also wrote a post about the role that alternate realities played in the shooting and media coverage of same. The shooter was said to engage in alternate realities. But, I argued, the same might be said of the media, feverishly trying to create a world where political opponents could be blamed for the most brutal crimes imaginable even if the facts didn't support that.
For days the media focused on the need for civility, and how this shooting was the result of conservative political rhetoric. Some media outlets suggested that campaign and battle words be avoided when talking about politics. See, a PAC associated with Sarah Palin had put out a map with races to "target" and had identified those "targets" with crosshairs.
The Exchange is a part of CT's Blog Forum. Support the work of CT. Subscribe and get one year free.
The views of the blogger do not necessarily reflect those of Christianity Today.