Once again, we hear another report of missionaries arrested. In a Muslim country. Again.
Libya Arrests Foreign 'Missionaries' -- The Guardian
Four foreigners have been arrested in Libya on suspicion of being missionaries and distributing Christian literature, a charge that could carry the death penalty.
The four - a Swedish-American, Egyptian, South African and South Korean - were arrested in Benghazi by Preventative Security, an intelligence unit of the defence ministry, accused of printing and distributing bible pamphlets in the city.
Libya retains a law from the Muammar Gaddafi era that makes proselytising a criminal offence potentially punishable by death. The arrests underlined the sometimes difficult relationship between churches and the new authorities.
"Proselytising is forbidden in Libya. We are a 100% Muslim country and this kind of action affects our national security," security official Hussein Bin Hmeid told Reuters.
All four remain in custody in Benghazi, and local reports say they may appear in court next week.
This issue will not go away until majority Muslim countries allow people to proselytize. When I spoke at the Global Faith Forum (and in from of Imams and other religious leaders) I said,
Some Muslims in New York are asserting their basic human right to build a mosque near Ground Zero. Yet at the same time almost all countries where Islam has a majority have not yet affirmed the Universal Declaration of Human Rights, granting their citizens the freedom to worship and, yes, convert according to their conscience.
That talk led to an article in I wrote in Christianity Today in which I wrote:
In the spirit of mutual respect and tolerance, Muslims should be free to build a masjid where they live, and Christians should defend their religious freedom to do so. At the same time, Christians should be free to plant churches in places like Bhutan, the Maldives, Brunei, and Saudi Arabia. No matter where we live or what religion we follow, we should not demand for ourselves that which we are unwilling to grant others--freedom from compulsion, freedom from discrimination on the basis of creed, and freedom of conscience.
Again, we need Christians to defend religious freedom. Furthermore, we need Muslims who believe in freedom to speak up and demand it everywhere.
Christianity Today reports on the "richest pastors of Brazil." These pastors are one of the greatest problem that evangelicals face in Brazil today.
List of Richest Pastors in Brazil Prompts White House Petition -- Christianity Today
Protestants are increasingly taking over and influencing Brazil's religious landscape, making it a profitable time to be a Pentecostal pastor in the world's largest Catholic nation.
According to Forbes, "prosperity theology" has allowed some pastors to hit the financial jackpot. Forbes reports that Edir Macedo, founder of the Universal Church of the Kingdom of God (UCKG), is worth nearly $1 billion. Last Saturday, his autobiography made its American debut.
The news prompted disgruntled Americans to file a petition with the White House, asking the U.S. and Brazilian governments to investigate Macedo for "scandals allegedly draining money away specifically based for charity."
Other richest pastors in Brazil include UCKG's Valdemiro Santiago (estimated net worth: $220 million compared to Macedo's $950 million); Silas Malafaia, the former leader of Brazil's largest Pentecostal church ($150 million); and social-media savvy R.R. Soares, founder of the International Church of the Grace of God and regular contributor on Brazilian television ($125 million).
The Gospel Coalition has an interesting article on an interesting in "old" church architecture.
Why Young Churches Want Old Buildings -- The Gospel Coalition
The story of St. Vincent de Paul, a Roman Catholic church in Louisville, Kentucky, is like many others in our age of changing religious and economic dynamics. Cornerstone laid in 1878. Slowly abandoned as the neighborhood deteriorated into one of the most dangerous in the United States. Finally sold. But here the story takes an unexpected turn, because the building has recently enjoyed a $4 million makeover from a young, vibrant, and growing congregation.
Sojourn Community Church began meeting in an arts center in Louisville's Germantown neighborhood before it purchased St. Vincent de Paul a few years back from the local archdiocese. The upgrades signal a multifaceted effort by Sojourn to trust God for spiritual and economic renewal in this inner city neighborhood. In fact, Sojourn is one of several prominent churches across the country undertaking multimillion-dollar renovation projects to breathe new life into historic churches or other structures, instead of building a contemporary big-box.
"I think it's a wonderful thing to kind of reclaim, restore, and renew a place," said Daniel Montgomery, Sojourn's lead and founding pastor. "I think it's a picture of the gospel as well that Christ is making all things new, but at the same time I think people love contemporary. Are people attracted to old? Yes. Are people attracted to the contemporary? Yes. We want to make it really clear that we are not the first to step into the scene. We are just one of many in this larger story."
And, for a little fun...
Prayer Request Generator -- Zach Nielsen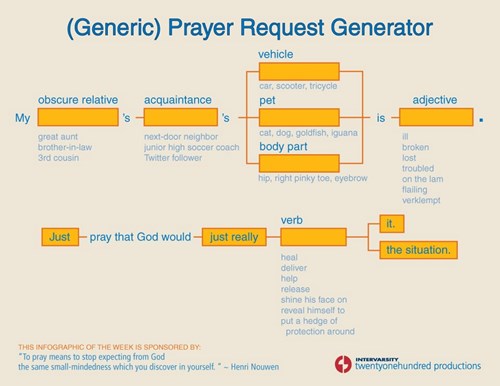 Click the image to enlarge
The Exchange is a part of CT's Blog Forum. Support the work of CT. Subscribe and get one year free.
The views of the blogger do not necessarily reflect those of Christianity Today.