PREVIOUSLY
Gabriel Salguero, senior pastor of the multicultural Lamb's Church in New York City, shared on how diversity informs spiritual formation.
THIS WEEK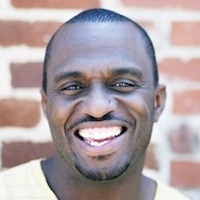 Please welcome Dhati Lewis to the blog. Dhati is the Lead Pastor at Blueprint Church in Atlanta, GA, and his passions are for church planting and discipleship. He launched The Rebuild Initiative in 2011 to answer the call to see more churches planted in the urban context, and he currently serves as the president of The Rebuild Initiative.
This past November, Dhati was one of our featured speakers at CPLF. In one of his sessions, he gave us an overview of the SIM program, a discipleship model he hosts in his home for young, urban singles. When he was finished I knew this needed to be shared to a larger audience so I asked him to write about it on the blog, and he graciously accepted.
Dhati will be hanging around the blog today, so if you have any questions, feel free to leave them in the comment section below.
Discipleship. As often as we hear that word, nowadays, you'd think everyone was doing it! But in a world where many of us have to get in our cars to reach community, encouraging people to follow you as you follow Christ often ends up being a once a week discussion of the most popular book. But, 12 years ago, it just so happened that in one of those books, The Master Plan of Evangelism, my wife and I discovered what was missing from our own discipleship model--"Jesus was with them."
We realized that discipleship had to be more than a once a week meeting that we have at Starbucks, where there's just an exchange of information. There was also a need we saw within the urban context for life skills such as managing finances, so we decided to do something about it. In the summer of 2002, we started the SIM (Saints in Motion) program where we brought six singles into our home for three weeks to share our lives with them in hopes that they would experience a holistic discipleship model (1 Thessalonians 2:8).
The Model
We based it off Ezra 7:10, "For Ezra had set his heart to study the Law of the LORD, and to do it and to teach his statutes and rules in Israel." From that scripture, we developed these four aims:
grow a greater devotion for the Lord
increase ability to study the Bible
develop and grow ability to communicate the hope of the Gospel
promote practical and tangible application.
For three weeks, we led intense discipleship that included: morning devotionals led by the members (with feedback from my wife and I afterwards), application challenges (share your faith with a coworker, serve the other SIMs members, etc.), assignments, curfew, rotating chores, communal money pot (no purchases can be made without consulting everyone), evening devotionals based on our worldviews, and conflict resolution.
Everyone that has participated in the program has said it was one of the most impactful times of their life, but of course there are definitely challenges and fears that come along with bringing people into your home. One year, Angie and I had some tension within our marriage that could have caused a strain on the program, but rather than pretending we were perfect, we actually allowed the members to advise us on conflict resolution. Of course, they sided with my wife! But overall, our discomforts don't compare to things like hearing at least one SIMs members each year say they'd never had a family dinner until they joined the program. Beyond that, our desire to see true disciples made is what drives us to continue this program every year.
Now, 40 percent of the members at our church (Blueprint) have someone living in their homes. It's become contagious! We've never said from the pulpit that you have open up your home for occupants, but we do encourage our members to figure out how to intersect their lives with others.
Our mission at Blueprint is to unleash healthy people to do ministry where life exists. And we believe life-on-life discipleship through programs like SIMs is essential to making healthy followers of Christ.
The Exchange is a part of CT's Blog Forum. Support the work of CT. Subscribe and get one year free.
The views of the blogger do not necessarily reflect those of Christianity Today.