Morning Roundup 06/27/13
Responding to the DOMA and Prop8 News
Ed Stetzer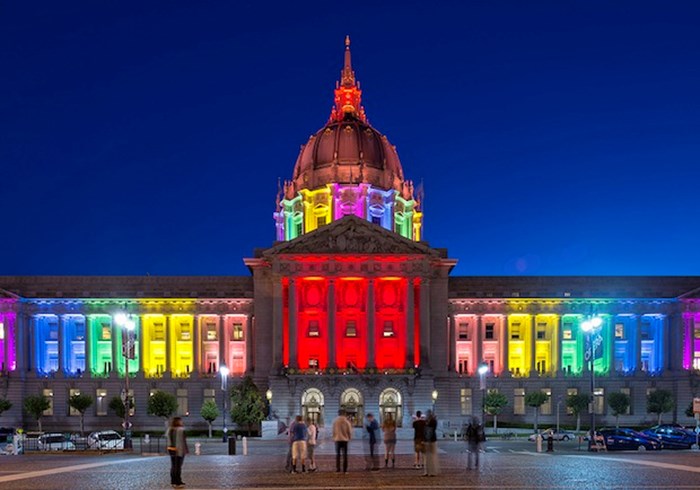 Image: davidyuweb - flickr
Most of the roundup today is related to yesterday's DOMA decision. My blog post, "Prop 8, DOMA, and the Christian Response," included my thoughts. Here are others.
First, let me point to something I think was helpful—President Obama's statement included a reference to the religious liberty concerns of Christians (and Muslims, Mormons, the Dali Lama, and many others).
On an issue as sensitive as this, knowing that Americans hold a wide range of views based on deeply held beliefs, maintaining our nation's commitment to religious freedom is also vital. How religious institutions define and consecrate marriage has always been up to those institutions. Nothing about this decision – which applies only to civil marriages – changes that.
Of course, the challenge is that he made similar comments about the Affordable Care Act protecting religious liberty and, as I wrote here, that has not been adequately protected.
While on the subject, let me add that Americans are overwhelmingly in favor of such protections (for pastors), though the number declinces as you look across professions.
As we found in our LifeWay Research study:
63 percent agree and 27 percent disagree that pastors should be allowed to refuse to officiate same-sex weddings if they are made legal in their state;

58 percent agree and 33 percent disagree that photographers should be allowed to refuse to work same-sex weddings if they are made legal in their state;

40 percent agree and 52 percent disagree that rental halls should be allowed to refuse to rent out their facilities for same-sex weddings if they are made legal in their state;

27 percent agree and 67 percent disagree landlords should be allowed to refuse to rent housing to same-sex couples if same-sex marriage is made legal in their state;

14 percent agree and 82 percent disagree employers should be allowed to refuse employment to someone based on their sexual preference.
Andy Crouch weighs in with an article that is worth your time and thoughful consideration.
Sex Without Bodies -- Andy Crouch
Even as our culture has swiftly moved toward accepting same-sex marriage, the term "homosexual" has already disappeared among those who have taken the time to listen and learn from gay and lesbian neighbors and friends. For good reasons, the preferred language among those neighbors has become "LGBT"—"Lesbian, Gay, Bisexual and Transgendered" (or "Transsexual").
We should welcome this shift, because it actually helps clarify the multiple sexualities whose representatives have banded together to seek legal recognition and relief from stigma and shame. Indeed, the acronym LGBT is increasingly augmented by references to Queer (or Questioning) and Asexual persons—thus including those who find their sexuality ill-defined by the existing heterosexual or homosexual categories. It also often seeks to include Intersex individuals, the small but real number of persons whose bodies are born gender-ambiguous.
The proliferation of initials signals the formation of a powerful coalition. But it also reminds us of the important differences between the members of that coalition. Christians cannot simply accept or reject "same-sex marriage" and think we have settled our sexual ethics. The LGBTQIA coalition has other challenges for the church.
Begin just with those who identify as lesbian and as gay. Patterns of sexual expression, relationship formation, and identity discovery are markedly different between gay men and lesbian women. Statistically speaking, gay sexual orientation seems most often to emerge early, definitively, and persistently; lesbian orientation is more fluid and ambiguous. (This has implications, too, for claims of "recovery" from homosexuality, claims that have often proven unreliable for "ex-gay" men.)
Joe Carter's 9 things are worth a look.
9 Things You Should Know About the Supreme Court's Same-Sex Marriage Cases -- Joe Carter
1. The two cases, United States v. Windsor and Hollingsworth v. Perry, are each based on differing -- and perhaps mutually exclusive -- theories of which level of government has the right to define marriage. The challenge to DOMA (Windsor) was based on the claim that marriage is a matter for state rather than federal regulation while the challenge to Proposition 8 (Hollingsworth) was a challenge to to the claim that an individual state can define marriage as between one woman and one man.
2. United States v. Windsor was a direct challenge to the Defense of Marriage Act (DOMA). Thiscase was not about whether there is a constitutional right to same-sex marriage, but rather whether Congress can treat married same-sex couples differently from married opposite-sex couples in federal laws and programs.
3. The Defense of Marriage Act (DOMA) is a federal law that restricts federal marriage benefits and required inter-state marriage recognition to only opposite-sex marriages. The law passed both houses of Congress by large majorities and was signed into law by President Bill Clinton on September 21, 1996. Section 3 of DOMA codifies the non-recognition of same-sex marriages for all federal purposes, including insurance benefits for government employees, Social Security survivors' benefits, immigration, and the filing of joint tax returns.
4. In a 5-4 decision on Windsor, the Court struck down one section of DOMA and ruled that the federal statute is an unconstitutional deprivation of the equal liberty of persons that is protected by the Fifth Amendment. The equal protection violation, according to the Court, arose from Congress' decision denying rights to marriage provided by the state laws of New York. The majority opinion claims that, "By history and tradition the definition and regulation of marriage has been treated as being within the authority and realm of the separate States." However, at the end of the ruling it notes, "This opinion and its holding are confined to those lawful marriages." This ruling limits federal benefits only to same-sex couples in states where same-sex marriage is legal and does not apply to same-sex couples living in states where their unions are not legally recognized as marriage. Additionally, the ruling does not require states to recognize the redefinition of marriage by other states. The opinion was written by Justice Kennedy and joined by the four liberal Justices -- Ginsburg, Breyer, Sotomayor, and Kagan.
5. In Windsor, Chief Justice Roberts and Justice Scalia wrote dissenting opinions, claiming the Court lacks jurisdiction to review the decisions and that Congress acted constitutionally in passing the Defense of Marriage Act (DOMA). Scalia writes in his dissent that, "[the Court has] no power under the Constitution to invalidate this democratically adopted legislation [DOMA]. The Court's errors on both points spring forth from the same diseased root: an exalted conception of the role of this institution in America."
6. Hollingsworth v. Perry was a case challenging whether the Equal Protection Clause of the Fourteenth Amendment prohibits the State of California from defining marriage as the union of a man and a woman.
7. Proposition 8 was a California ballot proposition and a state constitutional amendment passed in the November 2008 state elections. The measure added a new provision, Section 7.5 of the Declaration of Rights, to the California Constitution, which provides that "only marriage between a man and a woman is valid or recognized in California." By restricting the recognition of marriage to opposite-sex couples, the proposition effectively overturned the California Supreme Court's ruling of In re Marriage Cases that same-sex couples have a constitutional right to marry. The wording of Proposition 8 was precisely the same as Proposition 22, which had passed in 2000 but had been invalidated by the State Supreme Court in 2008.
8. In a 5-4 decision on Perry, the Court ruled that opponents of same-sex marriage did not have the constitutional authority, or standing, to defend the law in federal courts after the state refused to appeal its loss at trial years earlier. The ruling says, "[The Supreme Court has] never before upheld the standing of a private party to defend the constitutionality of a state statute when state officials have chosen not to. We decline to do so for the first time here." The majority opinion was Roberts, Scalia, Ginsburg, Breyer, and Kagan with Kennedy, Thomas, Alito, and Sotomayor dissenting.
9. The Perry decision makes same-sex marriage legal again in California. But by dismissing the case, the Supreme Court refused to make any broader declarations either for or against same-sex marriage at the state level. UPDATE: ADF says that same-sex marriage is not yet legal in California: "The bottom line is that the U.S. Supreme Court has thrown Prop 8 into legal limbo. We simply do not know what the fate of Prop 8 will be. But under California law, Prop 8 still stands because there is no appellate court decision striking it down, which is necessary to void an initiative of the people in that state." However, as Lyle Denniston of SCOTUS Blog notes, "Some 18,000 California same-sex couples already had been married when they had a brief chance to do so as the issue developed in that state, but now millions are likely to gain the right to marry when the judge's ruling is implemented by state officials. Happening perhaps in just a few weeks, that would make California the fourteenth — and largest — state to permit such marriages (along with Washington, D.C.)."
And Trevin Wax looks at how the church will/should respond.
Why Gay Marriage is Good (and Bad) for the Church -- Trevin Wax
The Supreme Court's decision to strike down the Defense of Marriage Act serves as a boost to ongoing efforts to legalize same-sex marriage across the nation.
Christians believe marriage is defined by God and recognized by government. But many today believe marriage is defined by government and must be recognized by all.
For this reason, I'm not optimistic about the trends concerning marriage and family in the United States. Neither am I sure of what all this means for those who, in good conscience, stand against the tide.
But I am optimistic about the church of Jesus Christ. We've been through societal transformations before, and we're sure to go through them again.
For example, the conversion of Constantine to Christianity in 313 A. D. was certainly good for the church. (We didn't have to worry about being fed to the lions in the Coliseum anymore.) But many aspects of the church/state marriage turned out to be bad for the church. (True Christianity suffered under the weight of the state's corrupting power.) Some see the positive aspects of that societal transformation as far outweighing the bad (Peter Leithart, for example), while others see the bad far outweighing the good (Stanley Hauerwas). The truth is, Constantine's conversion was both good and bad for the church.
Now let's turn to our society's redefinition of marriage. If we truly believe Romans 8:28, that somehow, in some way, God is working all things for the good of those who love Him, then even when the culture swerves in an opposing direction, we ought to expect both benefits and challenges.
CT ran a list of responses to the DOMA Ruling. Here are a selected a couple for contrast, but click the link for the rest.
Ministry Leaders and Experts Respond to the DOMA and Prop. 8 Rulings
Kellie Fiedorek, litigation counsel for the Alliance Defending Freedom (ADF) and who was present at the Supreme Court this morning, says the Supreme Court got it wrong. Still, she told CT that the scene outside was both "crazy" and "encouraging."
"There are so many people from both sides, which is a testament to the reality of this debate (about marriage), which is just beginning," she said.
Now, according to ADF, which served as co-counsel representing ProtectMarriage, "the legal battles over the definition of marriage have provided the perfect opportunity to reintroduce the American people to the goodness and value of marriage."
And ADF senior counsel Austin R. Nimrocks says marriage between one man and one woman will remain "timeless, universal, and special."
"That will not change," he said. "Americans will continue advancing the truth about marriage between a man and a woman and why it matters for children, civil society, and limited government."
But Andrew Marin, founder and president of The Marin Foundation, an organization that seeks "to build bridges between the LGBT community and the church," says difficult conversations about sexual ethics and theology will remain complicated whether or not same-sex marriage is legalized.
"As a body, whether people agree or disagree with the rulings, the church must start functioning in the reality of this new world instead of continuing to function in one's ideal, best case scenario, which does not exist," he said.
Religion News Service also posted a compilation of several leaders' reactions to the news from yesterday. Here is but a sampling.
Reactions to gay marriage wins at Supreme Court -- RNS
"The enormity of today's decisions cannot be overstated. The combined impact of these two rulings puts our nation further down the inevitable and proper path towards full marriage equality for the LGBT community. All Americans should rejoice in today's decisions because they bring us that much closer to fulfilling the promise of our Constitution."
- Rev. C. Welton Gaddy, president of Interfaith Alliance
"The Supreme Court had the opportunity to uphold both marriage and democracy, and it did neither. The Supreme Court also did not unilaterally create a new right to redefine marriage. Instead the Court has allowed the conversation on marriage to continue."
- Galen Carey, Vice President, National Association of Evangelicals
"We have long believed that the principle of equal treatment under federal law means equal treatment for all. The Court's landmark decision in Windsor affirms the principle that legally married same-sex couples are entitled to all of the federal rights, protections and benefits of civil marriage. The Court's second decision in Hollingsworth v. Perry is good news for same-sex couples in California. We welcome that result and will continue to work towards the day when all states in the nation will allow civil marriage for same-sex couples."
- Barry Curtiss-Lusher and Abraham H. Foxman, national chair and national director, respectively, of the The Anti-Defamation League
"We are deeply saddened by today's decision to not only allow but encourage same-sex marriage in our country—a country that was founded on biblical principles. We mourn for America's future, but we are not without hope. Our next line of defense is to vigorously protect our religious liberty."
- Tim Wildmon, president of American Family Association
Jonathan Merritt quizzed me and several others for comment.
Christian Leaders Respond to DOMA Decision
Rachel Held Evans, blogger and author:
"For too long, LGBT people have been treated as second class citizens, both in the U.S., and even more tragically, in the Church. I'm happy for my LGBT friends and neighbors who see this as an affirmation of their equality as American citizens and dignity as human beings. Individual churches can still decide for themselves whether to marry gay couples, so this is not an infringement on civil liberties, but rather an extension of them. As sincere people of faith continue to disagree about how to respond to homosexuality, may we look to Jesus as our guide and be quick to listen, slow to speak, and slow to become angry."
Jim Daly, President of Focus on the Family:
"The critical role of man-woman marriage is not diminished by these rulings today. The essential need for children to have both a married mother and father is not lessened by the opinions."
In regards to religious liberty concerns, here are two clips from an interview with Rick Warren, who spoke up about religious liberty concerns in an interview last fall. First, I framed the question with a rather long introduction about my thoughts on the "cutlure war." Then, Rick made some comments about the November election).
Then, Rick specifically addressed the religous liberty issues around same-sex marriage and recent health care legislation.
The Exchange is a part of CT's Blog Forum. Support the work of CT. Subscribe and get one year free.
The views of the blogger do not necessarily reflect those of Christianity Today.