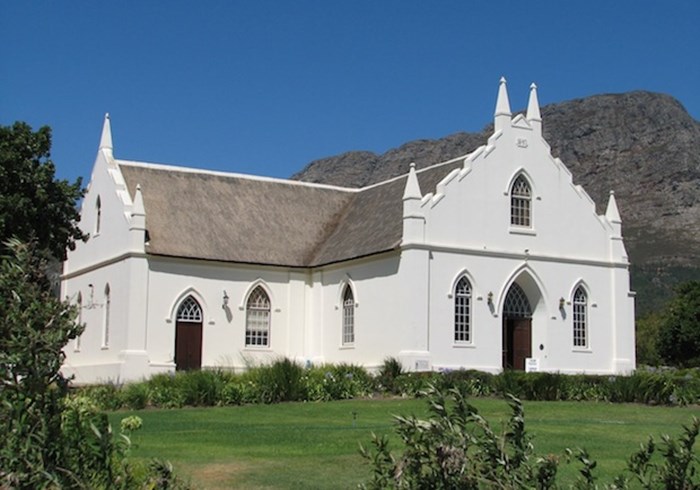 Image: Dutch Reformed Church - Wikipedia
On Friday, I was on the campus of Central College in Pella, Iowa, for the Reformed Church in America (RCA) 2013 General Synod.
The RCA is the oldest Protestant denomination in America, founded in 1628 in New York City. In nearly four hundred years, it has grown to roughly 1,000 churches with 170,000 members across the United States and Canada. Well-known RCA members include Evel Knievel, Teddy Roosevelt, Martin Van Buren, Jack Hanna, Geronimo, Noman Vincent Peale, and Robert Schuller.
I'll share a bit on the movement later.
The RCA use the term "missional" (a lot) and is building a strategy around the term. So, I was glad to connect with them and encourage them along the way. I shared two sessions-- one plenary workshop and then a plenary message, focused on the gospel, the kingdom of God, and the mission.
During the message, I shared a fact I learned less than a month ago.
I should start by saying that I come from nominal Irish Catholic roots-- as I explained here, my family considered themselves Irish and the "Stetzer" name was not discussed much. We grew up eating Irish food made my Ma Skinner, hearing stories from the Bannons about family members who were Irish stonemasons on Manhattan's upper west side, and ate irish food put on table from the Irish union my dad was in (yes, unions had religions then!).
But, we had a family reunion recently and someone research the Stetzer side of the family tree to discover it was Dutch and not (as I said here), German.
So, for fun, while preaching at the Synod I mentioned this line from the family history handed out at our recent reunion:
Wolphert Gerretse Van Kouwenhoven, one of the founders of New Amsterdam (New York) and the founder of our family in America, was one of five "head farmers" first sent by the Dutch West India Company to New Netherlands in 1625.
So, that would mean that I'm a direct descendent of Wolphert Gerreste, and, it appears, related to the two Roosevelt presidents, New Jersey Governor (and Coast Guard founder) William Newell, and (oddly enough) Michael Douglas.'
Who knew?! I always heard we were descended from Irish laborers or civil servants. The Stetzer line of the family descends from the founders of Manhattan and the Flatbush area of Brooklyn.
By the way, there are many men named "William" in my family memory, and "William Newell Stetzer" was born in New Jersey in the early 1800s.) The Stetzers soon started marrying Irish, converted to Catholicism, and mainly lived in New York City-- hence my childhood experience.
All this Dutch Reformed history was new to me, and new to all of us at the reunion, until Memorial Day weekend. No one alive remembers hearing about a non-Irish Catholic family history-- but the birth/death records tell a different story.
Since I was at the Reformed Church of America, I had a bit of fun pointing out that I was a descendent of the original Dutch Reformed settlers of New York City (then New Amsterdam), and Wolphert was in New Amsterdam and was almost certainly at the meeting mentioned on the RCA home page:
In the small colonial town of New Amsterdam, on a Sunday in 1628, about fifty people gathered around a crude table in a mill loft. Their celebration of the Lord's Supper marks the birthdate of the Reformed Church in America. The congregation they founded still continues today as the Collegiate Reformed Church in New York City, the oldest evangelical church in North America with a continuous ministry.
Marble Collegiate Church is the oldest extant Protestant church in America and is where Normal Vincent Peale came to fame. And, it appears, my ancestors helped start that church centuries ago.
No, I won't be doing around claiming to be among the Dutch Reformed, but I thought it was kinda' fun. And, you can't get more contextual than dropping that at the Dutch Reformed RCA meeting.
Tomorrow, I will share more about the Dutch Reformed movement and Reformed Church of America denomination, including sharing a bit about their meetings and theology.
The Exchange is a part of CT's Blog Forum. Support the work of CT. Subscribe and get one year free.
The views of the blogger do not necessarily reflect those of Christianity Today.