Jun 25, 2013
Explainer
What is the Reformed Church in America?
Understanding the oldest Protestant denomination in America.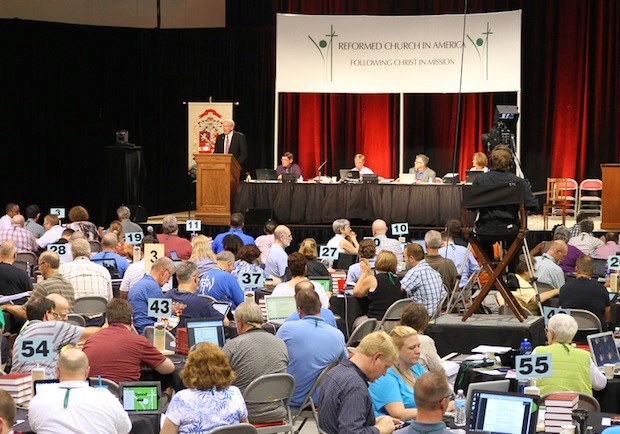 RCA Synod 2013
On Monday, I mentioned some newly-discovered personal connections to the Dutch Reformed movement. Today, I thought I would mention more about the Reformed Church in America itself.
The General Synod ended today. As with any denomination, they had debates and made decisions. I was not involved in those as… well… the last thing I want to do is to attend another denominational business session!
I taught and preached and will stick with that—just as I will next week at the Evangelical Free Church (with an explainer to follow).
However, understanding denominations is key if you want to understand history, movements of churches, and how God is working today.
When I go and speak to a denomination, I study it. Usually I have friends in the denomination that I can and do ask about it. And, then I share it after the meeting.
Here's some of what I learned—and if you are RCA, and I get it wrong, you can correct me in the comments. Otherwise, this will be a learning opportunity for the most of us that are not.
The RCA has recently focused on multiracial strategies, church revitalization, and church planting. They even have a multiplication goal of starting 400 new churches by 2014. They are also talking about engaging more people in mission (hence my talk), next generation ministries, and transformation.
They are also involved internationally through several different initiatives.
I mentioned that I am speaking at their General Synod. This meeting functions as an annual business meeting for the denomination. Wikipedia explains:
The Reformed Church has a Presbyterian polity where authority is divided among representative bodies: consistories, classes, regional synods, and the General Synod. The General Synod meets annually and is the representative body of the entire Church, establishing its policies, programs, and agenda. The current President of the General Synod is the Rev. Tom Smith who was elected to a one-year term in 2012. Measures passed at General Synod are executed and overseen by the General Synod Council. Council members are [also] appointed by the General Synod.
While the RCA is a mainline Protestant denomination, and is a member, for example, of the World Council of Churches, it is also different than many mainline denominations in that it is not in the numerical free fall we see in many such denominations. Also, the RCA is a mix of theological types (often influenced by region). For example, the denomination is a traditional Dutch Reformed denomination in some places, but includes a substantive progressive/liberal wing (more like most mainline denominations). It also has a large evangelical presence (and some parts of the denomination are even members of the National Association of Evangelicals). The RCA includes a robust charismatic wing (which is hard to find in most mainline denominations now-a-days), and more than a few Young Restless and Reformed types.
It's an interesting mix, to say the least.
I'm thankful for Tom DeVries (and many others) for inviting me and for their hospitality. (I had the privilege of preaching for Tom at his former church-- before he took this denominational leadership role-- and so appreciate his heart for evangelism and missional engagement.)
During my message, I quoted from the Heidelberg Catechism, a foundational document for some many Reformed churches. It's a strong confessional statement of the Reformed faith and, if you graduated from most any seminary, you have some familiarity with it. But, until Friday, I've never used it in a message.
As I encouraged the delegates to live as agents of the Subversive Kingdom, I shared from the catechism about the keys to the kingdom—in gospel proclamation:
What are the keys of the kingdom?

The preaching of the holy gospel
and Christian discipline toward repentance.
Both preaching and discipline
open the kingdom of heaven to believers
and close it to unbelievers.

How does preaching the gospel open and close the kingdom of heaven?

According to the command of Christ:
The kingdom of heaven is opened
by proclaiming and publicly declaring
to all believers, each and every one, that,
as often as they accept the gospel promise in true faith,
God, because of what Christ has done,
truly forgives all their sins.
As the RCA General Synod has concluded and delegates are headed home, please pray for the RCA, for their pastors, for their churches, and for their future. May we all be "proclaiming and publicly declaring to all believers, each and every one, that, as often as they accept the gospel promise in true faith, God, because of what Christ has done, truly forgives all their sins."
Support our work. Subscribe to CT and get one year free.