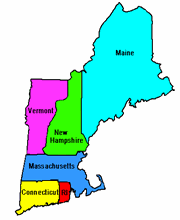 A few weeks ago, I spoke to the judicatory (district) leaders of evangelical denominations in New England. In addition, I've had the privilege of teaching at Gordon Conwell and speaking at their Ockenga Institute (near Boston) and found their passion for New England to be contagious. So, over the last few years, I have a growing appreciation for the region and those serving there.
I'm not a New Englander. (New York is in the Northeast, but not in New England.) To understand a region you need to study, know, and love it. Actually, I'd say you cannot love a context if you don't know a context, so I did some research to serve the leaders up there.
In addition, every year, Gallup releases a study on the religiosity of America broken down by states (you can see my thoughts on last year's report here). In recent decades a trend has emerged in the location of the most religious and least religious states. As one might expect, the most religious states are in the South (plus Utah) and the least religious are in the northern corners. Gallup Editor-in-Chief Frank Newport (a recent guest on The Exchange), explains further:
Here are the charts Frank mentions in the report: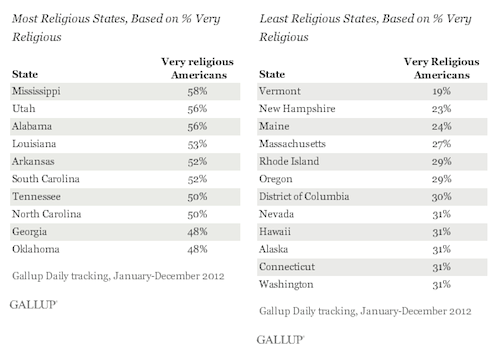 As I have previously written, these numbers should come as no surprise. There has been little regional change in religiosity throughout the past few decades. In our lifetime, the South has always been seen as the Bible Belt. New England and the Northwest have been less religious regions.
The Gallup survey concludes that the differences are more likely reflective of regional cultural traditions, but we at LifeWay Research wanted to drill down some more-- especially in New England. So we took survey results from the General Social Survey (GSS), the LifeWay Research (NAMB-sponsored) National Evangelism Survey (NES), and our Transformational Discipleship Study (TD) and broke them down by region. You can download the actual report I presented to those New England denominational leaders here. (Feel free to use the presentation in your church or ministry.)
Below are slides from the three data sources we used.
From the GSS: New England Church Attendance is Lower, and Shifted Dramatically a Decade Ago
New England is consistently lower (when you create a trend line it is more clear) than the rest of the country, but something happend in the middle of the last decade. Take a look at the charts.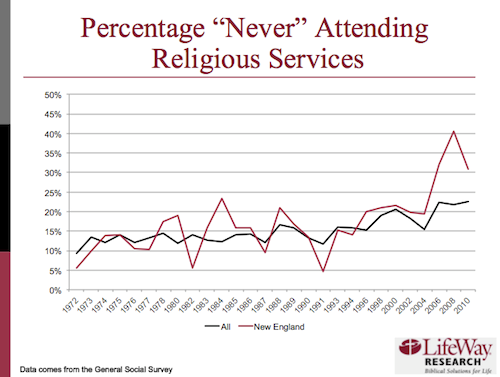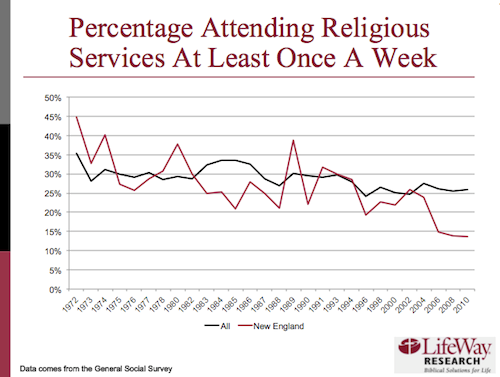 Something appears to have happened in the last decade that had some major impact. I mentioned to the leaders that I did not know what it was. They immediately answered that the church sex abuse scandal had a huge impact on the attendance of churches throughout the region.
Of course, this is not enough data to make a conclusion, specifically that conclusion, with certainty. However, it is a good hypothesis and worthy of more study.
From the NES: New Englanders are Less Responsive, But Maybe More Responsive Than You Think:
The National Evangelism Survey was a project we did for the North American Mission Board looking at the receptivity of people to different approaches. The sample was large, 15,000 people, so we can break it down a lot of ways. This is the first time we've broken it down by region with comparisons to the whole.
New Englanders are consistently less open to be invited to visit a church, but perhaps the numbers are less than many might have expected.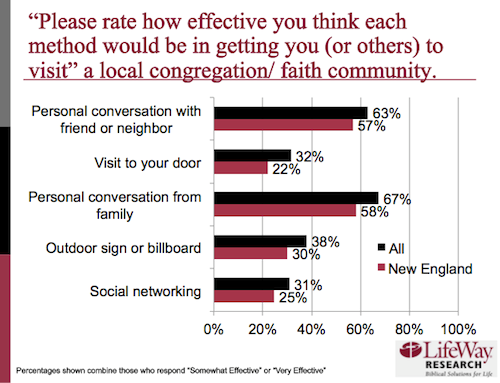 Obviously, they hold less evangelical beliefs than the country as a whole.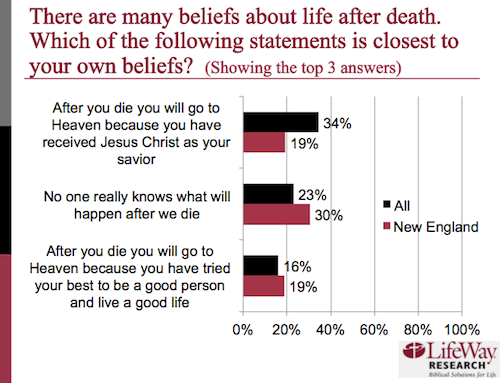 From Transformational Discipleship: New Englander Churchgoers Engaged Less in Spiritual Disciplines, but More in Fellowship and Relationships:
Since we contacted over 4000 people (in English, Spanish, and French) for the Transformational Discipleship research, we can also break it down by region and still have some reliable numbers.
In New England, we see that churchgoers there tend to be less focused on personal spiritual discipleship, but in closer relationship with their churches. (I've picked out a few slides to illustrate, but see the presentation for more.)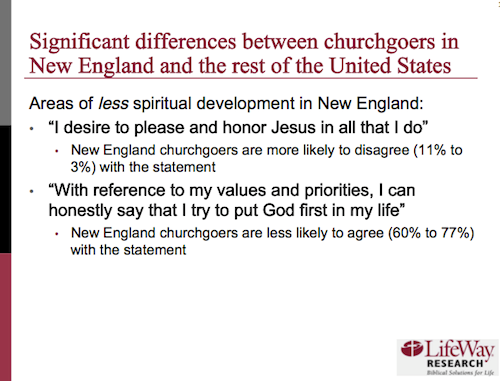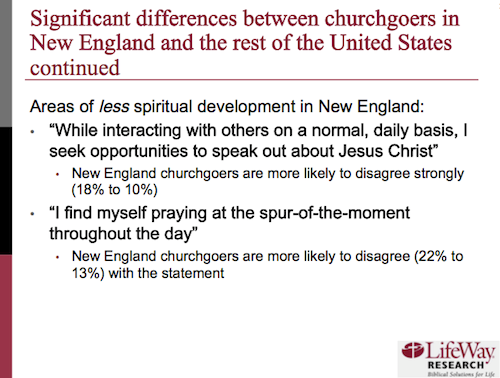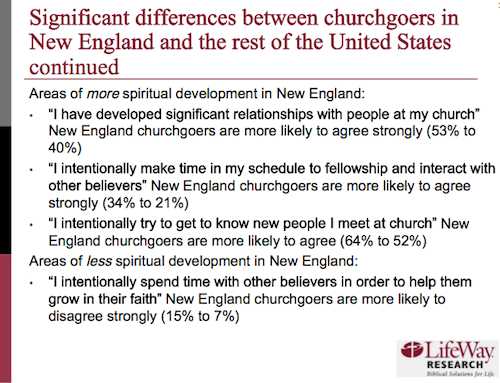 New England does feel more like Canada than the United States. However, I think it would be a stretch to say it parallels Europe.
I hope you will join with me in praying for those who are on mission there. Our hope is that this data will help them in their task.
If you are in New England, feel free to agree or disagree with these conclusions and share your input. If you are not, you can engage as well, just remember that people who live there are the experts.
Four side notes:

-I'll be blogging about my time with Pathway Vineyard (in Lewiston, Maine) on the blog this Sunday.

-We are working on plans to start some intentional partnership with churches and organizations in the region who desire more intentional disciple making and missional engagement. I will announce those soon, but contact micah.fries@lifeway.com if you are interested.

-Christianity Today has a roundup with more research and analysis related to New England.

-I recently presented similar Canadian breakouts at President's Day for the Canadian Evangelical Fellowship-- which we will publish soon.
The Exchange is a part of CT's Blog Forum. Support the work of CT. Subscribe and get one year free.
The views of the blogger do not necessarily reflect those of Christianity Today.