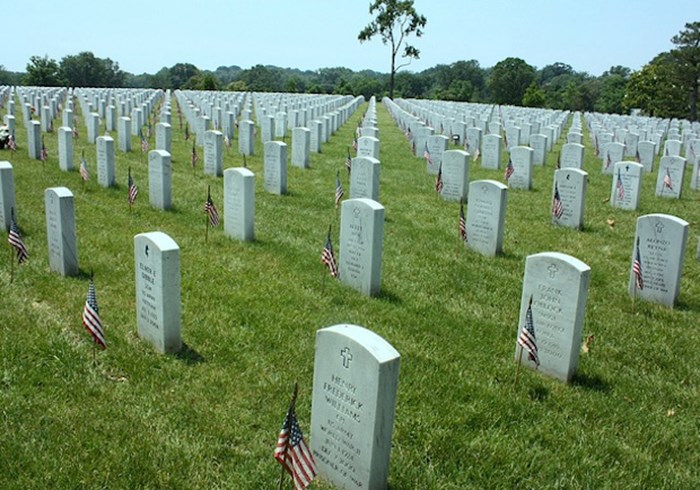 Image: The US Army - Flickr
If you've been following along with me on Twitter this weekend, you're well aware that I am in the midst of an extended family reunion in Florida with my (very loud, Irish extended family). And while my family is still proud of our Irish heritage (some of them maybe a little too much), we are also deeply thankful to share in the freedoms the United States offers.
For those of you reading this outside of the US, today is Memorial Day-- a holiday celebrating those who died fighting for our country and her freedoms. These freedoms that my family enjoy came at a great cost. And that cost was not just monetary, but blood-bought in wars and conflicts, some name and some now.
For example:
American Revolutionary War - 25,000 deaths
War of 1812 - 20,000 deaths
Mexican-American War - 13,283 deaths
US Civil War - 625,000 deaths
Spanish-America War - 2,446 deaths
Philippine-American War - 4,196 deaths
World War 1 - 116,516 deaths
World War 2 - 405,399 deaths
Korean War - 36,516 deaths
Vietnam War - 58,209 deaths
Persian Gulf War - 258 deaths
Iraq - 4,486 deaths
Afghanistan - 2,145 deaths
These brave men and women gave all they had so that we could enjoy certain freedoms not available to all. For that, my fellow Americans and I are very thankful.
Thank you soldiers-- past and present-- for the freedoms you protect.
That's a lot to remember. That's a lot of people who gave their lives for others.
I get that this is a picnic and barbecue day. Nothing wrong with that. But, in the midst of the summer kickoff, be sure to take some time to pray for the families of those who lost their loved ones-- parents, children, siblings, and more.
And, contrary some of the comments you may see on social media, it's OK to be thankful for those who are serving now (or have served) as well, as President Bush modeled in his 2007 Memorial Day speech, honoring the fallen and being thankful for those who serve today. He explained:
Good morning. This Memorial Day weekend, Americans honor those who have given their lives in service to our Nation. As we pay tribute to the brave men and women who died for our freedom, we also honor those who are defending our liberties around the world today.
Yet, the main focus should be on the "memorial," remembering those who have fallen-- who gave their lives for something greater than themselves, or just to serve along side a comrade.
At times like this, I'm always struck by the teaching of Jesus where he said, "Greater love hath no man than this, that a man lay down his life for his friends" (John 15:13). And, yes, I immediately connect that to Christ. In other words, on a day when we remember those who gave their lives I'm drawn to dwell on the fact that Christ laid down his life.
So, thank you soldiers-- past and present-- for the freedoms you protect. And, thank you that because of those freedoms, we can tell the good news of the gospel of the perfect one who laid down His life.
The Exchange is a part of CT's Blog Forum. Support the work of CT. Subscribe and get one year free.
The views of the blogger do not necessarily reflect those of Christianity Today.