May 28, 2013
Morning Roundup 05/28/13
Responding to Graffiti; Cooperative vs. Autonomous Churches; What Day Changed Christian History; Redeemable Masculinity |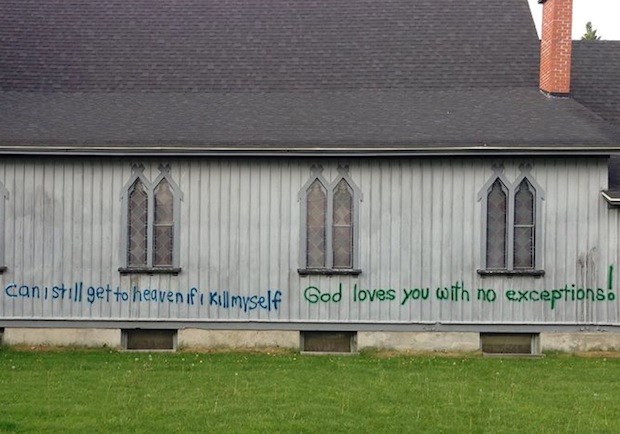 Image: Facebook
I thought this was pretty awesome...
Responding to Graffiti with Consideration -- Episcopal Cafe
Grace Episcopal Church in Randolph, NY found scrawled graffiti on the side of its church: "can I still get to heaven if I kill myself".

Their virtual response on Facebook response:

Despite the inappropriateness of the forum, the message of despair and the theological question are very real. After a time of consideration, the Rector and Wardens decided that this question needed a visible and public response, and so this morning Grace Episcopal Church boldly proclaims that GOD LOVES YOU WITH NO EXCEPTIONS! Our prayer is that this message will ripple out into our community and set people's hearts on fire with the truth of the Good News.

The Rev. Thomas Broad and wardens of Grace Episcopal Church in the rural hamlet of Randolph, New York engaged in a remarkable act of social media ministry this week.

I learned about this on Facebook, when a photo was posted on the church's page. But this digital post is not the act of social media ministry to which I refer. Rather, I'm talking about the small parish's decision to recognize the church building itself as a communication medium.
Chad Brand provides a nice balance between autonomous and cooperative churches.
Cooperative Ministry in the New Testament -- Chad Brand
Are churches independent or interdependent? I'd argue that the New Testament answer is "both." That is, local churches are not subject to the authority of any external body or individual. And yet in order to fulfill their ministries, they must cooperate with each other in tangible ways. This article will explore New Testament precedents for cooperative ministry between local churches.

In Acts 8 Peter and John travel to Samaria. Philip the evangelist had been engaged in a great ministry there. When the apostles in Jerusalem hear of this work, they dispatch Peter and John to the city (Acts 8:14).

We ought not to see this as a presumptuous act on the part of the Jerusalem apostles, but rather as their glad participation in and assistance to the new Samaritan Christian experience. The new work "was endorsed, received, and enthusiastically participated in by the whole church."[1] Upon arriving, Peter and John pray for them, and the Samaritans then receive the gift of the Holy Spirit (8:17). After the Spirit falls upon the Samaritans, Peter and John return to Jerusalem after first preaching in other Samaritan villages (8:25), and even Philip is led by an angel to leave in order to witness to the Ethiopian eunuch (8:26-39).

The Jerusalem church did not attempt to govern the Samaritans from afar, but rather joined in the work in this new location, not to "supervise" it, but only to share with it what it had to give.

A second example of cooperative ministry concerns a church that will itself later commit to cooperative work. The stoning of Stephen had sparked a wave of persecution of the Jerusalem Christians (Acts 8:1-3). That wave of animosity sent many Christians packing out of Jerusalem to other places. Fear of reprisal, however, did not cause them to be silent about their faith. Instead, they became powerful evangelists for the cause of Christ in places such as Phoenicia, Cyprus, and Antioch, "speaking the message to no one except Jews" (Acts 11:19).

Some daring men of Cyprus and Cyrene took a different approach in Antioch and preached the gospel to Gentiles. This was not an innovation, since Peter had already done the same thing at the house of Cornelius; but it is still the case that evangelism of the Gentiles was uncommon before this experiment. Luke writes that "the Lord's hand was with them, and a large number who believed turned to the Lord" (Acts 11:21 HCSB). Again, the Jerusalem church heard about this evangelistic effort and sent a favored son, Barnabas, to visit.
Simply fascinating... though I might add Azuza Street, particularly if we asked that question 50 years from now and the charismatic / Pentecostal movement continues its current growth in the Two Thirds World.
What Day Changed the Course of Christian History? -- Joe Carter
For the inaugural article in our new series "Big Questions," The Gospel Coalition asked four Christian historians, "After AD 70, what day most changed the course of Christian history?"

Robert Louis Wilken - A good case can be made for the Muslim invasion of the Middle East in mid-seventh century, let us say AD 650. No event during the first millennium was more unexpected, more calamitous, and more consequential for Christianity than the rise of Islam. Few irruptions in history have transformed societies so completely and irrevocably as did the conquest and expansion of the Arabs in the seventh century. And none came with greater swiftness. Within a decade three major cities in the Byzantine Christian Empire--Damascus in 635, Jerusalem in 638, and Alexandria in 641--fell to the invaders. Most of the territories that were Christian in the year 700 are now Muslim. Nothing similar has happened to Islam. Christianity seems like a rain shower that soaks the earth and then moves on, whereas Islam appears more like a great lake that constantly overflows its banks to inundate new territory.

George Marsden - I think it has to be the day that Constantine was converted to Christianity. That had huge effects both for good and for ill ever after.

Philip Jenkins - I would choose May 29, 1453, known throughout the Eastern churches as "the day the world ended." Although the Byzantine Empire by that point was a pale shadow of its former self, it was still a ghostly shadow of the Roman Empire, and the seat of the Orthodox Church that once dwarfed the Catholics in power and prestige. On that day, though, the Roman capital of Constantinople fell to the Ottoman Turks, beginning a period of long centuries when most Eastern Christians would survive under the grudging tolerance of Islamic rule. The event may be symbolic, but it still marks a decisive turning point in Christian history.

Thomas S. Kidd - On October 19, 1740, the First Great Awakening's most compelling preacher, George Whitefield, spoke at the church of the Great Awakening's most compelling theologian, Jonathan Edwards. This moment signaled the beginning of evangelicalism, the most dynamic movement in modern Christian history. Although Edwards and Whitefield did not always see eye-to-eye, they represented two aspects of evangelicalism at its best.
Eric Mason recently joined me on The Exchange for a conversation about masculinity and his new book Manhood Restored. Join me every Tuesday at 3:00 PM Eastern for The Exchange. Today's show features an interview with the one and only Lecrae.
Redeemable Masculinity and Redeemable Feminity -- Eric Mason
Support our work. Subscribe to CT and get one year free.