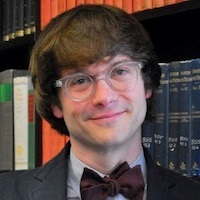 Please welcome my friend Dr. Gregory Thornbury to the blog today. He serves as dean of the School of Theology and Missions, vice president for spiritual life, and professor of philosophy at Union University in Tennessee. You might also remember him from this episode of The Exchange last year when we did the show live from Union University.
Dr. Thornbury has released a new book on the life and influence of Carl F. H. Henry entitled Recovering Classic Evangelicalism in which he uses the life and work of Henry as a key to evangelicalism's past and a cipher for its future. The book provides crucial insights for a renewed vision of the church's place in modern society and charts a refreshing course toward unity under the banner of "classic evangelicalism.
Gregory will be hanging around the blog today, so if you have any questions for him, feel free to leave them in the comments below.
You mentioned that you have been approached to write a book about Carl F. H. Henry in the past. Why did you decide to write this book now?
There are basic three reasons that prompted me to write this book now. First, it's been a almost a decade since Carl passed away, and the timing was right to revisit this founding father of the evangelical movement whose vision and thought gave us so much of our original intellectual and theological verve.
Second, Henry's theological position on evangelical foundations was once considered axiomatic. But lately his ideas about how to do theology and how to think about culture have been either unconsciously or explicitly under attack from certain contemporary evangelical scholars. My desire was to paraphrase some of Henry's best theological work - much of which was admittedly difficult to read - and to reset those ideas in light of the current situation of modern theology and contemporary evangelical life. It's my intuition that some of Henry's detractors haven't really read him very carefully. Instead, they have settled for caricatures. I wanted to demonstrate that evangelicalism has a definitive intellectual stamp, and that Henry's proposals stand the test of time.
Third, it seems to me that evangelicalism as an identity has lost its shape - it doesn't feel like a milieu anymore. When prominent thinkers convert to Roman Catholicism, they speak of returning "home" to The Great Tradition - it's a milieu. Meanwhile, evangelicals are diffuse, theologically and culturally all over the map. Our worldview has, to quote the words of Paul Simon in his song "Call Me Al," has "gone soft in the middle now. . . now that our role model is gone." Even when we agree upon basic theological affirmations, I worry that we're not quite sure why. What's the philosophical basis for all of this stuff we believe? Do we know? Upon what basis? Carl F. H. Henry provided answers to all of these questions when he wrote The Uneasy Conscience of Modern Fundamentalism, edited Christianity Today, and penned his magnum opus, God, Revelation, and Authority. So I thought, since the work has already been done, before we abandon these Henrynian notions, I just wanted to ask the question, "Are we sure we're ready to abandon this way of thinking, folks?" So the book is kind of a marker set up on the banks of the river Jordan for my evangelical compatriots before we cross over into new territory.
What was your personal relationship with Carl F. H. Henry?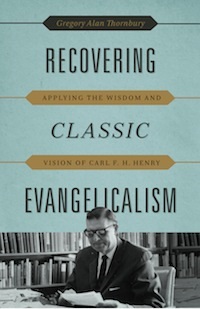 I explain some of this in the book, but Carl became something of a mentor to me his later years. My colleagues C. Ben Mitchell, Richard Bailey, Scott Hafemann, and Paul House used to make pilgrimages to see him and Helga in their retirement home in Watertown, Wisconsin. It all began with a letter from Paul House asking if Carl held the rights to God, Revelation, and Authority and whether or not he would be interested in them being released as a set. He was, and was hopeful that his work would receive a fresh hearing.
With the support of Southern Seminary and Crossway, GRA was re-released during Carl's lifetime. During this period, Carl made two visits to Southern, where I served as a host for him. In addition, he was terrific with correspondence, and I have a file of treasured letters from him in which he gave me encouragement about my life and career, doctoral dissertation, and scholarly work. When a tornado hit Jackson, Tennessee shortly after we moved to Union University in January of 1999, Carl was the first one to call to see if we were okay. Helga kept in touch too, sending gifts when our first daughter was born.
What do you mean by the term "classic evangelicalism?"
Part of what I mean refers to a period in time at the turn of the 1960's into the 1970's. At one point in the book, I describe classic evangelicalism via the spirit in the individuals who characterized the movement: Billy Graham was reaching the multitudes with his crusades, Francis Schaeffer was beginning to draw university students, hippies, artists, and other seekers into the embrace of L'Abri, Larry Norman was recording Jesus rock on Capitol & MGM Records and rubbing shoulders with people like Janis Joplin, The Doors, and Paul McCartney, and Carl Henry was reaching intellectuals through Christianity Today. Classic evangelicalism was characterized more by what it was for than what it was against. It was upbeat, confident, evangelistic, and engaged.
Secondly, classic evangelicalism was an attitude which held that because "God speaks in intelligible sentences and paragraphs" (to use Henry's expression) through the verities of divine revelation, we can speak clearly and convictionally about the foundations of the faith as well the world in which we live. Classic evangelicals had a buoyant confidence in the ability of the good news to speak to the all of the social and cultural ills, not only with a general message of hope for eternal life, but concrete proposals about what human flourishing looks like in our time.
Finally, and most importantly, classic evangelicalism entailed a certain understanding of "the evangel", to wit: "The good news is the scripturally anticipated-and-fulfilled promise that God's sinless Messiah died in the place of otherwise doomed sinners, and moreover, that the crucified Redeemer arose bodily from the dead to resurrection life as the helmsman of the eternal moral and spiritual world." Throughout the book, I argue that such a definition of the "ism" that arises from the "evangel" is predicated upon a particular view of divine revelation. As Henry says: "It is unjustifiable therefore to broaden the definition of evangelical identity in a way that excludes a specific view of Scripture. The reduction of evangelical authenticity to the affirmation of a "minimal gospel" (salvation solely on the ground of Christ's substitutionary work appropriated by faith) therefore obscures the inviolable truth of Scripture, which the Apostle Paul affirms. Evangelicals as a body of believers have stood traditionally not for a truncated definition of the good news, but provide an overwhelming precedent for the view that a consistent and complete statement of the Gospel embraces also the truthfulness of Scripture."
So there, you have it in a nutshell: that's what I mean by "classic evangelicalism."
In your opinion, what role did Carl F. H. Henry play in the formation of evangelicalism?
Well, there is an institutional aspect to this. Henry played a central role in helping launch and provide the theological shape to many of evangelicalism's key institutions and identifiers, namely: The National Association of Evangelicals, Fuller Seminary, Christianity Today, the Lausanne Congress, Prison Fellowship (he wrote the statement of faith), the Chicago Statement on Biblical Inerrancy, and the Evangelical Affirmations Conference.
My book, however, is more concerned to show Henry's shaping influence on evangelicalism as its defining theologian, mostly notably through two seminal works: The Uneasy Conscience of Modern Fundamentalism and his magisterial six volume God, Revelation and Authority. It was my intent to show Henry as a theorist who was supplying evangelicalism with its primary animating ideas and intellectual esprit de corps.
Why do some evangelicals have a negative view of Carl F. H. Henry?
Some current thinkers must not have read Henry's written corpus thoroughly and carefully, opting instead for a caricature of him as a cold, rationalistic theologian. They view him as a hopeless modernist beholden to the philosophical controls of a bygone era. Others may have focused too much on some of Henry's later, darker writing, which included several jeremiads. On the one hand, I wanted to demonstrate that in his defining work Henry was philosophical and engaged, but not captive to the zeitgeist of rationalism. On the other, I wanted to show the world a different Henry in his own words, one who was upbeat, inspiring, and confident in the power of the Gospel heralded throughout the Scriptures.
Still others might not like Henry because of his critiques of current trends in modern theology. He was critical of: Barth and those enamored with him, postliberalism, narrative theology, postmodern hermeneutics, and finally those who sought to redefine carefully held evangelical doctrines like justification by faith. If they disagree with him on this basis, then at least there is an honest theological debate, and I'm okay with that. Meanwhile, we await proposals for a convincing alternative to the Henry vision.
What can people today learn from the legacy of Carl F. H. Henry?
If I had to boil the lessons down to two, it would be the following:
1. For all of my consideration of Henry's philosophical bona fides, I also really wanted readers to see how all of the theory provided support to what matter to him most: to see the conversion of otherwise doomed sinners to the good news of Jesus. That Henry's titanic intellect had a heart for the nations, to see people brought to faith in Christ. On more than one occasion, I heard a Ph.D. student ask Carl what was the most pressing question being asked in contemporary theology. His answer was always the same: "Have you met the risen Lord?" In other words, Carl F. H. Henry's worldview was a seamless garment constructed toward the goal of personal evangelism and kingdom building. You can't have one without the other.
2. Finally, I think that we can learn from the witness of Carl F. H. Henry that truth matters, that theology matters, and that evangelicalism matters. There is a great pattern of Christian teaching that binds us all together. This in turn builds a solidarity among all those who name the name of Christ. Hopefully, this builds the kingdom of God "while we wait for the blessed hope, the glorious appearing of our great God and Savior, Jesus Christ.