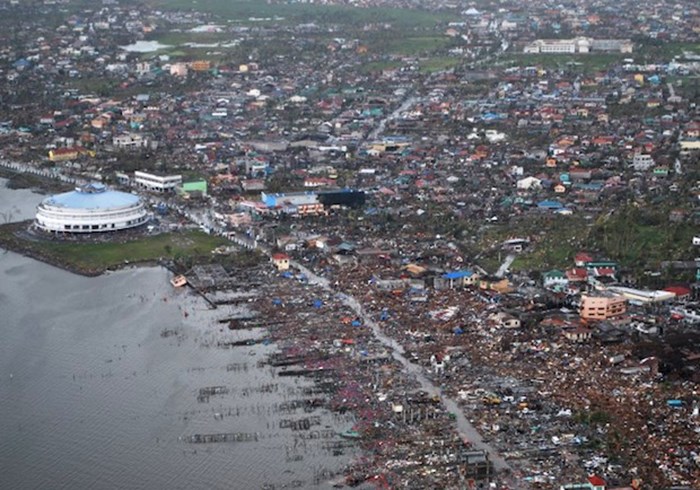 Image: ShelterBoxInternational / flickr
This is going to be a big deal, and it already is. The death toll is expected to rise sharply. This story (and its pictures) are heartbreaking.
You can rush off to the Philippines and it might make you feel better, but it's probably not the best thing. Your denomination, network, or agencies will already have staff and plans, and trusted churches are also already taking action. Shipping blankets might make you feel better, but sending money through reputable sources makes more sense.
Pastor, grabbing some relief supplies and a camera is not what the Philippines need right now.
Here are three ways you can get involved and organizations to help you do so...
1. In most cases monetary donations are more helpful than volunteers or supplies.
Yes, we live in a world where some want to DO more than they want to HELP, but at the end of the day that is more selfish than helpful. Ministering to disaster victims should be about meeting their needs, not fulfilling our need to feel helpful. It's perhaps not as personally fulfilling as delivering a warm meal in a storm shelter, but it is an effective way to help.
Furthermore, don't send supplies. The cost to ship them is far too high and you don't know the needs on the ground. Send money. Local leaders can buy the supplies.
2. The best way to support is through established, reputable relief agencies.
One of the larger evangelical churches in the Philippines is Victory. (I've talked to their pastor on The Exchange and this was the church where I was supposed to preach before my daughter got sick.) It's an evangelical charistmatic church, well-respected in the Philippines, and you can trust and should feel comfortable supporting their relief efforts. They have a page on their website devoted to how you can help with the relief effort from your home. (Note that they Typhoon is called Yolanda in the Philippines.)
Also, remember that denominations are already on the ground. Even if you are not in a denomination, you can engage in disaster relief through their systems, which is much more effcient and beneficial to the victims than you setting up your own pipeline.
For example, the International Mission Board of the Southern Baptist Convention has begun its relief efforts. (Southern Baptists have the third largest disaster relief system, behind the Red Cross and Salvation Army.) The IMB has people on the ground in the Philippines, and here is a bit of what they're up to:
On Sunday, IMB representative Mark Moses met with key national leaders on the island of Panay and discussed relief plans. Food and clean water are urgent needs in many remote areas on the island of Panay.

Moses purchased bags of rice and canned goods using BGR funds. Moses and his team plan to pack the goods into family-sized portions. On Monday, he will travel north into the interior of the island of Panay into areas where he has church partnerships. He will distribute the food in these areas and do an assessment of further needs... Moses said the province of Antique is a priority area for aid relief. The center of the typhoon passed through this area and the only road leading to this area is most likely washed out. Moses said it will take him several days to get in to this area...
Donations to help with the disaster response can be made here: https://netcommunity.imb.org/SuperTyphoonHaiyan
Updates on Baptist Global Response relief efforts can be monitored on Twitter: www.twitter.com/gobgr Facebook: http://on.fb.me/hKaE6J and on https://gobgr.org/news
The Assemblies of God is asking people to pray in a number of ways:
Please pray for families who have experienced unimaginable loss in the death of loved ones and friends in this crisis.

Pray that in the midst of unthinkable loss, God's abiding presence, love, grace, and comfort will surround them.

Pray that the Church corporately and individual followers of Christ will be sustained by God's grace and be a help to others who are suffering.

Pray that care agencies will be able to respond quickly to human need.

Pray for an outpouring of aid from the international community as efforts to restore and rebuild begin.
The Wesleyan church is also taking any financial donations to support the relief effort in the Philippines.
I could go on and on. There is no reason for you to not get involved. You (and your church) can do so right now through trusted relief agencies.
3. By giving to agencies already in place, you minimize inefficiency and get resources to the areas of need.
Giving directly can be helpful if you have friends and relationships in an impacted area, but it is almost always better stewardship to give through a disaster relief organization. During times of extreme devastation like the Japanese and Christmas Eve tsunamis, the Haitian earthquake, or Hurricane Katrina, relief opportunities pop up all over the place.
The problem is that some of them are bogus, set up on the fly by hucksters using a coffee shop wifi and their black-ops PayPal account. Others are rife with overhead expenses creating what amounts to an organization of jobs where much stays home and little relief is accomplished. Others are just inefficient because they are not prepared to deal with the influx of funds.
Here are a few organizations already helping in the Philippines:
The best way you can help those affected by Haiyan in the Philippines is to give generously to one of the above organizations so that they may use the resources you give them in whatever ways they need most.
More disasters are coming. They always do. Be prepared, not just for the disaster, but to serve the hurting in these critical times. Perhaps you and your church might use this opportunity to learn how you might be prepared for disaster relief efforts nationally and have connections to do so globally.
The Exchange is a part of CT's Blog Forum. Support the work of CT. Subscribe and get one year free.
The views of the blogger do not necessarily reflect those of Christianity Today.