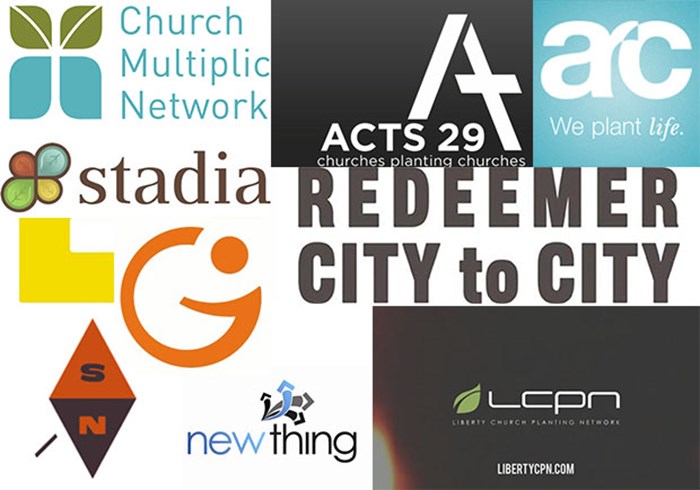 The growth of entrepreneurial church planting networks is confusing and confounding to denominational people. While the denominations have been planting churches for many years, networks are relatively younger and are successfully planting, perhaps most prominently primarily in North America, but also in other contexts—see point 6 in a previous post I wrote.
The two differing mission-minded groups don't need to be competing for a "market share." Both groups would benefit by engaging in mission without seeing one another as competition but as co-laborers.
Networks are the New Normal
Calvary Chapel and Vineyard pioneered church planting networks in the late 70s and early 80s. Their works made networks normative, said Donald E. Miller (the sociology scholar at the University of Southern California, not the Blue like Jazz author) in Reinventing American Protestantism. People are now teaming up to form all kinds of networks. Networks are often built around church planting, which now includes multi-site expansion for many of the groups.
Networks like the Association of Related Churches, Stadia, Glocal.net, New Thing, Acts 29, Redeemer City to City, C2C Network (Canada), Liberty Church Planting Network, Sojourn Network and many more are emerging as the normal pattern for doing church planting together.
Networks and denominations can and should learn from one another.
Some of the networks are starting in spite of their denominations; other networks are starting alongside their denominations under a different leadership structure and style. A few church planting networks have started because their denominations did not share the same vision for church planting.
Denominations are Still Credible and Relevant
It is no secret that we are experiencing a decline in an enthusiastic embrace of denominations. I recently spoke with some leaders in a Lutheran denomination. They were fed up with their denomination and are now going to pool their resources and plant churches as a network outside of the denomination's leadership and oversight. I get that, but that's not always the case.
Some people may think that denominations have had their day—I don't think so. Actually, pastors don't think that is the case. Three out of four pastors think it vital they they are part of a denomination. That includes non-denominational pastors, so, needless to say, the vast majority of pastors who are in denominations consider them vital. The fact that non-denominational evangelicalism and networks are growing should not distract us from the fact that denominations are key in mission and ministry in most contexts.
Furthermore, U.S. denominations like the Assemblies of God and Southern Baptist Convention are resurgent in regard to planting. When you look at the planting results, it is denominations that do most of the church planting.
But, networks are coming on strong. They already get much of the press, but they are increasingly doing more planting.
Some people may think that denominations have had their day. I don't think that's the case.
The challenge is to figure out how networks and denominations (and their mission agencies) can work together while expanding church planting.
Engage in Mission Together
Having connections with both of them, I have tried to help denominational agencies relate to the church planting networks and vice-versa. Having served on a network board, consulted with several, and speaking at many of their events, I have found that networks are effectively planting many churches and denominations can learn from them. In addition, denominations have developed effective systems and means for engaging established churches.
Networks and denominations can and should learn from one another. Sometimes, if their theology aligns, they can work together in planting—that requires an understanding of what is looks like to partner: how does the church approrpriately be part of a denomination and a network. How does is fulfill the requirements for both? At some point, I will explore that more in-depth.
However, let me share one suggestion that may be of help.
A Modest Proposal: Networks Can Look To Denominations on Global Missions
My observation is that many networks have effective plants in the West, but often struggle with the rest. The networks do well starting churches in San Jose or Sydney, but have stuggled in Senegal. They know how to plant in the places they plant, but stuggle crossing large cultural barriers. (Most church planting networks, when they do plant overseas, tend to plant in contexts that are similar to the contexts they know.)
Denominations, on the other hand, tend to be well-engaged in global mission. That is a big part of why many denominations are formed. They've tended to focus on global missions and have people that understand cultures, missiology, and other skills in regard to cross-cultural missions. As such, they tend to have the systems in place to encourage and support global missions.
How Can We Collaborate?
One connection point is that denominational mission agencies should seek to find a network planters starting new churches and engage them in cross-cultural missions to the rest of the world. For example, some church planting networks have a disproportionate number of young, urban, gentrified planters who do not have a strong global component in their church planting. The leaders of these networks are eager to sit down and discuss this joint mission. Mission agencies could help advance missions and church planting globally with such a relationship.
Though these are not mutually exclusive categories, agencies have missiological awareness, discernment, and history, and the church planting networks have energy, people, and they certainly have some wisdom. Agencies must recognize that the networks bring something valuable to the table and vice-versa.
The challenge is to figure out how networks and mission agencies can work together while expanding church planting in North America and the world.
Twice a year, I take members of church planting networks overseas with me to connect with the global mission agencies. I've found the very thing I mention here to be true—the energy of the networks and the structure of denominational mission agencies work well together.
My prescriptions aside, denominations really must figure out how to relate to the church planting networks and networks must figure out how to engage denominations, and one platform for this relationship is international missions. However, that's not all—it's just one point of working together among many other possible means of supporting each other in the advancement of the Gospel.
I don't think that, generally, church planting networks and denominations should partner in a formal sense. There is not a lot of value in such org-to-org partnerships—each organization becomes responsible for all the actions of the other. However, churches do indeed choose to be in a denomination and a network—the churches make that choice. The question is: how we might respond by helping churches to engage in mission?
The shared mission of making disciples of all nations is too important not to attempt to humbly and graciously engage together for God's kingdom advancement and glory and to work together as we can—one place that works well is international missions.
The Exchange is a part of CT's Blog Forum. Support the work of CT. Subscribe and get one year free.
The views of the blogger do not necessarily reflect those of Christianity Today.