Nov 19, 2013
Research
New Research: Discipleship in Canada
Transformational Discipleship Assessment reveals Bible engagement shortcomings in Canada. |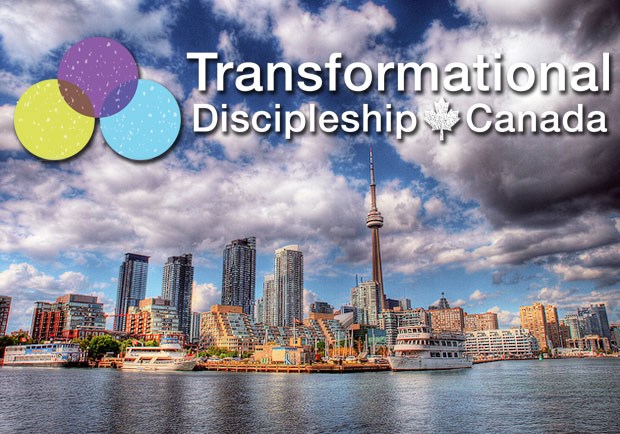 Image: Paul Bica / flickr
LifeWay Research has recently released research about Bible engagement in all of North America, with part of that research particularly focusing on Canada. Below is an excerpt from the full article over at the LifeWay news site, including some of my thoughts on the findings regarding laypersons in Canadian churches.
We are releasing these studies through The Pentecostal Assemblies of Canada, the Atlantic Baptists (to be released), and any other denominations or publications that might have an interest in running the reports. (You can get on that list as well if you tweet at Jon Wilke.)
Here is information on the releases:
Two-thirds (66 percent) of churchgoers surveyed agree with the statement, "I desire to please and honour Jesus in all I do."

However, when asked how often they read the Bible outside of church, a third (34 percent) say rarely or never. Only 11 percent read the Bible daily. Just over a quarter (27 percent) read it at least a few times a week or once a month.

Only 3 percent say they do in-depth Bible study on a daily basis. More than half (53 percent) rarely or never study the Bible.

Most didn't seem to feel bad about skipping the Bible reading.

Sixty-two percent disagree with the statement, "If I go several days without reading the Bible, I find myself unfulfilled."
This was particularly concerning to me. You simply won't grow if you don't know God and spend time in God's Word. Bible engagement has an impact in just about every area of spiritual growth. The state of discipleship among Canadian laypeople is challenging if 53 percent of their lay people rarely or never study the Bible.
Keep in mind this is all churchgoers, not just evangelicals or self-identified "born again" believers. (Though we have that data as well, and it is somewhat better.)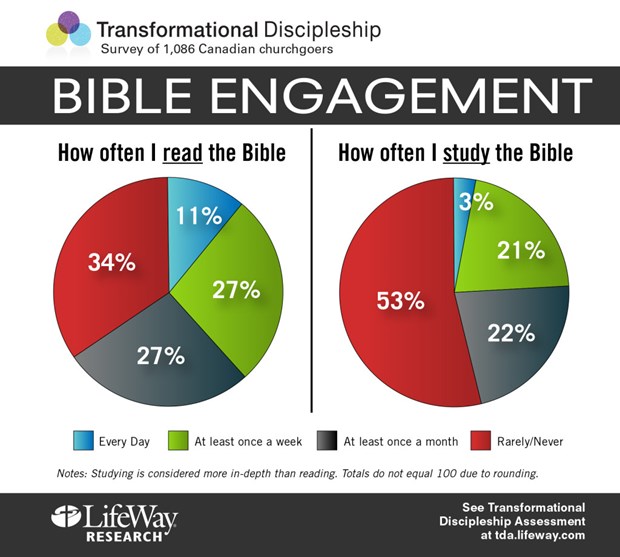 The survey also found that when six other activities are present individuals have higher levels of Bible engagement:
Confess wrongdoings to God and ask forgiveness. Believe in Jesus Christ as the only way to heaven.
Make a decision to obey or follow God, knowing that it might be costly.
Pray for people they know are not professing Christians.
Read a book about increasing their spiritual growth. Have a one-on-one mentoring relationship with a spiritually mature Christian.
When we studied the research, we found that there was a strong correlation between engaging the Bible and living accordance to the scriptures, which may be of no surprise to some, but was a significant finding nonetheless. Our findings showed that while 66 percent of self-identified Canadian Christians wanted to honor Jesus in all they do, only 38 percent read their Bible occasionally or daily. I wonder how the 28 percent who never read their Bible but want to honor Jesus actually know how to do so.
LifeWay Research used the study's data to develop a questionnaire for believers, called the Transformational Discipleship Assessment (TDA). This online evaluation delivers both individual and group reports on spiritual maturity using the eight attributes of biblical discipleship. The TDA also gives practical suggestions for spiritual development.
For more information, visit LifeWayResearch.com. The TDA is available at TDA.LifeWay.com.
You can also read the U.S. version of this same data report at this link.

Support our work. Subscribe to CT and get one year free.