Morning Roundup 10/23/13
African Anglican Revival; 3 Lessons in 27 Years; Learning from Chick-fil-A
Ed Stetzer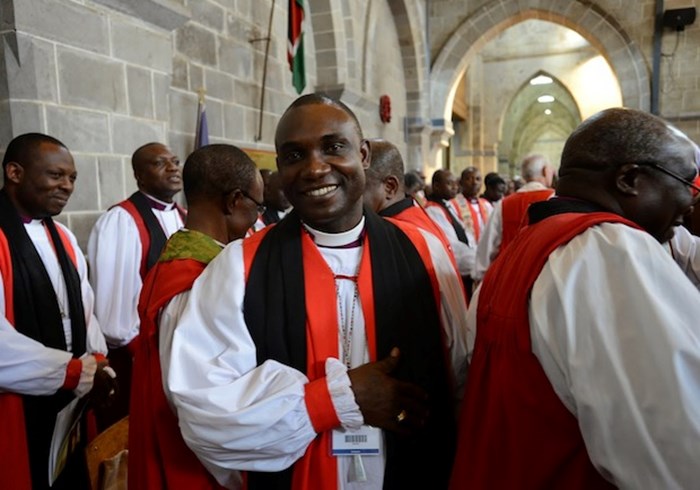 Image: Courtesy of Gafcon
Will Africa's Anglicans Succeed at Revival This Week? — Timothy C. Morgan
I'm a "watcher" of the Anglicans, having been extensively involved with many Anglicans in the Anglican realignment. Thus, this story is of interest and worthy of prayer.
On the eve of this week's gathering of restive Anglican conservatives in Nairobi, Kenya, Anglican Archbishop of Canterbury Justin Welby on Sunday said "the colonial structures" of the past should give way to reform.
"We need a new way of being in communion," he said during his sermon at the Anglican cathedral in Nairobi, according to media reports. Starting on Monday, the Global Anglican Futures conference (GAFCON) will host about 1,200 leaders from 40 nations.
In 2003, a flashpoint occurred with the consecration of the openly gay Gene Robinson (now retired) as bishop of New Hampshire of The Episcopal Church (TEC). This triggered an exodus of conservatives from TEC, the American branch of the worldwide Anglican Communion. TEC then started extensive litigation against clergy, churches, and dioceses that withdrew from the national church.
The first GAFCON meeting, held in Jerusalem in 2008, among other issues condemned as false the view that proclaimed "God's blessing for same-sex unions over against the biblical teaching on holy matrimony."
At yesterday's services in Nairobi,AnglicanInk reported:
To combat the subordination of the church to the culture of the world, the "Bible must be at the heart of our study, our life, our walk with Jesus" [Welby] said, but a "church that only reads but does not act, disgraces the Bible." The archbishop then moved into the heart of his sermon, saying "our differences will always exist. How we deal with them is clear from Scripture; but the church seldom follows" Scripture when dealing with conflict. "There is a need for new structures in the Anglican Communion," the archbishop said, adding the issues that divide us are "simple and complicated." To address them "we need a new way of being in communion, not the colonial structures" of the past, he said. But it was unclear as to what the solution was as each province offered its own solution to the problem, yet "we must find a way to live together, so the world will see" Jesus is Lord. The Anglican world must be a sign to the world of the power of Christ and must engage in a deliberate program of "witness, worship, evangelism, and a passion for the Holy Spirit." "The more seriously we take the Bible" the more effectively we will be able to deal with our divisions," he said.
3 Big Lessons in 27 Years — Ronnie Floyd
Ronnie Floyd continues to bring good content on his blog. Be sure you read it, but here is a recent article.
When the last week of October comes, I will have served here for twenty-seven years. As the Pastor of this changing and growing church, what are some of the biggest lessons I have learned through the years?
Lesson #1: Personal spiritual growth is the key to growing as a leader
I have been committed to my personal spiritual growth for most of my days on this earth. My daily time with God is comprised of praying, Bible reading, and journaling. I take each of these seriously, rising early each morning to spend my mornings with God.
This personal priority each day has kept me in a growth posture as a leader.
It keeps me humbled by the Word of God and His presence; submissive and teachable; and continually aware of my deep need for God's presence and power in my life and ministry. Personal spiritual growth is the key to growing as a leader.
Spiritual growth in my life as a leader has kept me from chasing the wrong things, always keeping the gospel central in my life. It has called me up continually, refusing to let me keep any record of wrongs. It has given me a deep love for all people, never letting anyone outside of my circle of love.
Lesson #2: Investing in others produces long-term results
As a pastor of the same church for twenty-seven years, I could easily write about how investing in laypeople has paid huge dividends for the ministry of the church. Since today is written for pastors specifically, I want to share how investing in younger ministers produces long-term results.
I have no idea how many people from our church have surrendered their lives to gospel ministry over these past twenty-seven years, plus the many very young ministers who have come here as interns from across the world. Combining all of them into this pool of people we have invested in has been one of the best uses of my time through the years.
Any time I can invest in one of our younger pastors on our team, I do it. Recently, I began a monthly mentoring time with about forty of our young team members who serve on our Ministry Team or as interns on our staff. This is a rich time for me personally. As I pour into them, I know it produces long-term results.
Additionally, God gave me a vision less than a year ago to begin ourCross Church School of Ministry. Our first class of eleven students has been meeting for two months now in this one-year residency ministry school. The long-term results of this will be huge! I cannot wait to see what God does with these people. Additionally, just this past summer, we poured into twenty-five interns from across America.
What the Church Can Learn from Chick-fil-A — David Mathis
Here's a helpful article from my friend David Mathis at Desiring God.
The cows started writing on billboards in the Twin Cities metro earlier this year. End of Burgerz — Koming Soon.
These bovines can't spell, but we got the message — especially those of us Minnesotans who are transplants from the South. Here comes Chick-fil-A, at long last. Time to Eat Mor Chikin.
Christian Roots and Controversy
It's no secret the chain was founded by an unapologetic Christian from the Atlanta-area. Now in his nineties, Truett Cathy has operated his restaurants on overtly Christian principles since the 1940s. His son, Dan, the franchise president, is known for his support of Christian causes and his opposition to so-called same-sex marriage, which drew national attention last year.
For the Cathy family, it goes deeper than closing on Sundays, playing Christian music, and putting "glorify God" in the corporate purpose statement. For decades, they have tried to apply the biblical worldview and ethic not just to the surface, but to press it into the culture of the chain, not only in the dining room but behind closed doors.
Learning Bible from Chick-fil-A
As I made my first visit to a stand-alone Chick-fil-A here in the Twin Cities last week, and then consulted Truett's book, I noticed five biblical principles, among others, at work in the corporate culture — principles our local churches and leaders might benefit from being reminded of.
Let this much be clear: The church doesn't need Chick-fil-A. We don't need successful Christian businesses, athletes, films, and reality shows for the advance of the gospel. The tip of the spear is the local church. But when we can glean a few pointers from another body reading our Book, we might as well take notice.
This summer I hosted Alton Garrison, the Assistant General Superintendent of the Assemblies of God, on The Exchange to discuss research-based discipleship efforts, spirit-empowerment and the differences within the larger Pentecostal movement. Don't forget to join me every Tuesday at 3:00 PM Eastern for The Exchange.
The Exchange

(Weekly)
The Exchange newsletter is a weekly digest of coverage, research, and perspective from Ed Stetzer.
CT Books

(Weekly)
Each issue contains up-to-date, insightful information about today's culture, plus analysis of books important to the evangelical thinker.
The Exchange is a part of CT's Blog Forum. Support the work of CT. Subscribe and get one year free.
The views of the blogger do not necessarily reflect those of Christianity Today.