Morning Roundup 10/28/13
President Devotional; Humor and Jesus; 25 Leadership Quotes
Ed Stetzer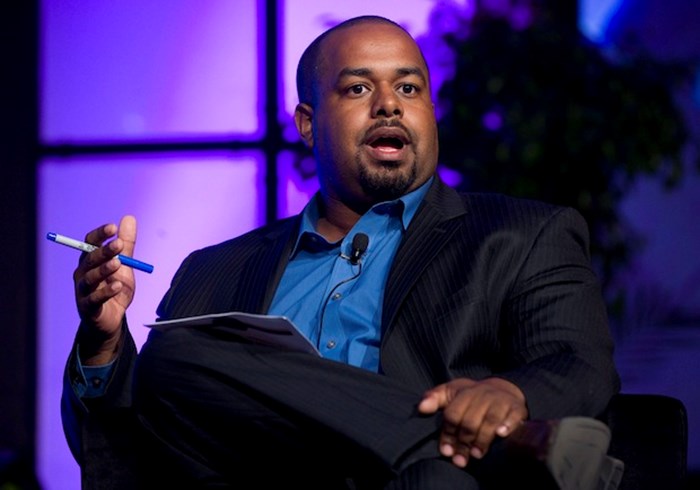 Image: Catholic Charities USA / flickr
The Man Behind the President's Devotional — Paul Brandeis Raushenbush
This was a moving article from The Huffington Post, featuring Joshua Dubois (who will be a guest at this blog one of these days!).
On December 14, 2012, Joshua Dubois was sitting at his desk in the White House Office of Faith-Based and Neighborhood Partnerships when he began to see the news reports of the horrific shooting at Sandy Hook Elementary school in Connecticut. That Saturday, President Barack Obama asked Dubois to accompany him to Newtown, where the president would meet with the families of the victims and address the interfaith memorial service.
Dubois remembers watching the president ask each of the people to tell him about their loved ones who had been killed. The president did this for hours, going from room to room, acknowledging the pain of the families and offering any comfort he could.
One morning during that trying time, Dubois sent Obama an email that contained the scripturepassage Luke 22:52-53, called Darkness Hour, based on a quote from Jesus, who told the guards who had come to arrest him, "This is your hour, and the power of darkness."
Dubois explained to me that he sent the scripture to the president with a reflection on "the responsibility of us, the people of light, to push through that darkness and in the middle of the night to ask God to remind us that daybreak will come."
Dubois has been sending devotionals to Obama every morning since the 2008 presidential campaign. A collection of these spiritual messages to the president has now been published Dubois' new book, The President's Devotional.
Dubois started working for Obama shortly after he became a senator. A public policy and economics student at Princeton University, he was also ordained at a small Pentecostal church where he served as an associate pastor. It was this combination of skills that led him to become Obama's faith outreach coordinator during his first presidential campaign and, later, to be appointed as the Director of the Office of Faith-Based and Neighborhood Partnerships during the president's first term.
The president and Dubois worked together on issues of church-state relations early on, starting with a speech that the then-Senator Obama gave in 2006 at Jim Wallis' Call to Renewal Conference. "It's a speech that I worked closely with him on. He laid out the parameters for engaging religion in public life in a way that respects the central role that religion has played in our history and continues to play in the lives of million of Americans, and also respects our constitution and the important separation between church and state. "
However, the Obama and Dubois have not always agreed.
One of the most rewarding reads of The President's Devotional comes at the beginning of each month when Dubois offers memories of specific moments during his time at the White House. This includes the devotional and anecdote from the Newtown tragedy, and lead-up to Obama's famous race speech.
Humor and Jesus: What Massive Survey of U.S. Jews Reveals About U.S. Christians — Jeremy Weber
Fascinating study of Jews and don't miss the reference to Evangelicals as well.
A massive new study on American Jews reveals some interesting tidbits about how today's Jewish community views Jesus, and how American Christians view Jewish identity and Israel.
Among many findings, Pew Research asked American Jewish adults, "What is compatible with being Jewish?" They found that the majority believe a person can be Jewish even if he or she works on the Sabbath (94%), is strongly critical of Israel (89%), or does not believe in God (68%).
In stark contrast: "Believing in Jesus, however, is enough to place one beyond the pale," notes Pew. Only 34 percent say that believing Jesus was the Messiah is compatible with being Jewish. (Jews of no religion (47%) are more likely than Jews by religion (30%) to say this, as are those with a high school diploma or less (48%) vs. college graduates (28%).)
However, the fact that 1 out of 3 American Jews today do see belief in Jesus as compatible with being Jewish (including 35 percent of Ultra-Orthodox Jews) may seem surprisingly high for those who follow the fortunes of Messianic Jews. For example, a new multi-million dollar Messianic center (previously profiled by CT) that recently opened in an Orthodox Brooklyn neighborhood has drawn much scrutiny. (Among top concerns told to the Jerusalem-basedTimes of Israel: "They will make inroads because they are offering free services to the community and unconditional love.")
Additionally, when Pew Research asked "What does being Jewish mean in America today?", majorities say remembering the Holocaust (73%) and leading an ethical life (69%) is essential to their Jewish identity. Of interest: More than twice as many say "having a good sense of humor" (42%) is essential than "observing Jewish law" (19%).
On the subject of Israel, researchers found that American evangelicals feel more strongly than American Jews on several topics. For example, "Twice as many white evangelical Protestants as Jews say that Israel was given to the Jewish people by God (82% vs. 40%)," notes the Fact Tank blog.
Top 25 Leadership Quotes — Thom Rainer
Thom Rainer's blog is leadership gold for pastors. Here's a helpful list.
I love rankings and polls. I especially enjoy them during college football season as hundreds of so-called pundits tell us who the best teams in America are. Of all the college football polls, the Coaches Poll and the Associated Press Poll are the most widely read among them. Each of those polls ranks 25 teams each week during the season. In that spirit, I am ranking my top 25 leadership quotes.
I made the decision not to include quotes from the Bible. Jesus, Paul, and Proverbs would have dominated the list. Here are my top 25 quotes, at least for now.
The nation will find it very hard to look up to the leaders who are keeping their ears to the ground. —Sir Winston Churchill

In matters of style, swim with the current; in matters of principle, stand like a rock. —Thomas Jefferson (see comment below regarding the authenticity of this quote)

Leadership is lifting a person's vision to high sights, the raising of a person's performance to a higher standard, the building of a personality beyond its normal limitations. —Peter Drucker

The first responsibility of a leader is to define reality. The last is to say thank you. In between, the leader is a servant. —Max DePree

Anyone can hold the helm when the sea is calm. —Publilius Syrus

He who has never learned to obey cannot be a good commander. —Aristotle

No man will make a great leader who wants to do it all himself, or to get all the credit for doing it. —Andrew Carnegie

A true leader has the confidence to stand alone, the courage to make tough decisions, and the compassion to listen to the needs of others. He does not set out to be a leader, but becomes one by the equality of his actions and the integrity of his intent. —Douglas MacArthur

Leaders aren't born; they are made. And they are made just like anything else, through hard work. And that's the price we'll have to pay to achieve that goal, or any goal. —Vince Lombardi

If your actions inspire others to dream more, learn more, do more and become more, you are a leader. —John Quincy Adams
A few months ago, David Platt and Matt Carter joined me on The Exchange. This is a great clip in which we talk about the difference between "radical" Christianity and normal Christianity. Don't forget to join me every Tuesday at 3:00 PM Eastern for The Exchange.
The Exchange

(Weekly)
The Exchange newsletter is a weekly digest of coverage, research, and perspective from Ed Stetzer.
CT Books

(Weekly)
Each issue contains up-to-date, insightful information about today's culture, plus analysis of books important to the evangelical thinker.
The Exchange is a part of CT's Blog Forum. Support the work of CT. Subscribe and get one year free.
The views of the blogger do not necessarily reflect those of Christianity Today.