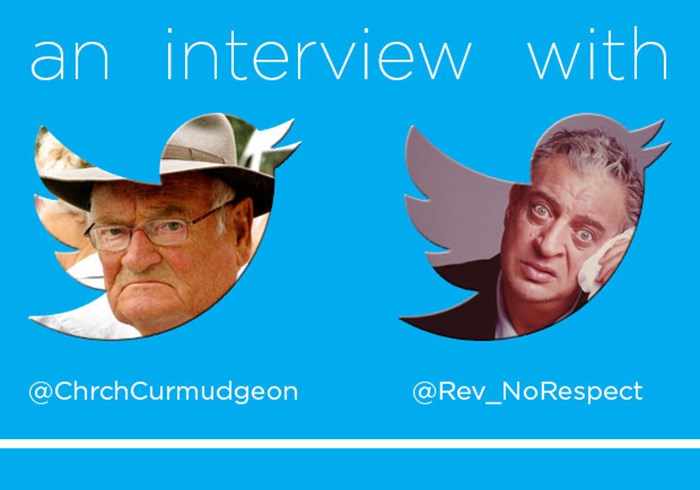 Recently, my team had the opportunity to interview a couple of my favorite Twitter friends. In this two-part interview, @Rev_NoRespect and @ChrchCurmudgeon share a few of their thoughts, both funny and serious, on the state of the church and what it's like to be a Twitter celebrity. If you don't already follow these two, you should.
What is the main problem in the church today?
@Rev_NoRespect: LifeWay actually did a study of 5 declining churches over the past 15 years and the common denominator was me. In all honesty, I have to admit that I have "killed" a few churches, but only in self-defense. So if I study the data and listen to the experts, the main problem with the church today is me.

There are other problems too. Staff is a big problem. Moses' staff split the Red Sea—mine split the church. Some people say apathy is a problem, but I don't know, I really haven't put that much thought into it. Youth Ministers can be a problem too. They're like puppies. They're fun and cute but then after a while you realize you have to feed them and clean up after them. The main problem in our church is seating. We have far too much of it.

@ChrchCurmudgeon: The big problem is that people have not yet come around to my way of thinking. That said, I have been hearing for so many years now that when it comes to change, the church has to learn to cope. I believe that when it comes to change, the church has to learn to nope. That will help us keep churches to a manageable size.
How do you think churches can address the issues you raise?
CC: It's hard to give a comprehensive answer to that question, but I'm pretty sure it involves donuts, unpadded pews, and a choir. And Gaither tapes. Bacon, of course. Biscuits. Gravy. Now I'm getting hungry.

RNR: That's an easy one: invite me to become your pastor, and after a couple of years have me leave—you will immediately experience growth. I have watched this method work time and time again. It's foolproof.
It also helps to have goals. Our church has two, an eight foot one and a ten foot one. We haven't grown any but a few of the youth ministers now meet weekly here for lunch.

Truthfully, I have no idea. I'm just making this stuff up. I can tell you what we have tried. We have added committees, we got a MySpace Account, we put "Visitors Welcome, Members Expected" on the sign out front, and we told the people with crying babies to keep it down. We even tried a church plant, but it died. No one would water it. I'm hoping we will see better results with next month's "Bring a Deacon to Church" campaign.
What book has been most influential in your ministry?
RNR: Oh boy, that's a tough one. I guess the one book I keep going back to over and over is How to Write a Resume, so that would probably be it.

I was reading Your Best Life Now, but before I could finish it Joel stopped by my office and took it back. I didn't mind that too much, but when he called me "less than a conqueror" he really hurt me. I thought Simple Church was good. I tried to get all of my committee leaders to read it but we just had too much going on. I read Eating the Elephant in one sitting. I read a part of Total Church Life. I was thinking about writing a book myself. It would be a "How To" book for young preachers entitled "Dummies for Deacons." I think you should write a book Ed. You seem to be good at…goatees.

CC: I'd have to say that I enjoyed The THWART Principle - Becoming The Obstacle God Wants You To Be. That and the Baptist Hymnal that had "God of Earth and Outer Space" in it. That one was a high point. Nobody does responsive readings anymore, so I do them at home, using different voices.
Rev, what are your thoughts on deacons?
RNR: Our deacons stay really busy. Right now they are trying to develop a strategy in which church members would assist the pastor with things like ministering to the sick, widows, and shut-ins.

Each month we have a deacons meeting on a Sunday morning. Our chairman of deacons runs the meeting, which means he prays over the food. I don't mind having the meeting before church, because honestly I think I preach better when I'm mad.

I do have some advice for young pastors. If a deacon gets mad, resigns, and storms out do not begin humming the tune to "Another One Bites the Dust." That just doesn't go over very well.

Never assume that deacons are familiar with things you are familiar with. For instance, I asked one of my deacons if he liked Francis Chan—he told me he'd never seen the movie Rush Hour.

I have learned that you have to be patient with deacons. They can be pretty sensitive. It took me two years before I could tell my deacon board that wrestling is fake. They were pretty shook up, but in the end they pulled through. If I had broken the news as soon as I came to the church I don't think things would have gone as well.

In reality I owe a lot to deacons. If it were not for them, I would probably be a successful pastor of a thriving church. If I were a successful pastor, I would probably be filled with pride. My deacons have kept my churches small and my heart humble, and that's the one thing I am most proud of.
What are your thoughts on megachurches then?
RNR: What is a megachurch? Well, let's break down the word. Three simple syllables. me-, -ga-, -church. When I read that I see "Me, Georgia church," and guess what, I pastor a church in Georgia, so I think that's pretty good.

But seriously, we had a megachurch move into our town. Do you know what happened? Many of my people left, and do you know who they were? It wasn't any of my problem makers. It was the people who were growing in their faith, serving the church, and giving. So what does that say about mega churches? It says, "Megachurches want me to have problems."

I'm not bitter toward them at all. But I do think we elevate megapastors a little too much. Sure, the guy started a church in his living room and grew it to thousands in a matter of a few years. That's impressive. If that's the route he wants to go that's fine with me. But in my opinion, that's the easy way. Try growing a traditional plateaued established church. That's where the real work is. I choose to grow my church the old fashioned way. I'm going to create committees and scream at people, and if my church grows, it will be a miracle. I won't get any of the credit.
Curmudgeon, what are your thoughts on pastors?
CC: A good pastor preaches fiery 24-minute sermons about somebody else and doesn't change anything unless he's changing it back to the way it used to be. There aren't many of those around anymore. Now they all want to be church planters, which is a way of saying, "I could be a great pastor as long as I get to hand-pick who's in my congregation." Or they're at all the conferences, wishing they could be giving the talk instead of taking notes on it.
How about blended worship:
CC: There's no reason that everybody can't be angry for part of the service. The seniors will accept a contemporary version of a hymn, as long as the worship team does a Gaither-y version of a Crowder song.
What does the future hold for you?
RNR: I start every morning by saying, "These are my deacons, I am who they say I am I can do what they say I can do." But seriously, I have been meditating on that question a lot lately.

I thought about becoming a youth minister—I'm good at not shaving.

I thought about becoming a worship leader—I'm good at not wearing socks.

I thought about becoming a deacon—I'm good at not ministering to widows and shut-ins.

I'll probably just keep being who I have always been. I hope one day to find a church that will appreciate me for who I am not. I guess that's my goal.

CC: I'll just take it one Tweet at a time. The other anons are bringing their A-game, but I'm giving it 110%. I know what I've got to do, no excuses.