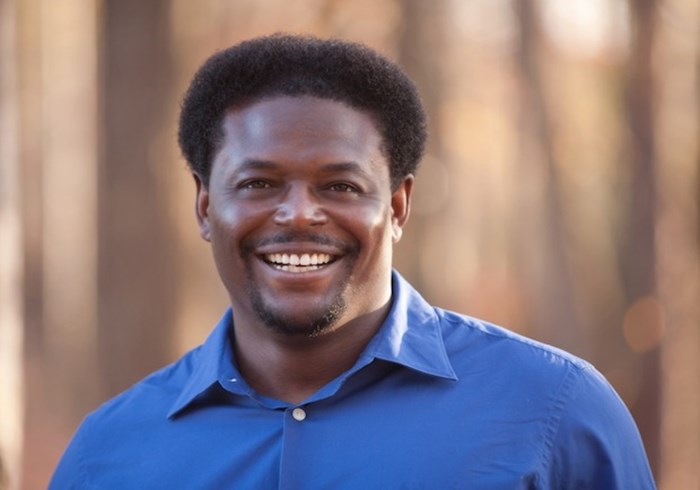 Image: Courtesy of Derwin Gray
Before I ever met you personally, I saw these witnessing videos that went viral. Are you the evangelism linebacker? How did that happen?
That's me. When they were developing the idea, someone had heard me speak at the University of Montana State and said I would be perfect for the role. In 2004, they flew me to Bozeman, Montana and told me the idea for the character. We started to film and I just made up every line as we went.
It started as a bundle with other videos for Campus Crusade, but the Evangelism Linebacker ended up on YouTube. It had a million views way before a lot of other videos did, since this was still the infancy of YouTube. If that had happened today, it would be crazy viral. It ended up with this cult following. In one way it was a positive, but in another way people assume that all I can do is give a motivational talk. So when I started to talk ecclesiology and soteriology, people didn't know what to do.
So it pigeonholed you as the guy who motivated people to do evangelism when you've got a much bigger vision and ministry than that.
Absolutely. I have never showed it at Transformation Church because it was a spoof and a joke. Our evangelism methodology flows out of incarnation and relationships. The evangelism linebacker character is almost of the total opposite of that. But people take it seriously and say, "Tackle me, man!" I'm trying to tell them, "I am 42 years old. I've got arthritis in my left knee and a bulging disc in my back, are you serious?" It's crazy. We filmed that in 2004 and people still know it. That's one thing I wish I had royalties on.
They may know you as the evangelism linebacker, but there is more to your message on evangelism than that. What would you, as Derwin Gray, say to people about evangelism?
I think we have a temptation to separate discipleship and worship from evangelism, but you can't. So, we have this reductionism. We reduce it to clumsy and awkward attempts to "find somebody to share my faith with," instead of saying, "Lord, today I'm going to embrace your love and I'm going to pray." And from that relationships are built. For example, I study and work at a Starbucks. I have seen so many people come to faith over the last five years. We teach our folks to go find those who Jesus loves and love them. Give somebody a reason to want to know what you believe.
I get really passionate about it and can get very disillusioned with what we call church. I don't want the Sunday experience to be the "wow factor." I want people to be transformed by the gospel of grace to where you love and you forgive. You're generous. You work with excellence. All of your life is influenced and compelled by the love of Christ. Our greatest marketing strategy as a church is transformed lives.
That is part of my next book, Limitless Life. In each chapter, I share a story from somebody's life at our church that corresponds to a transformation of identity that happens in Christ. We have seen some amazing stories – you name it, we've seen it. So we want people to be authentically walking in communion with Christ and holistically influencing one another wherever they are.
The Exchange is a part of CT's Blog Forum. Support the work of CT. Subscribe and get one year free.
The views of the blogger do not necessarily reflect those of Christianity Today.