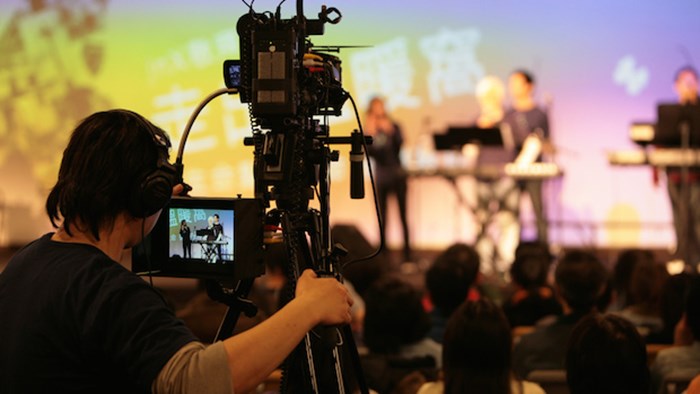 Image: JasperYue / flickr
Come on—it's 2014.
Every church should have an online presence.
Your church people and your community are there, so you should be as well. But that is different than referring to something that happens via your website as a "church."
Can an online gathering of Christians be classified as a church? Let's think through this by asking five questions.
Can an online gathering of Christians be classified as a church?
Should Churches be Online?
If a church is not online, then it is not actually engaging the culture. A church needs to be where the people gather and they are online and on social media sites.
Pew Research found that 72 percent of online adults use social media. Every age group continues to experience growth, particularly those over 65 who have tripled their usage in the last four years—from 13 percent in 2009 to 43 percent this year.
Despite the overwhelming trends in social media usage, LifeWay Research discovered that less than half of all churches are engaged on Facebook. A full 40 percent are not using any social networking tools. I think that's just bad stewardship.
I've said before, only half jokingly, that pastors who are not on Twitter are in sin. Social media is a valid ministry of the church. Online community can enhance the physical community.
What is an Online Church?
Every Internet broadcast of worship gatherings is not necessarily meant to be an online church. Some churches have an online ministry that is a part of their physical gathering.
An online church, however, is often intended to be an alternative way to be a part of the church, similar to another geographic campus. An online church of this type is a church that defines itself by being online—the online experience is intended to be just as appropriate as the physical gathering. And, I don't think that's helpful in most cases.
If a church is not online, then it is not actually engaging the culture.
Yet, as I see it, a church (among other things) is a gathering of believers under the Lordship of Jesus Christ that practices two ordinances, seeks to advance His kingdom, and holds each other accountable in covenant.
I don't think an only online church can do that. (Yes, I am aware of online baptisms and the Lord's Supper, but we are discussing whether you should do that, not whether it is physically possible.)
Participants of online church may cite avoiding traffic or other rationale as their motivation, and there are times when this approach may be necessary for exceptional reasons. However, I think that they may simply be avoiding (intentionally or unintentionally) real community.
Churches that have an online presence can avoid that tendency by explaining that the online option is not the full experience or intent of church. Church takes feet and faces, not just electrons and avatars.
Which is the Better Option?
I recently gathered in my home with my small group to pray and lay hands on a woman who was sick. We asked God to heal her and then wept together. You can have alternative online expressions of that, but I think everyone would agree that in person is better – and worth striving for.
Yes, you can have great online community, but that's not enough. Online should enhance, not replace, personal presence in community.
An online church should not be the ultimate goal of the church sponsoring an online presence.
Scripture supports this idea. "Though I have many things to write to you, I don't want to do so with paper and ink. Instead, I hope to be with you and talk face to face so that our joy may be complete" (2 John 12). Indeed.
When we take the Lord's Supper together, pray for one another and confess our sins to one another, it is better done in physical community with online enhancement or augmentation, not replacement.
So, in my view, an online church should not be the ultimate goal of the church sponsoring an online presence.
What is the Point of Online Church?
First, let me say that I like the phrase "church online" more than "online church." Your church should be online, but I don't think it should be an online church.
As such, people should be transitioned from an online community to a physical one whenever possible, without abandoning the online aspect.
Some people can't get to church because of illness. Someone may be in a country where the Gospel is persecuted. Those and similar groups can continue to engage their church online. Those participants matter to God. They are real people.
So, the best way to do church online is to intentionally work to move everyone possible from being alone on the screen toward being in community with others and being incorporated into a covenant community.
Church online can be a valid outreach if the church communicates that the normal expression of God's intent and design is that we gather in worship with people and then scatter for the work of mission in the kingdom.
A good balance could be for churches to say about their online presence, "We will be there only if you can't be here."
What is the Future of Online Churches?
As we continue down the path forged by the digital revolution, New Testament churches are going to function within community that includes online aspects. They'll do it primarily in person, but they'll also have online opportunities and an online outreach. Currently, some churches have an Internet pastor to serve those participating online. This role will only become more prominent.
Ideally, churches will have an online presence, but will strongly encourage life-on-life interaction where social media enhances rather than excuses community. This can be one more tool that we have to introduce people to Jesus Christ and His church. It is not going away anytime soon, so we cannot just ignore it. Instead, we need to learn how to use it for God's glory. If not, we will become increasingly irrelevant in a world shaped by the Internet.
The Exchange is a part of CT's Blog Forum. Support the work of CT. Subscribe and get one year free.
The views of the blogger do not necessarily reflect those of Christianity Today.