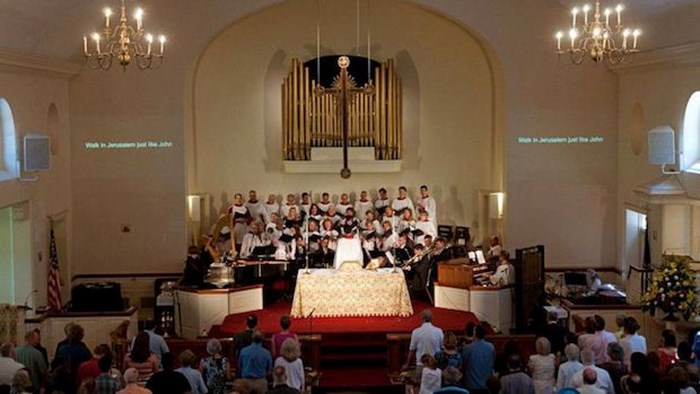 Image: Courtesy of BabyBlue Anglican
Everyone loves stories. Stories strike a chord in the heart. They inspire the mind to see and dream. They can even draw others toward action. In order to be successful, a church multiplication movement needs stories that can do all three of those things.
Without action, an emotional and inspirational story will remain a feeble theory. Conversely, if one takes action without emotion and vision, one will lose momentum.
For a church multiplication movement to flourish within a network, denomination, or traditional, it needs five elements:
successful multiplication stories
celebration of successes
denominational backing
seminary support
Today, I want to look at finding and sharing successful multiplication stories.
Touch hearts
A good story must have an emotional connection, which is why the Gospel is the greatest story ever told. All of humanity was condemned to die without hope by virtue of its sinful nature. Christ died in the place of guilt-ridden people. In one single act, He both endured the scorn and shame of mankind and paid their penalty for them. As guilty sinners, we come empty-handed as needy beggars and Christ fully adopts us into His family with all of the rights of heirs of God.
That's a story worth telling!
A good story must have an emotional draw, which is why the Gospel is the greatest story ever told.
A multiplication movement can also tell a story, for instance, about a community that lacked hope until a church planted into the heart of the city served its residents through hardship, trial, and tragedy. The church was there during a tragedy. When financial strain came upon a family after their father lost his job due to cancer, the church was there. As a result of the presence of the church, a revived and renewed sense of God's love returned to that small community and multiple stories of hope flowed out of that one church.
These are real moments, not contrived ones, that can be found every day—and they need to be told. We plant churches because of the lives that are changed. If you want a movement, you much find ways to tell those stories to other churches so that they can plant churches that plant churches...
The stories have to sincerely be filled with emotion and they have to inspire our minds.
Inspire people to multiplication
Before you can inspire people to multiplication, you have to have stories of multiplication. And, the problem I have often seen is that there are more legends of multiplication than movements of multiplication.
In other words, a Church Multiplication Movement will have to actually have some proof of concept before they can honestly ask others to join them. It will need stories that make us envision reaching a neighborhood or an ethnic demographic concentration, like the Slovak-American concentration in Pennsylvania or the Native American population in New Mexico.
Without action, an emotional and inspirational story will remain a feeble theory.
Telling stories of how this has already happened will lead more people to get involved. Describing how a church reached others—a proof of concept—is necessary before others will begin dreaming about replicating it in their own context.
So, as we have proto-movements already, where churches have sacrificed to plant churches that are making impacts, we tell those stories and inspire others to the same.
Move hands and feet
Once we celebrate and tell the stories that inspire and call for a different approach—a multiplication approach—people can be called to action. Proof of concept is part of that movement toward action, but it follows that they have to be called to that action. When people are being reached and lives are being changed, these stories inspire others to join in the movement.
This is where one of my favorite verses on the subject comes to mind. Hebrews 10:24 (in the KJV) says, "Provoke one another to love and good deeds." And, stories of actual multiplication can and will provoke others to those love and good deeds. Furthermore, when they come from your own network, denomination, or tradition, it provokes even more so.
The Anglicans are a good example. Let's face it, you don't think "church multiplication" when you think of Anglicans. Yet, that is what makes the story so compelling and challenging.
This summer, I will be preaching at Truro Anglican Church. It's an historic church. It's prestigious. It's everything you think about Anglicanism. And, it's planting churches—along with a lot of surprising Anglican church planting partners through the Anglican 1000.
It's simple—telling the stories of key leaders committed to church planting helps create a culture that draws other to church planting. That can lead to a Church Multiplication Movement (and, I think it would be not inconceivable that Anglicans would lead to such a movement).
The point is that you will need stories that originate from those in your tribe who are seeing great multiplication. We have a way of dismissing what others do because they represent a different tribe, denomination or even sub-group in a denomination. This is human nature, so you must counteract it with stories of multiplication that come from within your own family of churches.
When you have multiplication stories, you will naturally be inspired toward church planting action on your own.
Stories of success in a movement have a way of multiplying the momentum.
Stories generate a response
Stories of planting success in a movement have a way of multiplying the momentum.
So if a church is reminded by all God is doing in and through another church of the victory they have in Christ themselves, it could spur them on to successes in their own context.
Tell stories of success that stir the heart, inspire the mind, and move hands and feet toward action.
In the next post, we will look at why it matters what we celebrate.