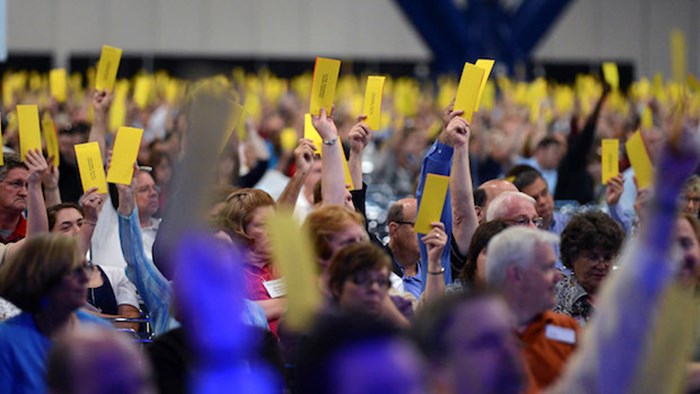 Image: Courtesy of the SBC
While rethinking involvement with denominations has become popular, abandoning them all together would be unwise. Most church planting done in West is done by denominations, not individual churches, individual Christians, or even emerging church planting networks. The same is true for U.S. church planting and the vast majority of mission work overseas. If we want to pursue a Church Multiplication Movement, we will need the enthusiastic support of denominations and denominational leaders.
Christians were never meant to be self-sufficient islands that could grow, multiply, and accomplish the Great Commission on their own. Churches can't do it either—at lest not alone. They need other churches in partnership. So, if a Church Multiplication Movement is going to happen, denominational support is not optional—it's mandatory.
No matter how savvy the leaders, how compelling the stories, or how joyous the celebrations, without the multi-faceted support of a denominations, Church Multiplication Movements will probably not thrive.
I can conceive of a future that simply moves beyond denominations, but that future is not yet here. If a Multiplication Movement happens now, it will involve—must involve—denominations.
For a Church Multiplication Movement to flourish in the West, I see five necessary elements:
denominational backing
seminary support
Today, I want to focus on the importance of denominational support when it comes to a Church Multiplication Movement.
Denominational Crisis
Many people express a certain dissatisfaction with their denomination, no matter which denomination they call home. For example, in the denominational consultation I do, I think that every denomination thinks it is enduring a crisis at some level.
Many people express a certain dissatisfaction with their denomination, no matter which denomination they call home.
Church planting has to be a high priority, and an ongoing emphasis, for every denomination, and there has to be unity among those in leadership. If I was a denominational leader and my movement was going to be focused on multiplication, I would make sure everyone in a leadership position supported that emphasis—and not just by lip service.
Multiplication doesn't have to be the only denominational emphasis, but denominational leaders must rally behind denominational priorities, including church planting.
Swedish Revolution
Twenty yeas ago a group of Baptists had a meeting and decided to take church planting seriously. The Baptist General Conference used to be the Swedish Baptist General Conference, ministering to the evangelical Scandinavian-Americans, particularly in the upper Midwest.
When they decided they were going to take church planting seriously, their denomination was made up of around 600 churches. Today it has around 1,200 churches in 19 nations and is represented by 17 ethnic groups. They doubled the size of their denomination through church planting in 20 years, and they surprisingly crossed the language and ethnic barriers without a denominational schism.
In 2008, they changed the name of their denomination to Converge Worldwide to represent this shift in emphasis. Simply put, they united around church planting.
The Assemblies of God
I had the privilege of working with the Assemblies of God to help develop what later became the Church Multiplication Network. They explain:
The Church Multiplication Network (CMN) collaborates with church multipliers to effectively equip, strategically fund and innovatively network new faith communities. CMN is the church planting arm of the Assemblies of God (AG). The AG has been the largest international church planting movement over the last 20 years, now with more than 312,000 churches worldwide and has planted over 2,700 churches in America over the last 10 years. CMN is here to be the church planter's help button, so let us help you as you follow God's call to plant.
Their growth in planting has been remarkable: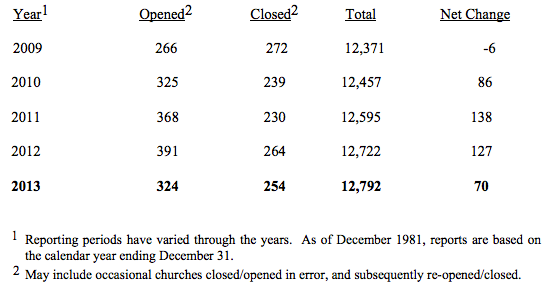 A Shift for the Southern Baptists
My own denomination has embarked on a planting plan called SendNA. The roll out has been aggressive and the reception is interesting—everybody says they are in favor of church planting, but it's the HOW that keeps them from getting on board.
That's odd, but it's not surprising. Consistently denominations don't OPPOSE planting, they opposing emphases of planting saying church planting is too "blank." The "blank" changes based on the denomination, but the resistance is universal.
Now, I believe Southern Baptists are looking at a church-planting renaissance in the denomination if they can actually, well, look like a denomination focusing on church planting rather than debating the approach. We shall see.
Results of Denominational Backing
Change starts with denominational leaders adapting to the vision of a Church Multiplication Movement and embracing the younger church planters as heroes in God's plan. With the enthusiastic support of the denomination, the momentum for church multiplication can indeed have monumental energy.
Denominations do not have a decision to make when it comes to supporting church planters—they must support them.
When people hear about planting at the conference, convention, or General Assembly, and it's celebrated at the seminaries, talked about in the churches, and the focus of the partnerships, denominations become catalysts, rather than hindrances, for church planting.
Denominations can support Church Multiplication Movements in a myriad of ways. Whether denominations donate funds, pray regularly, or send men and women on the ground to support the movement, denominations do not have a decision to make when it comes to supporting church planters—they must support them for the spread of the gospel and in order to accomplish the Great Commission.
Part of seeing the denomination get behind church planting is developing support from the seminaries, which we will discuss in the next post.
The Exchange is a part of CT's Blog Forum. Support the work of CT. Subscribe and get one year free.
The views of the blogger do not necessarily reflect those of Christianity Today.